2013 NFL Draft: Top small school prospects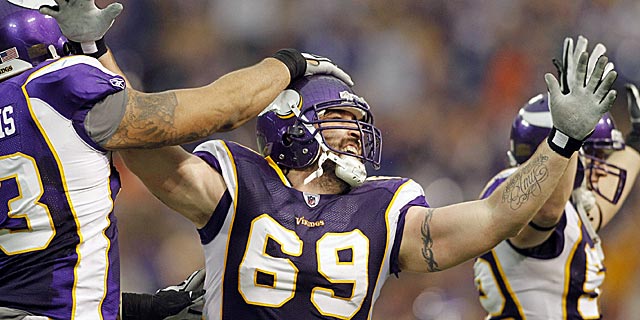 Vikings star Jared Allen played his college ball at little-known Idaho State.
(Getty Images)
Today's NFL is filled with examples of players from non-FBS conferences who have made substantial impacts at the next level.
DE Jared Allen
(Idaho State),
G Jahri Evans
(Bloomsburg State) and
CB Cortland Finnegan
(Samford) are just a few players who weren't highly regarded as pro prospects, but shed the "small school" label and have proven to be Pro Bowlers in the NFL.
Teams seem more willing to take chances on small school prospects early in the NFL Draft in order to find the next hidden gem. This past April, three non-FBS prospects were drafted in the top 40 picks of the 2012 NFL Draft –
WR Brian Quick
(Appalachian State) to the Rams at No. 33,
CB Janoris Jenkins
(North Alabama) to the Rams at No. 39 and
OL Amini Silatolu
(Midwestern State) to the Panthers at No. 40.
Quick was the fifth receiver drafted after finishing second in the Southern Conference last season with 1,096 receiving yards and 11 touchdown grabs. The wideout who finished ahead of Quick? Elon's
Aaron Mellette
, a rising senior who is currently
NFLDraftScout.com's No. 3 ranked senior receiver
and top small school prospect for the 2013 NFL Draft.
Mellette, who rewrote the Elon and SoCon record books last season with 113 catches for 1,639 yards and 12 scores, admits it won't be easy to match his gaudy statistics from 2011, but that won't stop him from trying.
"I feel like I'm going to get close," said Mellette. "But I hardly see that happening. We have other playmakers on this team and opposing defenses know about me. It will be tough."
More on 2013 Draft
Related links
Mellette was a basketball player growing up and didn't start playing football until his sophomore year in high school, which put him behind in the recruiting process. Despite a few letters from ACC and C-USA programs, he ended up at nearby Elon, a FCS-level program about an hour down the road from Mellette's hometown of Sanford, North Carolina. After redshirting and seeing little playing time as a freshman, Mellette had a breakout 2010 season followed by his record-breaking campaign as a junior last year. Listed at 6-4 and 212 pounds, he looks the part, but there are questions about his ability to stretch the field and make an impact after the catch. And like every small school prospect, there are questions about how his skills will translate to the upper-echelon talent at the next level. But Mellette has no problems with those questions.
"I would agree," answered Mellette regarding concern that he hasn't faced top competition. "But I also make sure when I play Vanderbilt and those types of schools, I prove I can play at that level. I'm more than capable and I just have to show that when I get the opportunities."
Against Vandy last season in the season opener, Mellette had a game-best 11 catches for 180 yards and a touchdown reception. Although a small sample, he wasn't overmatched against the Commodores' pass defense, which ranked 18th in the FBS last season. Despite not facing elite defenses each week, NFL teams and pro scouts are well aware of Mellette and his remarkable production.
"Flip on the Elon-Appalachian State game from last season," said one pro scout. "(Brian) Quick was good, but that Elon kid (Mellette) was the most impressive receiver on the field that day. If you're looking for flash and sizzle – Mellette isn't your guy. But if you want production, I think he can be a reliable player at the pro level."
Mellette has said the NFL has always been a goal and he looks forward to being the first person from his hometown to be a professional athlete.
"Quick set the bar pretty high for the SoCon", said Mellette. "Hopefully I can get into the first round, but I hope to just be drafted."
While Mellette is first on this very early list, below are the rest of the top 10 small school prospects to watch for the 2013 NFL Draft:
2.
QB Brad Sorensen
, Southern Utah (6-4, 225): After redshirting at BYU in 2009, Sorensen transferred to Southern Utah, following former BYU assistant Ed Lamb when he was hired as head coach of the Thunderbirds. Over the past two seasons as the starter, Sorensen has passed for a combined 6,306 yards and 38 touchdowns, earning back-to-back Great West Offensive Player of the Year honors. He has prototypical size and stands tall in the pocket, showing nice downfield touch and effortlessly executing Southern Utah's shotgun spread offensive attack.
3.
OT Mark Jackson
, Glenville State (6-5, 326): The Pioneers' left tackle, Mark Jackson has NFL size with surprising movement skills for a man of his stature. The Columbus, Ohio native became a starter in 2010 as a sophomore and has earned First Team All-Conference honors the past two seasons. Jackson is an aggressive, physical blocker who takes pride in eliminating defenders from the play and fighting through the echo of the whistle. He plays too high and still has room to improve his technique and awareness, but should warrant a draft pick with another strong season in 2012.
4.
FS Malcolm Bronson
, McNeese State (5-11, 192): Bronson made an immediate impact in 2009 as a true freshman for the Cowboys, leading the team in tackles and earning conference Freshman of the Year honors. He again led the team in tackles last season as a junior, outshining teammate and Tennessee transfer Janzen Jackson. Bronson, who is the nephew of Zach Bronson who played eight seasons in the NFL as a safety (1997-2004), is a very talented athlete with the speed, toughness and cover skills to earn a spot in a NFL secondary down the road.
5.
RB Washaun Ealey
, Jacksonville State (5-11, 215): A former high school Parade All-American, Ealey began his career at Georgia where he led the Bulldogs in rushing as a freshman and sophomore. After repeatedly violating team rules, he was suspended indefinitely in Athens and decided to transfer, ending up at Jacksonville State. Ealey rushed for 1,082 yards last season as the starter for Gamecocks with five 100-yard games, including a 217-yard performance against Eastern Kentucky. He is well-built with a good blend of quickness and power and has a pro future if he stays football focused.
6.
CB B.W. Webb
, William & Mary (5-11, 176): After redshirting in 2008, Webb became a starter as a freshman and recorded eight interceptions, including two returned for scores, earning conference rookie of the year honors. He was named First Team All-Conference honors as a sophomore and junior the past two seasons and enters 2012 as one of the top FCS defensive backs. Webb has a nose for the ball (11 career interceptions) and plays with excellent cover technique, but questionable speed and strength could limit his ability at the next level.
7.
FS Rontez Miles
, California (PA) (6-0, 210): Despite being recruited by several SEC programs, Miles originally enrolled at Kent State in order to play with his stepbrother. But that didn't last long as poor grades and distractions put his football career on hold, transferring to California (PA) after a year at a community college. Miles is a four-year starter for the Vulcans, leading the team with five interceptions last season and earning several All-American honors. Miles has 17 career pass break-ups with 20.5 tackles for loss, showing his ability to be effective in the deep half of the field and near the line of scrimmage.
8.
DT Brent Russell
, Georgia Southern (6-2, 290): After a knee injury ended his 2008 season, Russell returned in 2009 and won a starting job as a redshirt freshman, earning numerous SoCon honors. He has led the team in tackles for loss and sacks each of the last three seasons, giving him a combined 45.5 tackles for loss and 20.5 sacks for his career. Russell, who is on pace to break several team and conference records, shows good quickness off the snap and an aggressive demeanor to penetrate the pocket.
9.
DE David Bass
, Missouri Western State (6-3, 258): Bass contributed immediately as a redshirt freshman in 2009 and has progressively improved each season. Last year, he broke a school record with 20.0 tackles for loss and led the conference with 14.5 sacks, one short of the single season school mark. Bass, who is one of the most decorated defensive players in program history, has 28.0 career sacks and is on pace to break several career records in 2012.
10.
OLB Keith Pough
, Howard (6-2, 228): A tackling machine, Pough set career-bests in 2011 with a conference-best 120 total tackles, including eight games with double-digit stops. He was forced to sit out his freshman season because of academics, but instead of letting that setback discourage him, Pough gained more respect for the game and began watching film to become a better player. He quickly became a starter as a redshirt freshman in 2009 and has tallied a combined 277 tackles over his first three seasons
Others to keep an eye on
: FS Kejuan Riley (Alabama State), WR Nicholas Edwards (Eastern Washington), DE Willie Jefferson (Stephen F. Austin), K Zach Brown (Portland State), CB Demetrius McCray (Appalachian State), S Cooper Taylor (Richmond), OLB Nate Palmer (Illinois State), ILB Andrae Jacobs (Coastal Carolina), WR Xavier Boyce (Norfolk State), DE Ben Obaseki (Indiana State), DT Brandon Williams (Missouri Southern), G Earl Watford (James Madison), OLB Zach Johnson (Eastern Washington), S Nick Williams (North Alabama), FB Eric Breitenstein (Wofford), OT Patrick Ford (Eastern Kentucky), FS Rod Woodson (North Alabama), CB Daxton Swanson (Sam Houston State), DE Ross Brenneman (North Dakota), QB Matt Brown (Illinois State), RB Jamaine Cook (Youngstown State), QB Kyle Padron (Eastern Washington), DT Montari Hughes (UT-Martin)