Finding the Fits: Don't overthink it, Morris Claiborne most intriguing fit for Dallas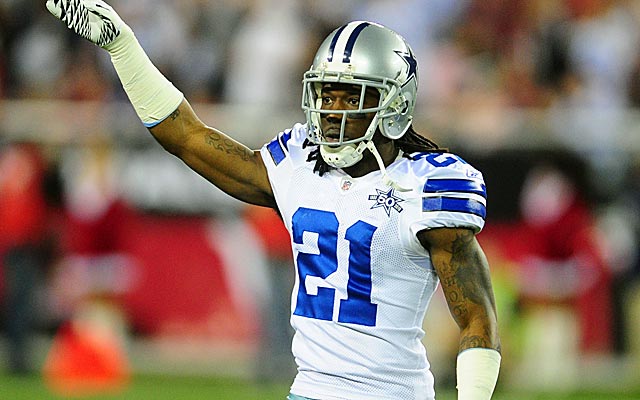 Mike Jenkins will likely play opposite Morris Claiborne.
(Getty Images)
Over the next several weeks,
NFLDraftScout.com
will be reviewing some of the more intriguing picks made during the 2012 NFL Draft through a series called "Finding the Fits." The goal of the series is to identify one relatively unheralded player per team who appears to be a good schematic fit and therefore more likely to be a surprise contributor early in his pro career.
With an 8-6 record and conference foes Philadelphia Eagles and New York Giants left on the schedule, the
Dallas Cowboys
held the fate of the 2011 season in their hands. Unfortunately for Dallas, they were outscored by a combined score of 51-21, dropping the final two contests and finishing with an 8-8 record.
Entering the offseason, the Cowboys' largest needs were in the secondary and they helped answer those questions with the free agent signing of cornerback
Brandon Carr
. And despite other needs along both the offensive and defense lines, Dallas didn't stop adding to their secondary in the first round of the 2012 NFL Draft.
Jerry Jones
and the Dallas' front office are always active on draft weekend, but few could have predicted the Cowboys moving from pick No. 14 to No. 6 in order to acquire cornerback
Morris Claiborne
. While most considered the former LSU Tiger a top-five caliber player, the Cowboys ranked Claiborne No. 2 on their draft board, behind only quarterback Andrew Luck. So with the Rams looking to trade back and Claiborne slipping out of the top five picks, it was the perfect storm the Cowboys were looking for to move up to sixth pick, surrendering a second round pick in the process.
Although he isn't an under-the-radar player, it doesn't take a rocket scientist to identify Claiborne as the most natural fit on Dallas' roster among their draft picks. Not only is he NFL ready right now, but he will also help turn a problem area into a strength for the Cowboys. Former first round cornerback
Mike Jenkins
is still on the roster and will likely hold onto his starting job, but in today's pass-happy NFL, nickel and three-cornerback coverages are extremely common. And with Jenkins entering the final season of his rookie contract, Claiborne is an ideal fit for both the short and long term future of the franchise.
Claiborne wasn't a blue chipper out of high school and was recruited as a wideout before moving to cornerback as a true freshman at LSU. He became a starter in 2010 and faced the unenviable task of playing opposite cornerback
Patrick Peterson
. Claiborne saw a lot of action as opposing teams looked to pick on the new guy, but he shined in this role, leading the team with five interceptions. Claiborne again showed off his tremendous ballskills in 2011 as a junior with six pick-offs and collected numerous accolades, including SEC Defensive Player of the Year, Thorpe Award and All-American honors. He shocked few when he decided to skip his senior season and go pro.
Claiborne attracted some pre-draft attention when it was leaked that he reportedly scored a 4 on the Wonderlic Test, a 12-minute mental aptitude exam with 50 questions. He admittedly "blew the test off" because he didn't see it relevant to his football ability, but the rare single-digit test score was a hot topic in draft circles. However, the Cowboys had little concern with his Wonderlic results with Jerry Jones calling the situation "not an issue at all." A more important issue for Claiborne and Dallas might be a nagging left wrist injury to the rookie that required surgery in March to repair damaged ligaments. The injury will likely keep him out of all OTA activities, but head coach
Jason Garrett
and the rest of the coaching staff expect him to be ready for training camp in late July. Claiborne is so eager to get onto the field, he set a goal of mid-June to return from the injury, over a month ahead of schedule.
With Jenkins and Carr penciled-in as the starting cornerbacks, Claiborne will likely see action in nickel packages and eased into defensive coordinator
Rob Ryan's
defense. But judging by his smooth transition from receiver to corner at LSU, it's a good bet that it won't take long for Claiborne to acclimate himself to the speed of the NFL. And it's a fair assumption that Ryan will use Claiborne creatively and in a variety of ways, lining him up all over the field to do what he does best: make plays on the ball. Although he is far from unheralded as a prospect, Claiborne presents the most interesting fit from the Cowboys recent draft class.
The rest of the Cowboys' picks:
1st Round – No. 6 overall – Morris Claiborne, CB, LSU
3rd Round – No. 81 overall – Tyrone Crawford, DE, Boise State
4th Round – No. 113 overall – Kyle Wilber, OLB, Wake Forest
4th Round – No. 135 overall – Matt Johnson, S, Eastern Washington
5th Round – No. 152 overall – Danny Coale, WR, Virginia Tech
6th Round – No. 186 overall – James Hanna, TE, Oklahoma
7th Round – No. 222 overall – Caleb McSurdy, ILB, Montana
Read more about all of the
Cowboys' picks here.