Finding the Fits: Don't forget WR Marvin Jones in Bengals' stellar draft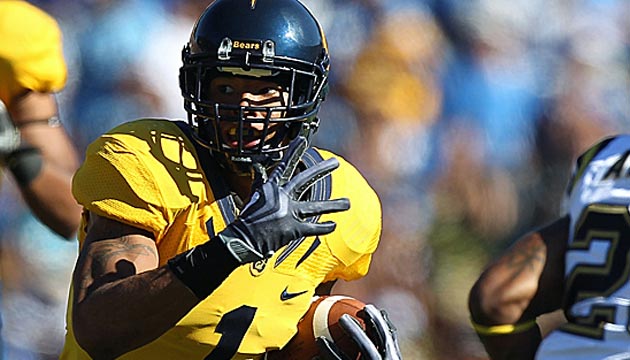 Marvin Jones was limited by Cal's quarterback play last season. (Getty Images)
Over the next several weeks,
NFLDraftScout.com
will be reviewing some of the more intriguing picks made during the 2012 NFL Draft through a series called
"Finding the Fits."
The goal of the series is to identify one relatively unheralded player per team who appears to be a good schematic fit and therefore more likely to be a surprise contributor early in his pro career.
Forget the "Bungles" moniker and the wisecracks about team owner
Mike Brown
's unwillingness to spend free agent dollars or even field a "complete" scouting staff, the
Cincinnati Bengals
are quietly developing into a legitimate
Super Bowl
contender. Perhaps most impressive of all, they're doing precisely how every other team in the league likes to claim they're doing it (but few actually do) -- by building through the draft.
Everyone knows that the fairest way to gauge a draft is to wait a few seasons but at least based on the small sample set we now have, the Bengals' 2010 and 2011 classes appear to have set the table nicely for this year's rookie class to perhaps put head coach
Marvin Lewis'
club over the top in the ultra-competitive
AFC North
division. Front office executives will tell you that the way to build the foundation for a consistent playoff contender is to string three consecutive strong drafts together. That appears to be precisely what the Bengals have done.
Three years ago Cincinnati added a legitimate seam threat with tight end
Jermaine Gresham
and one of the AFC's better young pass rushers in
Carlos Dunlap
. In 2011, Bengals landed three immediate starters in young star wideout
A.J. Green
, quarterback
Andy Dalton
and offensive guard
Clint Boling
.
As good as the past two drafts have been in Cincinnati, those close to team can't help but feel optimistic that the 2012 draft class could turn out to be even better. I certainly share in their enthusiasm,
giving the Bengals the one of only two "A" grades
I have this year (the
other went to the Philadelphia Eagles
).
To be fair, the Bengals were in a strong position to do well in this draft. They were able to convince the
Oakland Raiders
to give up their 2012 first round pick (No. 17 overall) as well as a second round pick in 2013 (which would jump to a first rounder if the Raiders make the AFC Championship game next year) for veteran quarterback
Carson Palmer
and thus entered the draft as one of only three teams with multiple first round picks (joining the
Cleveland Browns
and
New England Patriots
). The Bengals further added to their pick total by swapping their original pick in the opening frame (No. 21 overall) with the Patriots (No. 27) and adding a third round pick (No. 93).
With 10 picks to play with, the Bengals systematically addressed their biggest needs one by one, adding pro-ready talents at cornerback (
Dre' Kirkpatrick
), offensive guard (
Kevin Zeitler
), defensive tackle (
Devon Still
,
Brandon Thompson
) and wide receiver (
Mohamed Sanu
) with their first five picks. Take a look at those names again. Each of them at one point or another in the months preceding the draft were considered possible first round prospects. Again, this wasn't just a case of drafting the Best Player Available; these were the top talents still on the board as well as players who filled positions left vacant by free agency.
Frankly, each of the Bengals' first five picks warrant a closer look in this space as each fits into the criteria of prospects whose "fit" could make them immediate contributors. Each has the size, athleticism and most importantly the physicality to handle adjusting to arguably the toughest division in professional football.
The team's sixth pick, fourth round tight end
Orson Charles
from
Georgia
is also an intriguing selection. While the combination of Gresham and Charles isn't as speedy as the Patriots' duo of
Rob Gronkowski
and
Aaron Hernandez
, make no mistake that the two could see the field at the same time, giving the Bengals the seam threats to force the 3-4 rush linebackers and safeties from the division rival
Baltimore Ravens
and
Pittsburgh Steelers'
reason to pause before attacking the edge as pass rushers.
In much this same way, the Bengals' fifth round selection of
California
wideout
Marvin Jones
could pay surprising dividends. At least partially due to poor play at the quarterback position, Jones didn't generate a great deal of buzz a year ago in the Pac-12. Given an opportunity at the
Senior Bowl
, however,
Jones was spectacular
, demonstrating the straight-line speed, balance and quick feet as a route-runner, body control to contort to poorly thrown passes and soft hands to develop into a legitimate NFL starting receiver.
Entering the week of practice at the Senior Bowl, I had graded Jones as a 6th round prospect. When I left Mobile, I'd moved him to the third round. Having attended the Mobile, Alabama all-star game since 2001 there has
only been one other receiver from the west coast who boosted my grade of him
as dramatically as Jones in one week of practice there -- former
Oregon State
Beaver, Bengal (and current Patriot)
Chad Johnson
(
Ochocinco
).
The key to the Bengals' success in 2013 will, of course, be tied to what kind of "sophomore" season Dalton has. With a star wideout in Green and a legitimate seam threat in Gresham to go along with a power running game, the Bengals snuck into the playoffs a year ago. The combination of Jones as an outside speed complement, as well as the tough Sanu inside in the slot and Charles as a "move" tight end/H-back, the weapons are in place for Dalton to lead Cincinnati to even greater heights in the future.
The rest of the Bengals' picks:
1st Round - No. 17 overall - 'Dre Kirkpatrick, CB, Alabama
1st Round - No. 27 overall - Kevin Zeitler, OG, Wisconsin
2nd Round - No. 53 overall - Devon Still, DT, Penn State
3rd Round - No. 83 overall - Mohamed Sanu, WR, Rutgers
3rd Round - No. 93 overall - Brandon Thompson, DT, Clemson
4th Round - No. 116 overall - Orson Charles, TE, Georgia
5th Round - No. 156 overall -
Shaun Prater, CB, Iowa
5th Round - No. 166 overall - Marvin Jones, WR, California
5th Round - No. 167 overall -
George Iloka, FS, Boise State
6th Round - No. 191 overall -
Dan Herron, RB, Ohio State
Read more about all of the
Bengals' picks here.