Finding the Fits: Surprise pick Broyles could reward Lions' leap of faith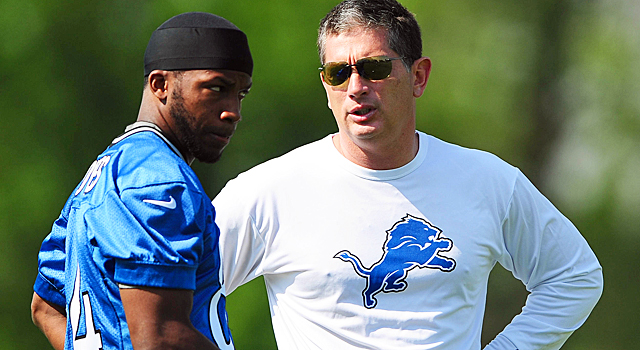 Schwartz (right) could have a major player in his passing game with Broyles.
(U.S. Presswire)
Over the next several weeks,
NFLDraftScout.com
will be reviewing some of the more intriguing picks made during the 2012 NFL Draft through a series called
"Finding the Fits."
The goal of the series is to identify one relatively unheralded player per team who appears to be a good schematic fit and therefore more likely to be a surprise contributor early in his pro career.
Under the guidance of general manager
Martin Mayhew
and head coach
Jim Schwartz
, the
Detroit Lions
made the post season a year ago, the first time they'd reach the playoffs since 1999.
While the Lions boast some of the more exciting young stars in all of the NFL in wideout
Calvin Johnson
, defensive tackle
Ndamukong Suh
and quarterback
Matthew Stafford
, among others, this is clearly a club with some question marks still on the roster -- not the least of which is a leaky secondary and offensive line.
The Lions surprisingly waited until the third round of the draft to address their defense. Once Mayhew and Co. turned their attention to this side of the ball, however, they stayed there using each of their final six picks on defenders, including three on cornerbacks.
The club's first two picks, however, left some scratching their heads.
While covering opponents' pass-catchers was clearly a concern, sources tell me the Lions always recognized that their top draft day priority was to protect the investment they'd made in Stafford. Former Iowa left tackle
Riley Reiff's
short arms may have been enough
to push him down the board into Mayhew's lap at No. 23 overall, but his stellar technique, versatility and grit made him an attractive option to the Lions, who had been looking for a young talent capable of pushing incumbent starters
Jeff Backus
and
Gosder Cherilus
at left and right tackle, respectively.
The more polarizing selection was clearly
Oklahoma
wide receiver
Ryan Broyles
a round later. One could forgive Lions' fans if for a moment they thought former general manager
Matt Millen
had wrestled away control of the team's draft when it was announced that Mayhew had invested a second round pick in yet another wide receiver. This is, after all, a team with a young superstar in Johnson, a steady veteran in
Nate Burleson
and a talented (
if troubled
) speedster in 2011 second-rounder
Titus Young
. With so many other perceived needs, how could the Lions justify adding another receiver?
There are several reasons why, actually.
For one, the Lions simply had that high of a grade on Broyles, who some believe would have been a first round pick had it not been for the
torn ACL that ended his record-breaking career
with the Sooners early. Also, under offensive coordinator
Scott Linehan
, the Lions featured three-, four- or even five-receiver sets on nearly 75% of their offensive snaps a season ago so receivers are always needed. Finally, Broyles is a completely different style of wideout than Johnson, Burleson and Young and therefore should be in a position to succeed once he proves himself fully recovered from the injury.
The 5-10, 192 pound Broyles left Oklahoma having caught an NCAA-record 349 passes over his career. He's not as big or fast (even when healthy) as Johnson, Burleson or Young. Broyles, however, is further along as a route-runner than any of these three at similar points in their career. His game is built around his flexibility and burst out of his breaks as a short to intermediate route-runner. He also has terrific hands. Simply put, Broyles gains separation and catches the football, which is why some clubs graded him as the top slot receiver prospect in the 2012 draft.
And the injury? Broyles (and more importantly team sources) indicate that the rehabilitation is coming along well. Only five months after tearing the ligaments against Texas A&M, Broyles
completed a full Pro Day workout
that included running the 40-yard dash in a respectable 4.57 seconds. He participated
in the team's recent OTA's
and the Lions believe he has a shot at being back on the field full time for training camp.
If he is indeed back at 100% for training camp, Broyles could make a surprising impact for the Lions as a rookie, erasing any of the doubt as to why the Lions might have "reached" for him at No. 54 overall.
The Lions featured plenty of big plays in 2011. They finished tied for second in the NFL (with the
Green Bay Packers
) with 16 pass plays of at least 40-plus yards. The only team ahead of them was the Super Bowl champion
New York Giants
-- who had 18 such pass plays. Too often, however, the Lions were forced to challenge on deep plays rather than more safely gain yardage in smaller chunks. This put Stafford in the unenviable position of taking lots of punishment and made the Lions' offense a bit hit and miss. Tight end
Brandon Pettigrew
grew into Stafford's most reliable intermediate option but that may have been more out of necessity than design.
Adding a reliable receiver to run drag routes across the middle to take advantage of safeties dropping back to slow down the Lions' big play artists on the outside should give Broyles plenty of opportunities. The team sees "some Wes Welker in Broyles" and is hopeful that early in his career he'll help make a dangerous Detroit offense a virtually unstoppable one.
If able to do so, the Lions might not have to worry about a leaky secondary; they'll be able to beat most teams in much the same fashion as they did a year ago in returning to the postseason -- by simply out-scoring opponents.
The rest of the Lions' picks:
1st Round - No. 23 overall - Riley Reiff, OT, Iowa
2nd Round - No. 54 overall - Ryan Broyles, WR, Oklahoma
3rd Round - No. 85 overall -
Dwight Bentley, CB, Louisiana-Lafayette
4th Round - No. 125 overall -
Ronnell Lewis, OLB, Oklahoma
5th Round - No. 138 overall -
Tahir Whitehead, OLB, Temple
5th Round - No. 148 overall -
Chris Greenwood, CB, Albion
6th Round - No. 196 overall -
Jonte Green, CB, New Mexico State
7th Round - No. 223 overall -
Travis Lewis, OLB, Oklahoma
Read more about all of the
Lions' picks here.