Finding the Fits: From big to small, Steelers find 'em all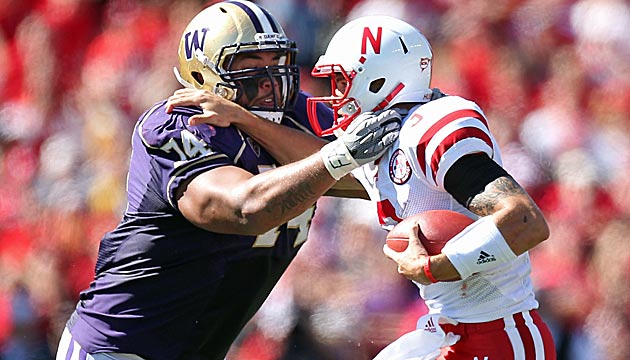 Alameda Ta'amu (74) has the size and power to take over at nose tackle for Dick LeBeau. (Getty Images)
Over the next several weeks,
NFLDraftScout.com
will be reviewing some of the more intriguing picks made during the 2012 NFL draft through a series called
"Finding the Fits."
The goal of the series is to identify one relatively unheralded player per team who appears to be a good schematic fit and therefore more likely to be a surprise contributor early in his pro career.
If one was to go back and listen closely enough to the audio from Draft Day 2012, there might just be an audible groan on record that drifted from the other 31 NFL cities when NFL commissioner
Roger Goodell
announced that the
Pittsburgh Steelers
were on the clock with
Stanford
offensive guard
David DeCastro
still on the board.
Steelers' fans, of course, were rejoicing. So too, likely, were Steelers president
Kevin Colbert
and head coach
Mike Tomlin
, as the ideal solution to Pittsburgh's hole at guard just happened to still, surprisingly, be available.
While the
Baltimore Ravens' Ozzie Newsome
has earned more attention over the past decade and the
Packers'
Ted Thompson
and
Giants' Jerry Reese
have generated a lot since -- all deservedly so, by the way -- no talent evaluator has enjoyed any greater success over the past decade than Colbert. By once again playing the draft as it came to him with a Best-Player-Available strategy,
Colbert and Co. once again were among the big winners
in the 2012 draft ... and it didn't end with the Stanford All-American at No. 24 overall.
DeCastro, himself, warrants an extended mention in this space because few first-round picks were better schematic and personality fits for their NFL teams than he will prove as a Pittsburgh Steeler. Considering how often quarterback
Ben Roethlisberger
likes to hold on to the ball, step into the pocket, hold on to the ball some more and then finally find a late-breaking receiver, protecting the inside is actually more important in Pittsburgh's scheme than sealing off the edges, which is why the combination of 2010 first-round pick
Maurkice Pouncey
(who has been selected to the Pro Bowl after each of his two NFL seasons) and DeCastro could be lethal for years to come.
Not that the Steelers had offensive tackle to worry about once
Ohio State's Mike Adams
fell to them in the second round. While he certainly has shown the poor decision-making and inconsistency over his career to justify falling even further, Adams has the size and talent of a top 20 pick. If anyone can get him to play up to his potential it will be Tomlin.
Getting a talented player to achieve up to his potential could also be the task at hand with fourth-round pick
Alameda Ta'amu
, as well. The 6-3, 348-pound former
Washington Husky
certainly has the bulk and power to take over for
Casey Hampton
as the Steelers' nose guard in defensive coordinator
Dick LeBeau's
beloved 3-4 defense. For the Steelers to enjoy the type of consistency on defense that they've had with Hampton in the middle, however, Ta'amu will have to ratchet up the intensity to levels that he didn't always play with in college. Ta'amu certainly played well when the lights were brightest, however, enjoying quite the breakthrough performance against Nebraska in the 2010
Holiday Bowl
and dominating the line of scrimmage during practice sessions at the 2012
Senior Bowl
. With the soon-to-be 35-year-old Hampton coming off a torn ACL, Ta'amu could be in line for significant playing time immediately.
Rarely do veteran teams like the Steelers get much production from their rookie class but this group could make a surprising impact. DeCastro, Adams and Ta'amu could all be starters in 2012. Pittsburgh could also see significant contributions from third-round linebacker
Sean Spence
as a coverage specialist and fifth-round running back/receiver dynamo
Chris Rainey
is precisely the type of versatile speedster that
Todd Haley
has successfully cultivated in previous stops in
Arizona
(
J.J. Arrington
) and
Kansas City
(
Dexter McCluster
).
The rest of the Steelers' picks:
1st Round - No. 24 overall - David DeCastro, OG, Stanford
2nd Round - No. 52 overall - Mike Adams, OT, Ohio State
3rd Round - No. 82 overall - Sean Spence, OLB, Miami
4th Round - No. 115 overall - Alameda Ta'amu, DT, Washington
5th Round - No. 145 overall - Chris Rainey, RB, Florida
7th Round - No. 231 overall -
Toney Clemons, WR, Colorado
7th Round - No. 240 overall -
David Paulson, TE, Oregon
7th Round - No. 246 overall -
Terrence Frederick, CB, Texas A&M
7th Round - No. 248 overall -
Kelvin Beachum, OG, Southern Methodist
Read more about all of the
Steelers' picks here.