Finding the Fits: Could Hillman challenge McGahee to be Broncos' top back in 2012?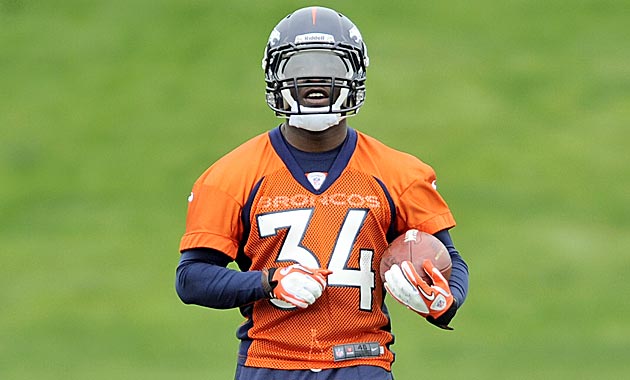 Ronnie Hillman could complement or soon displace veteran Willis McGahee in Denver. (Getty Images)
Over the next several weeks,
NFLDraftScout.com
will be reviewing some of the more intriguing picks made during the 2012 NFL draft through a series called
"Finding the Fits."
The goal of the series is to identify one relatively unheralded player per team who appears to be a good schematic fit and therefore more likely to be a surprise contributor early in his pro career.
The addition of
Peyton Manning
(and subtraction of
Tim Tebow
) has understandably generated most of the headlines for the
Denver Broncos
during this offseason. Frankly, the quarterback turnover has unfairly distracted fans from the phenomenal job that the Broncos' running game and defense did a year ago in turning around a 1-4 start to win the
AFC West
division and beat the defending AFC Champion
Pittsburgh Steelers
in the wildcard round before succumbing to what would turn into the new AFC champion
New England Patriots
in the divisional round.
Considering that the Broncos finished the 2010 season dead last in the division at 4-12, that's quite a turnaround in head coach
John Fox
's first year with the team -- regardless of who was playing quarterback.
The switch from incumbent starter
Kyle Orton
to Tebow after the poor start certainly played a role in the Broncos' surprising development last season. In reality, however, the Broncos turnaround stemmed from a draft day decision made months earlier when Fox and then-general manager
Brian Xanders
made the then-controversial decision to draft
Texas A&M
pass rusher
Von Miller
with the second overall pick. Everyone knew that Miller was a star in the making, but at 6-3, 245 pounds, he wasn't universally regarded as a great fit in Fox's preferred 4-3 alignment. Needless to say, however, after registering 64 tackles, 11.5 sacks and forcing two fumbles on his way to making the
Pro Bowl
roster and winning the NFL's
Defensive Rookie of the Year
honors, the immediate impact he made playing opposite another terrifically talented (if undersized) pass rusher in
Elvis Dumervil
more than justified the Broncos' selection.
Though Denver's willingness to cater their offense around the specific strengths of their quarterback certainly played a role in Manning's decision to sign with the Broncos, don't underestimate the similarities the future Hall of Fame quarterback may have seen in the combination of Miller and Dumervil off the edge as to what he had with the
Dwight Freeney
and
Robert Mathis
while with the
Indianapolis Colts.
If Manning is able to lead the Broncos to a strong offense in 2012, the duo could wreak havoc on opposing quarterbacks attempting to match Manning point for point -- just as Freeney and Mathis did.
Just as the Colts discovered this past season with Manning injured, with the team struggling to score points, opponents were able to control the clock and run the football right down the throats of Indianapolis' undersized defense. With each of the Broncos' starting two defensive tackles from a year ago (
Brodrick Bunkley, Marcus Thomas
) no longer on the roster, Denver knows that to be successful in a division as run-heavy as the AFC West, they needed reinforcements up front.
After trading out of the first round, the Broncos addressed this concern with their first pick, adding
Cincinnati
defensive tackle
Derek Wolfe
at No. 52 overall. Wolfe didn't generate nearly as much pre-draft buzz as some of the other defensive tackles in the 2012 draft but, frankly, he should have. The 6-5, 295 pound Wolfe was a three-year starter who steadily improved throughout his career, culminating with a senior season that saw him honored as the
Big East
's Defensive Player of the Year with 70 tackles, 21.5 tackles for loss and 9.5 sacks. Wolfe isn't as powerful as his size would indicate nor as explosive as a pass rusher as his stats would suggest. He is, however, a versatile, high effort player who could team with free agent addition
Justin Bannan
to give the Broncos a surprisingly effective interior.
Former
Arizona State
quarterback
Brock Osweiler
was an intriguing selection with the Broncos' other second-round selection. Like Manning, Osweiler lacks the mobility to consistently escape pressure but he has the natural arm talent of a first-round prospect. He's quite raw, however, after only starting one season with the Sun Devils but has the skill set worthy of developing behind Manning. Should Manning remain healthy, this could wind up being a very good pick for the Broncos. If Manning isn't able to remain on the field and Osweiler is pushed onto the field early, however, the pick could backfire as Osweiler lacks the anticipation, footwork and overall accuracy necessary to play well immediately.
In terms of contributing immediately, the biggest immediate impact the Broncos could see from a rookie on the offensive side of the ball will come from third round running back
Ronnie Hillman.
Like Wolfe, Hillman didn't generate a great deal of pre-draft buzz in the media despite the fact that he dominated his competition. Hillman did not qualify academically out of high school and thus was lightly recruited. He immediately proved he was a step above the talent level in the Mountain West Conference once he did get onto the field, however, by breaking former San Diego State star Marshall Faulk's freshman running record with 1,532 yards in 2010. He followed that up by breaking the conference record with 1,711 yards and scoring 20 touchdowns this past season. And don't think that Hillman just feasted upon MWC opponents. Hillman faced
Big Ten
,
Big 12
and
Pac-12
competition over his short career with the Aztecs, as well, rushing for over 100 yards in all three contests and for 200-plus yards and a combined six touchdowns against
Missouri
and
Washington State
.
At 5-9, 200 pounds, most assume Hillman will strictly be a change of pace back to complement returning starter
Willis McGahee
. I think he can be much more than that.
Don't get me wrong, Hillman has the agility and straight-line speed to effectively pair up with the gritty McGahee. He remains a work in progress a receiver and pass blocker, however, which means that his snaps might come more often on first and second down than strictly on third down as some have suggested.
Despite his lack of ideal size, Hillman is surprisingly effective as a between-the-tackles runner and doesn't need the open field to string together the type of moves to generate gaudy yardage totals -- though he's certainly dangerous on the outside, as well. Hillman is much more of a complete back than most are giving him credit for and, at just 20-years old, has fresh legs despite logging a ton of carries over his short collegiate career.
The Broncos are hoping to squeeze another season out of McGahee, who after seeing just an average of 104.5 carries in his last two seasons with the
Baltimore Ravens
, apparently found the fountain of youth somewhere in the Rockies, being called upon 249 times to carry the ball a year ago. Should McGahee's resurgence continue in 2012, Hillman could prove the effective change of pace back some suggest he could be.
Should McGahee struggle to produce following a season in which he absorbed the most pounding he's taken since 2007, Hillman appears to be in a better position than veterans
Lance Ball
and
Knowshon Moreno
to take over. If given that kind of opportunity -- with defenses focusing on stopping Manning rather than the running game -- I believe Hillman could wind up proving one of the real steals of the 2012 draft.
The rest of the Broncos' picks:
2nd Round - No. 52 overall - Derek Wolfe, DT, Cincinnati
2nd Round - No. 57 overall - Brock Osweiler, QB, Arizona State
3rd Round - No. 67 overall - Ronnie Hillman, RB, San Diego State
4th Round - No. 101 overall -
Omar Bolden, CB, Arizona State
4th Round - No. 108 overall -
Philip Blake, C, Baylor
5th Round - No. 137 overall -
Malik Jackson, DL, Tennessee
6th Round - No. 188 overall -
Danny Trevathan, OLB, Kentucky
Read more about all of the
Broncos' picks here.