Finding the Fits: Upshaw isn't Suggs, but he'll lead Ravens in sacks in 2012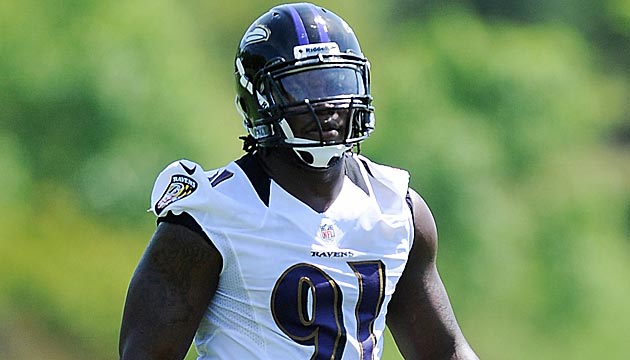 Courtney Upshaw's game more resembles departed Jarret Johnson than Terrell Suggs. (US Presswire)
Over the next several weeks,
NFLDraftScout.com
will be reviewing some of the more intriguing picks made during the 2012 NFL draft through a series called
"Finding the Fits."
The goal of the series is to identify one relatively unheralded player per team who appears to be a good schematic fit and therefore more likely to be a surprise contributor early in his pro career.
In most of the previous 27 "Finding the Fits" posts, I've highlighted players selected on Day 3 of the draft. Frankly, there are other, less heralded prospects selected by the
Baltimore Ravens
who deserved attention in this space. As an example, with
Ray Rice
holding out,
Temple
running back
Bernard Pierce
could be in line for a surprising role this season. I'm also particularly intrigued by the athleticism of two Ravens' picks: cornerback
Asa Jackson
(fifth round) and wide receiver
Tommy Streeter
(sixth round).
When it comes to identifying the most impactful rookie of the Ravens' 2012 draft, however, the choice is an easy one.
Ravens
' general manager
Ozzie Newsome
was praised -- as he often is -- following the 2012 NFL Draft for once again finding a falling star with his team's first pick. Newsome has made a living ignoring his team's biggest areas of need on draft day and instead selecting the best player available that slips to him. This strategy has led to Newsome selecting Pro Bowl talents like safety
Ed Reed
(No. 24 overall) and guard
Ben Grubbs
(No. 29 overall) despite his club often drafting relatively late in the first round.
Newsome followed this same strategy in 2012 but to an even greater extent by trading out of the first round entirely and yet still landing
Alabama
's
Courtney Upshaw
,
my top-rated pass rusher
, with the third pick of the second round.
Considering I had Upshaw graded as the No. 14 overall prospect in the 2012 draft, it probably doesn't surprise you that I believe the Ravens got excellent value with this selection. The fact that Newsome also acquired the
Minnesota Vikings
' fourth-round selection (No. 98 overall) in moving down just seven picks just makes the deal that much sweeter.
The selection of Upshaw made sense for the Ravens not only because the All-American was highly rated, however. The fit is also a very good one. In terms of his instincts, toughness and reliability, Upshaw is a similar player to
Jarret Johnson
, a no-nonsense defender who didn't generate the eye-popping production of Ravens' star
Terrell Suggs
but certainly would have been missed in Baltimore after signing with the
San Diego Chargers
as an unrestricted free agent in March.
Johnson would have been missed, that is, until Upshaw was added to the roster.
Drafting Upshaw looks even more brilliant now with the news that Suggs could miss up to the entire 2012 season with a partially torn Achilles' tendon. While Suggs is adamant that he'll return by mid November,
Reed and Ravens' head coach John Harbaugh sounded less certain
that they'd have their star pass rusher back this season.
To be clear, Upshaw is not the second coming of Suggs. While reports of his average athleticism and struggles during coverage drills at the
Scouting Combine
and his
Pro Day
have been overblown, there is no question that Upshaw lacks the burst upfield and lateral agility that helped Suggs register 70 tackles -- including 14 sacks -- and win the NFL's Defensive Player of the Year award in 2011.
Rather than explosive speed, Upshaw's production is based on his power. Whether as a down defensive lineman or stand-up rusher, Upshaw attacks opponents with a forceful and technically-sound use of his hands to disengage quickly from blocks. Upshaw isn't a dancer who'll spend time attempting to avoid blockers' reach. Generating explosive power through his thick lower body, he's often able to simply drive blockers deep into the pocket through a simple bull rush. Upshaw was at his best in the biggest games, earning Defensive MVP in each of Alabama's last two bowl games, registering five tackles, including three for loss, two sacks and a forced fumble against
Michigan State
in the 2010
Capital One Bowl
and a team-leading seven tackles, including a sack against
LSU
to help the Crimson Tide win the
BCS National Championship
this past season.
Despite playing alongside arguably the most talented "supporting" cast in football over his career at Alabama, Upshaw proved a star, leading the team in both tackles for loss and sacks over each of his final two seasons in Tuscaloosa. He'll be surrounded by even more talent in Baltimore, of course, but I don't expect the new surroundings to lessen his impact on game day at all. In fact, while Upshaw isn't likely to approach the 14-sack, seven-forced fumble season that Suggs enjoyed a year ago, I do expect he'll wind up leading the Ravens in sacks as a rookie.
The rest of the Ravens' picks:
2nd Round - No. 35 overall - Courtney Upshaw, OLB, Alabama
2nd Round - No. 60 overall -
Kelechi Osemele, OT, Iowa State
3rd Round - No. 84 overall - Bernard Pierce, RB, Temple
4th Round - No. 98 overall -
Gino Gradkowski, OC, Delaware
4th Round - No. 130 overall -
Christian Thompson, S, South Carolina State
5th Round - No. 169 overall - Asa Jackson, CB, Cal-Poly
6th Round - No. 198 overall - Tommy Streeter, WR, Miami
7th Round - No. 236 overall -
DeAngelo Tyson, DT, Georgia
Read more about all of the
Ravens' draft picks here.