2013 NFL Draft: Wake Forest Preview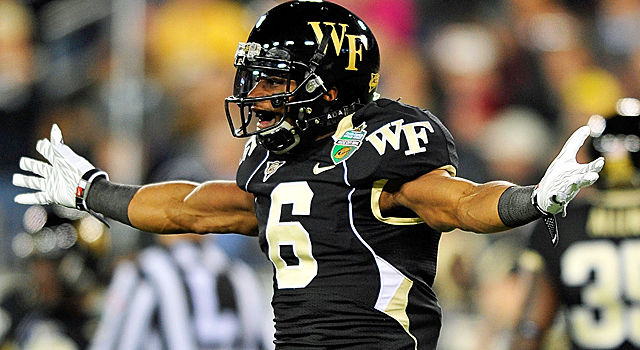 Okoro has the smarts and anticipation to get to the next level.
(Getty Images)
In preparation for the 2013 NFL Draft, NFLDraftScout.com will profile the top draft-eligible prospects from FBS-level programs. This summer series will run until the start of the college football season.

WAKE FOREST DEMON DEACONS
NFL Draft picks the last five years: 13
2012 NFL Draft picks: 4 - WR Chris Givens (4th round, 96th overall), LB Kyle Wilber (4th round, 113th overall), G Joe Looney (4th round, 117th overall), S Josh Bush (6th round, 187th overall)

In program history, Wake Forest has had four or more picks in a single draft just twice and both have come in the past four years (2009 and 2012). However, the Demon Deacons are still playing catch-up in terms of sending players to the next level with only 23 draft picks since 2000. In comparison, Miami (Fla.) has had 26 first round picks over that same period.

The Demon Deacons are looking to avoid their fourth straight losing season in 2012, but it will be tough with only 11 returning starters, losing their top rusher, top receiver and two top tacklers. However, the cupboard isn't bare for Wake Forest as they still have several NFL-quality players and the Demon Deacons always have a knack for exceeding expectations.

Top-five prospects for the 2013 NFL Draft
*Indicates underclassman

1. CB Kenny Okoro (6-0, 190)
Entering his fourth year as a starter, Okoro is one of the defensive leaders for the Demon Deacons and one of the more underrated players in the ACC. The son of Nigerian immigrants, Kenny, whose real name is Chibuikem, has been recognized by his coaches for his intelligence on and off the field. Okoro was lightly recruited out of high school, choosing Wake Forest over Georgia Tech, Duke and Marshall. After redshirting in 2008, he earned his way into the starting line-up as a freshman in 2009, starting the final eight games and earning Freshman All-American honors. Okoro started eight games again as a sophomore and set a career-best with 39 tackles and two interceptions. He started all 13 games in 2011 as a junior, recording 38 tackles, nine pass break-ups and one interception. Okoro has good size and length for the position, doing a nice job with his body positioning and awareness to make plays on the ball. He needs to clean up his footwork and stay balanced in his drops, but his defensive smarts and anticipation will earn him a shot at the next level.

2. WR Michael Campanaro (5-10, 190)*
Perhaps the only thing that lessened the blow of Chris Givens skipping his senior season in Winston-Salem was the fact that Campanaro would be back with the Demon Deacons in 2012. The rising junior emerged as an impact starting receiver last season and finished fourth in the ACC in receiving, averaging six catches per game. Campanaro was a three-star recruit out of Maryland, choosing Wake Forest over North Carolina and Northwestern. After redshirting in 2009, he saw limited action as a reserve wideout as a freshman with 10 catches for 107 yards and one score. Campanaro started 10 games in 2011 as a sophomore and finished second on the team with 73 receptions for 833 yards and a pair of touchdowns, earning All-ACC honors. He and Givens combined to have the most productive season for a pair of Wake Forest receivers in school history with 156 total receptions. Campanaro doesn't look like much and needs to continue to add bulk to his frame, but he has the speed and quickness to create separation and make things happen after the catch. He needs to clean up his routes and refine his footwork out of his breaks, but he can make plays at all levels of the field while lining up anywhere on the line of scrimmage. Although he needs to find the end zone more often, Campanaro could be drafted higher than Givens was (fourth round) with another season or two of seasoning.

3. OLB Joey Ehrmann (6-4, 220)
Expected to fill the shoes of the departed Kyle Wilber as the team's top pass rusher, Ehrmann lines up as a hybrid linebacker in Wake's 3-4 defensive scheme. He has strong football bloodlines as his father Joe was drafted 10th overall in the 1973 NFL Draft out of Syracuse, playing 13 years of professional football at defensive tackle. The younger Ehrmann was a lightly recruited prep player out of Maryland, choosing the Demon Deacons over Duke, Iowa and Syracuse. After redshirting in 2008, he saw immediate playing time as a freshman before becoming a full-time starter in 2010 as a sophomore, recording 67 tackles over his first two seasons. Ehrmann had his most productive season last year (13 starts) with 54 tackles, 3.0 tackles for loss, one forced fumble and one interception. He isn't the most flexible or balanced athlete, but he plays with an intense motor and doesn't quit until the echo of the whistle. Ehrmann only has five career sacks, but he will be expected to be the Demon Deacons top pass rush option in 2012.

4. CB Merrill Noel (5-10, 180)*
Reminding some of former Wake cornerback Alphonso Smith, Noel burst onto the scene last year as a redshirt freshman with a school-record 19 pass break-ups. He was named the conference's defensive freshman of the year and earned numerous Freshman All-American honors. Noel was a three-star cornerback out of Pahokee, Florida and spurned offers from Florida and Florida State to enroll at Wake Forest. He earned a starting job last season as a redshirt freshman and looked like anything but a first-year starter, totaling 66 tackles, 19 pass break-ups and a pair of interceptions, tying for the FBS-lead in passes defended (21). Although he has just one season at the college level, Noel is already on the NFL radar after his impressive freshman campaign. He has the speed to stay in receiver's hip pocket while showing the awareness and feel in coverage to keep an eye on the action around him. Noel is undersized and will get himself in trouble when he takes too many chances, but his natural fluidity and confident attitude is ideal for the position and he is definitely a prospect to remember for the future.

5. QB Tanner Price (6-2, 205)*
Since 1967, only one Wake Forest quarterback has been drafted (Mike Elkins, 1989), but Price could change that with another season or two of development. After a rough freshman season, the southpaw did a much better job taking care of the football as a sophomore starter last year and showed scouts he is someone worth keeping an eye on for the future. A two-star recruit out of Austin, TX, Price, who attended the same high school as NFL quarterbacks Drew Brees and Nick Foles, chose Wake Forest over offers from Stanford, Rice and Tulsa. He saw action as a true freshman in 2010, starting the final nine game of the season and throwing more interceptions than touchdowns (7-to-8). However, he showed substantial improvement as a sophomore last year, passing for 3,017 yards, 20 touchdowns, six interceptions and a 60.0% completion percentage. Although undersized, Price is an athletic mover with the arm to make accurate throws on the run and deliver catchable passes so his receivers can make plays after the reception. He probably won't be an early round pick, but he showed enough arm talent last season to at least be considered a pro prospect.

Just missed:
FB Tommy Bohanon (6-2, 245)
WR Terence Davis (6-1, 195)
C Garrick Williams (6-4, 310)
NG Nikita Whitlock (5-11, 260)*
DE Zach Thompson (6-5, 255)*
MLB Scott Betros (6-1, 240)
FS AJ Marshall (5-11, 180)*

For more 2012 college football draft previews click here.