2013 NFL Draft: Texas Tech Preview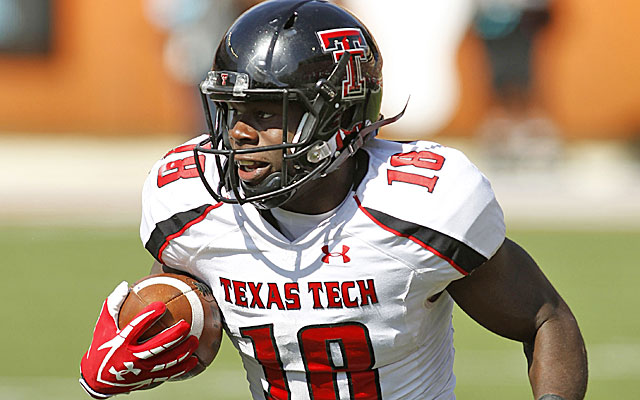 Eric Ward has numbers (84 catches for 800 yards, 11 TDs in 2011) to go with size and strength. (Getty Images)
In preparation for the 2013 NFL Draft, NFLDraftScout.com will profile the top draft-eligible prospects from FBS-level programs. This summer series will run until the start of the college football season.

TEXAS TECH RED RAIDERS
NFL Draft picks the last five years: Six
2012 NFL Draft picks: Zero
More NFL draft prospects
Related content
While Tommy Tuberville is entering his second season as head coach of the Red Raiders, the fingerprints of Mike Leach still remain all over the program. The offense was based on a quick-timing spread attack that inflated the passing statistics and made Tech as difficult to defend as any team in the country -- this despite redshirt junior quarterback Seth Doege getting his first extended opportunity to start.
The defense, however, was atrocious, ranking 117th in the country in points allowed and thus, despite starting the season 5-2 including upsetting then No. 3 Oklahoma, Texas Tech went on to lose their final five games of the season and for the first time since 1999 the Red Raiders didn't have the required number of victories (six) to go bowling.
Those close to the program are confident that new defensive coordinator Art Kaufman, who had served under Butch Davis at the University of North Carolina previously, will improve this unit. If Tech is to once again rise as a legitimate bowl threat, however, the Red Raiders' offense will have to carry that load once again.
Even when Leach was winning at Tech, the Red Raiders were infrequent contributors to the NFL draft. Texas Tech has produced only four top 50 selections in the NFL draft since the early 80s, the highlight, of course, being All-American wide receiver Michael Crabtree, who has struggled to play up to his draft selection since being picked No. 10 overall by the San Francisco 49ers in 2009.
The 2012 Texas Tech roster doesn't offer an overwhelming number of pro prospects this year, either. There are several intriguing middle and late round possibilities, however, to warrant scouts taking a close look in Lubbock.

Top-five prospects for the 2013 NFL Draft
*Indicates underclassman

1. OT LaAdrian Waddle (6-6, 332)
Despite the Red Raiders' focus on the passing game over the past decade, Texas Tech has not been able to produce quality exterior offensive linemen with any real consistency during that time. In fact, with the exception of Daniel Loper, whom the Tennessee Titans selected in the fifth round in 2005, the Red Raiders haven't had a true offensive tackle picked in the NFL draft since 1985. That streak may come to an end this year, however, with the massive Waddle, who enters his senior campaign having started 27 games -- including the past 25 consecutively -- at the all-important left tackle position. Waddle has the bulk and long arms scouts are looking for but he carries too much weight around his middle and lacks the foot quickness to remain on the blindside against NFL speed. He's earned all-conference recognition after each of the past two seasons, including Second Team honors a year ago, but frankly, has been protected by the quick-passing in this scheme and has yet to demonstrate the type of consistency that would warrant anything other than a late round selection at this point.

2. QB Seth Doege (6-1, 200)

One position in which the Red Raiders have consistently churned out prospects, albeit lower level talents, is at quarterback and in Doege (pronounced DAY-ghee), Tech once again boasts a incredibly productive passer. Doege was a highly regarded prep prospect who generated interest from the University of Florida, Oklahoma and Purdue (as well as Tech and several others) early in his high school career. Unfortunately, he tore an ACL during his junior season, missing the entire campaign. In a cruel twist of fate, Doege tore the ACL in his other knee a year later. Most colleges pulled their scholarship offers but Leach remain committed and offered Doege an opportunity to play. He served mostly as a backup early in his career, though he did start and help Tech beat Kansas as a redshirt freshman in 2009. Doege got his first real opportunity to start full-time last season and he showed the command of the offense and accuracy to be very effective -- ranking fith in the country with 333.7 yards per contest and throwing for an impressive 28 touchdowns against just 10 interceptions. The highlight of his season came against Oklahoma, as he torched the Sooners for 441 passing yards and four touchdowns against zero interceptions in leading Tech to a shocking upset victory. Doege was also impressive against a talented Texas secondary (381 yards, two touchdowns, zero interceptions) but struggled with consistency down the stretch once weapons around him began to go down with injuries of their own. Doege has enough zip to pique the interest of scouts and showed surprising vision and confidence in his first full season of action since 2005. To be anything more than a late or free agent prospect, however, he'll need to once again remain healthy and play with greater consistency.
3. WR Eric Ward (6-0, 202)
With the Red Raiders focusing so much of their offensive production on the passing game, it should come as no surprise that several of their more intriguing pro prospects come at the receiver position. While no one currently on Tech's roster is going to challenge the draft position of former two-time Biletnikof winner Michael Crabtree, Ward emerged in 2011 as the Red Raiders' most dependable pass-catcher, securing a team-high 84 grabs for 800 yards and 11 touchdowns. Ward's numbers speak for themselves, but it is combination of size, strength and athleticism that has scouts intrigued. The well-built Ward is a reliable route-runner and hands-catcher and has the toughness to handle playing the slot at the next level.

4. WR Tyson Williams (5-11, 218)
While Ward was undeniably the team's most reliable receiver a season ago, some close to the program believe that Williams, a transfer from West Texas A&M who sat out the 2011 season, could emerge as a star for the Red Raiders as a senior. Williams is used to being successful. While at West Texas A&M he earned DII All-American honors by catching 96 passes for 1,321 yards and eight touchdowns. Like Ward, Williams' statistics, however, are less impressive than his build and unique physicality for the receiver position. As a member of the scout team a season ago Williams routinely gave the Tech first team defense fits not only as a pass-catcher but as a downfield blocker, as well. Given that he has no real playing time at the FBS level yet, it is difficult to give Williams anything more than a late round grade at this point but make no mistake NFL scouts have taken notice of Williams' unique skill-set.

5. SS Cody Davis (6-2, 200)
As bad as the Texas Tech defense was a season ago the unit could have been much worse if not for the reliable, physical tackling of all-conference safety Cody Davis, who paced the Big 12 with an average of 6.55 solo tackles a game. Davis, entering his fourth season as a starter for the Red Raiders, is a classic in-the-box strong safety type who is at his best reading the eyes of the quarterback and attacking the line of scrimmage. He has 261 career tackles entering the 2012 campaign but isn't much of a threat as an interceptor, recording only one (against Houston, 2010) over his career. Davis does break down well against athletic ball-carriers in the open field, however, and has long, strong arms to make the effective wrap-up tackle, while also keeping his hands active to pry away the football (four forced fumbles over his career). Davis will have to prove to scouts that he has the athleticism to handle coverage responsibilities in the NFL to earn a draft selection but his size, durability and open field tackling skills could make him an effective special teams performer.
Just missed:
CB Jarvis Phillips (5-10, 196)*
RB Eric Stephens (5-08, 195)
WR Darrin Moore (6-4, 214)
WR Alex Torres (6-1, 195)
WR/RS Ben McRoy (5-08, 165)*
For all of NFLDraftScout.com's team by team previews of the top prospects to watch in the 2012 season in preparation for the 2013 NFL draft, click here.