2013 NFL Draft: West Virginia Preview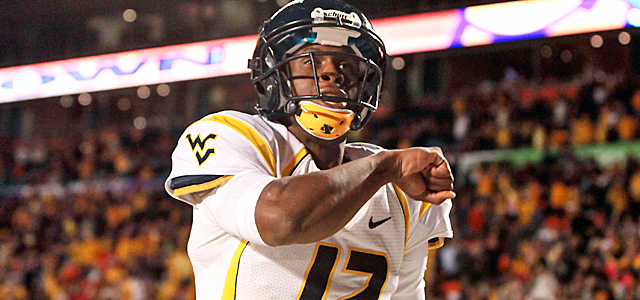 Geno Smith has the size, mobility and arm strength to be a legit NFL prospect.
(U.S. Presswire)
In preparation for the 2013 NFL Draft, NFLDraftScout.com will profile the top draft-eligible prospects from FBS-level programs. This summer series will run until the start of the college football season.

WEST VIRGINIA MOUNTAINEERS
NFL Draft picks the last five years: 14
2012 NFL Draft picks: Three - DE/OLB Bruce Irvin (1st Round, No. 15 overall), LB Najee Goode (5th Round, No. 140 overall), CB Keith Tandy (6th Round, No. 174 overall)
West Virginia finished the college football season ranked in the top ten in each of former head coach Rich Rodriguez's final three years with the team. Bill Stewart, who took over when Rodriguez left for Michigan, led the Mountaineers to 9-4 records in each of his three seasons at the helm but wasn't able to get West Virginia over the proverbial hump, leading to Athletic Director Oliver Luck giving the job to Dana Holgorsen after a year working under Stewart as offensive coordinator.
Holgorsen, who helped build Oklahoma State into one of the nation's elite offenses, led West Virginia to a Big East championship last season and a thorough domination (70-33) of Clemson in the Orange Bowl in his first season as head coach. His dynamic offense has already proven successful in the Big 12 so there is no reason to believe that the Mountaineers shouldn't be able to keep the scoreboard operator busy as West Virginia moves into the conference this year -- especially considering the firepower he's bringing with him.

Top-five prospects for the 2013 NFL Draft
*Indicates underclassman

1. QB Geno Smith (6-3, 214)
Most expect that Oklahoma's Landry Jones will be the quarterback to ascend to the top of the Big 12 this season now that Robert Griffin III and Brandon Weeden have left for the NFL. If Smith can duplicate the success he's enjoyed over the past two seasons in the Big East, however, he could be the signal-caller who earns the most attention from NFL scouts this fall. Smith, possessing a legitimate NFL combination of size, mobility and arm strength, completed over 65% of his passes over the 2010-11 seasons, throwing for a combined 55 touchdowns against only 14 interceptions. Clearly his statistics have been inflated by Holgorsen's high-octane passing attack, but make no mistake Smith is blessed with some intriguing traits that helped him shred a talented Clemson defense with 401 passing yards and six touchdown tosses -- each of which eclipsed Orange Bowl records. Despite his gaudy statistics, there are some warts to Smith's game. He takes virtually every snap from shotgun, is inconsistent with his set-up and delivery, often throwing off his back foot and has only average accuracy, at this time, on deeper throws -- especially those that require touch. Against the notoriously leaky secondaries of the Big 12 conference, Smith could post eye-popping statistics this season, perhaps earning himself all-conference, All-American and perhaps even Heisman consideration. To earn a spot within the first two rounds of the 2013 draft, however, he'll have to tighten up his mechanics.

2. WR Tavon Austin (5-09, 176)
Rodriguez enjoyed a lot of success riding versatile, undersized matchup nightmares like Steve Slaton and Noel Devine (among others). Like these two, Austin was a running back in high school but was moved to wide receiver early on at West Virginia and the results have been spectacular, as he's earned All-Big East accolades after each of his three starting seasons with the Mountaineers, culminating in a 2012 campaign in which he led the entire country by gaining 198 all-purpose yards per game. Due to his experience as a running back, Austin shows little fear amongst the big bodies and is as dangerous in the quick screen game as any player in the country. Not surprisingly, it is in this role that Holgorsen elected to feature Austin last season, having him operate out of the slot so as to take advantage of the playmaker's vision, agility and acceleration. Due to his lack of traditional size, Austin's ceiling in the NFL is limited. His production at this level, however, may not have a ceiling as he'll not only be featured as West Virginia's top receiver but also as a change of pace running back and as the team's primary return specialist, where he earned the Big East's Special Teams Player of the Year in 2011 by averaging a gaudy 14.1 yards per punt return (tops in Big East, sixth nationally) and 26.6 yards per kickoff (including returning two for scores in 2011, three for his career). Austin will be compared to many other "undersized" athletes in the NFL. Expect to hear him compared to Percy Harvin, DeSean Jackson, and even Wes Welker, on occasion. In reality, Austin's game lacks the physicality of a Harvin or the vertical element that Jackson brings to the Eagles. He is not the same caliber of route-runner or receiver that Welker has proven to be. A fairer comparison might be to former Kansas City Chiefs' returner and receiver Dante Hall (5-08, 187) due to their similar size and elite make-you-miss fluidity.

3. WR Stedman Bailey (5-10, 190)*
While Austin might just be the most exciting football player in the country, Bailey was actually West Virginia's most reliable and productive receiver a year ago. Bailey, who possesses a more traditional combination of size and speed for NFL scouts to consider, averaged 17.8 yards per reception in 2011, accumulating a school-record 1,279 receiving yards and 12 touchdowns despite catching nearly 30 passes less than Austin. Bailey, a true junior, isn't quite as agile as his more hyped teammate and he lacks the explosive first step that has helped Austin be such a dynamic returner throughout his career. Bailey, however, has a similar "stocky" frame and is a more accomplished route-runner making many of his biggest plays on verticals and deep crossing patterns that will more easily translate into an NFL offense.
4. OLB/SS Terence Garvin (6-2, 222)
For the past two seasons Garvin operated out of the "Spur" position in West Virginia's 3-3-5 scheme, demonstating many of the traits NFL scouts are looking for in a weakside linebacker in the 4-3 alignment or as a classic in-the-box strong safety. He was often put in position to make plays in coverage at this position, which helped him average 74 tackles and five passes broken up in each of his two starting seasons with the Mountaineers. West Virginia is hoping Garvin's aggression and physical open-field tackling help him make more plays behind the line of scrimmage this season as he's been moved to the "Star" outside linebacker position in their new 3-4 alignment. Garvin has demonstrated enough awareness in the past to acclimate quickly to the position change but will have limited time to do so as he missed spring football recovering from knee surgery that kept him out of the Orange Bowl.

5. C Joe Madsen (6-4, 302)
After redshirting in 2008, Madsen has started the past 38 consecutive games for West Virginia -- all but seven of them (RG) coming at the center position. Madsen has been earning all-conference recognition from the media since 2009 and gained acknowledgement as a Second Team All-Big East player last season by the league's coaching staffs. Playing in this offense, Madsen has proven to be a capable shotgun snapper, demonstrating the combination of awareness, quickness and balance scouts are looking for in middle to late round center prospect. To improve his standing with scouts, Madsen needs to continue to get stronger, as he relies on his quickness and technique to create holes. When faced with stronger defenders, Madsen can struggle to generate movement at the point of attack, resulting in his playing lower but also ducking his head on impact, at times, which can lead to successful swim moves by his opponent.
Just missed:
OG Jeff Braun (6-4, 322)
K Tyler Bitancurt (6-1, 203)
FB Ryan Clarke (6-0, 228)
CB Pat Miller (5-10, 188)
OG Josh Jenkins (6-3, 305)
For all of NFLDraftScout.com's team by team previews of the top prospects to watch in the 2012 season in preparation for the 2013 NFL draft, click here.