2013 NFL Draft: Oregon Preview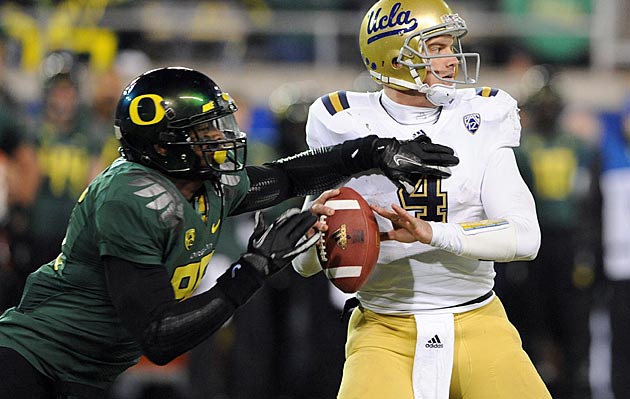 After an all-Pac-12 performance in 2011, Dion Jordan won't be sneaking up on anybody in 2012. (Getty Images)

In preparation for the 2013 NFL Draft, NFLDraftScout.com will profile the top draft-eligible prospects from FBS-level programs. This summer series will run until the start of the college football season.
OREGON DUCKS

NFL Draft picks the past five years: 17
2012 NFL Draft picks: Four -- RB LaMichael James (Second Round, No. 61 overall), LB Josh Kaddu (Fifth Round, No. 155 overall), OG Mark Asper (Sixth Round, No. 178 overall), TE David Paulson (Seventh Round, No. 240 overall).
Considering the fact that Chip Kelly had guided the University of Oregon to three consecutive conference titles, some are surprised by how few NFL prospects have come out of the program. Linebacker Casey Matthews, for example, was the only Duck to be drafted from the team that lost 22-19 to Cam Newton and the Auburn Tigers in the 2011 BCS Championship.
Having led Oregon to the national title game and berths in two Rose Bowls in his three seasons at the helm, however, Kelly has turned the program into a national power and one that is now annually signing some of the highly regarded prep prospects in the country.
The fruits of that labor was seen with four former Oregon players being selected in 2012 and several more in line to be drafted after this season, including a trio of prospects who could earn top 100 consideration.
Top-five prospects for the 2013 NFL Draft
*Indicates underclassman

1. OLB/DE Dion Jordan (6-6, 246)
Jordan signed with Oregon as a highly regarded prep tight end and only made the switch to the defensive side of the ball in the spring of 2010. As a reserve defensive end for the Ducks in 2010 Jordan registered 33 tackles, including 5.5 tackles for loss and two sacks. To take advantage of his unique combination of burst off the snap and length, Oregon created a hybrid role for Jordan in 2011, lining him up as a stand-up pass rusher and moving him around to find favorable matchups. Demonstrating surprising fluidity for such a tall player, Jordan exploded for 13 tackles for loss and 7.5 sacks, each of which led the team, earning First Team all-conference honors from Pac-12 coaches. Rarely asked to play with his hand in the dirt as a traditional defensive end, Oregon helped protect Jordan as a run-defender as he lacks the bulk to consistently set the edge against 300 pound behemoths. Jordan's long arms and vision, however, allow him to disengage from most blockers quickly and he plays with a high-revving motor, often pursuing the ball-carrier yards downfield. Teams looking for a traditional 3-4 rush linebacker will be intrigued by Jordan as he times the snap well, shows the flexibility to dip under the reach of tackles and closes quickly. Unlike most "defensive ends" asked to make the transition to outside linebacker, Jordan has experience in coverage, as he was routinely asked to line up over the slot receiver initially, showing the balance and awareness to give a creative NFL defensive coordinator a variety of ways in which he can rattle the opposing quarterback.

2. FS John Boyett (5-10, 202)

Under Kelly, the Ducks have become famous for their breathtaking offensive firepower. However, throughout Kelly's tenure (and previously Mike Bellotti's, as well) Oregon's most consistent contributions to the NFL came from the defensive secondary. Since 2002, Oregon has had nine defensive backs selected in the NFL draft, including standout safeties Patrick Chung (New England Patriots), T.J. Ward (Cleveland Browns) and Jairus Byrd (Buffalo Bills). The physical and instinctive Boyett will be the next Duck defensive back to join the NFL. Boyett, who considered making himself available for the draft a year ago, earned second team all-conference honors from Pac-12 coaches in 2012, registering a team-leading 108 tackles to go along with 3.5 tackles for loss, seven passes broken up, two blocked kicks and an interception -- the ninth of his career. Boyett burst onto the scene as a redshirt freshman in 2009, subbing for the injured Ward to lead the Ducks with 90 tackles, eight passes defended and three interceptions despite only starting 10 of the team's 13 contests. As a follow-up, Boyett snared a career-high five interceptions and 14 passes defended overall in 2010 and finished second on the team with 78 stops. Boyett certainly doesn't get the hype of some of the other talented safeties across the country but he's a very good all-around defender who, with another solid campaign, could illicit a similar grade as Chung, Ward and Byrd -- each of whom were selected in the second rounds of their respective draft classes.
3. RB Kenjon Barner (5-11, 195)
One can understand if opponents try to take a small sigh of relief that LaMichael James is no longer the featured runner for the Quack Attack but with similarly gifted speedsters Barner and De'Anthony Thomas waiting in the wings (pun intended), it will be small sigh, indeed. Though he has operated primarily as a backup to this point in his career, Barner has logged plenty of playing time for scouts to know his game well. Expected to take over as the starter this season, Barner enters the 2012 season having already rushed for 1,856 yards (6.1 yard per carry average!) and 20 rushing touchdowns over his career. He's also caught 34 passes for 335 yards and five scores and has taken both a punt (80 yards, vs. Tennessee in 2010) and kickoff (100 yards, vs. UCLA in 2009) back for scores, as well. Like Boyett, Barner briefly toyed with the idea of heading into the draft following last season. He could be rewarded for his patience as Barner appears poised to enjoy a monster season as the Ducks' primary ball-carrier in 2012. Barner lacks the size that NFL teams are looking for in feature runner but like James (and the explosive true sophomore Thomas), Barner possesses the vision and acceleration to turn a routine carry or reception into a game-changer and as such should warrant top 100 consideration if the senior running back proves he can handle the additional workload.

4. OG Carson York (6-5, 292)
A veteran of 36 starts entering his senior season, York is one of the reasons why the Ducks have been so successful offensively over the past several seasons. Having seen action at both left and right guard, York has earned significant praise from the media for his play, including All-American honors from some publications. York is well-suited to Kelly's offense. Possessing a lanky build normally associated with offensive tackles rather than interior offensive linemen, York shows good quickness off the snap, as well as the speed and balance to handle blocking at the second level -- a skill-set required when the guards are asked to pull as often as Oregon does. To improve his stock with scouts, York will need to play with better pad level and leg drive in short yardage situations. He's balanced and alert in pass protection, however, and is a very effective combo blocker in the running game. York isn't likely to generate the same level of interest from NFL teams as some of his more highly touted teammates but could earn a similar grade as his former linemate Mark Asper, whom the Buffalo Bills selected in the sixth round of the 2012 draft.

5. P Jackson Rice (6-3, 225)

It seems almost unfair that a team boasting as much offensive firepower as the Ducks can also feature an NFL-caliber punter, but that is precisely what Oregon presents to opponents with Rice. Possessing the size and build that scouts love to see at the position, Rice was one of three finalists a season ago for the Ray Guy Award as the nation's best punter, averaging 45.9 yards per attempt -- the second best total in school history. Graded by some recruiting services as the top prep punter in the nation when he signed with Oregon, Rice has started each game of his career and has averaged 42.7 yards (in 149 attempts) in 37 career contests. Rice boasts a strong, accurate leg and due to his size and poise, has proven to be an effective weapon on fakes, especially during his duties as the holder for field goals and PATs. He's improved steadily throughout his career and could be one of the few punters next season to earn legitimate draft consideration.

Just missed:
OT Nick Cody (6-5, 302)
DL Taylor Hart (6-5, 285)*
WR Josh Huff (5-11, 207)*
WR Rahsaan Vaughn (6-2, 193)
OLB Michael Clay (5-11, 225)
For all of NFLDraftScout.com's team by team previews of the top prospects to watch in the 2012 season in preparation for the 2013 NFL draft, click here.