2013 NFL Draft: Stanford Preview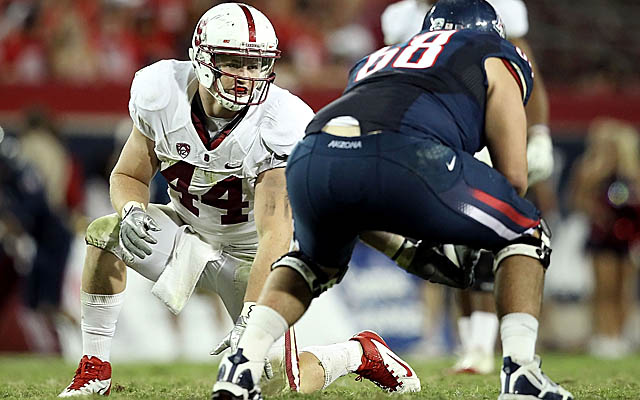 Chase Thomas, who had a fearsome 52 tackles last season, should turn plenty of heads this year. (Getty Images)

In preparation for the 2013 NFL Draft, NFLDraftScout.com will profile the top draft-eligible prospects from FBS-level programs. This summer series will run until the start of the college football season.
STANFORD CARDINAL

NFL Draft picks the past five years: 11
2012 NFL Draft picks: Four -- QB Andrew Luck (First Round, No. 1 overall), OG David DeCastro (First Round, No. 24 overall), TE Coby Fleener (Second Round, No. 34 overall), OT Jonathan Martin (Second Round, No. 42 overall).
With the support of the most talented NFL draft class in school history David Shaw took over for Jim Harbaugh and in his first season at the helm led Stanford to an 11-2 season, berth in the Fiesta Bowl and a No. 7 overall post-season ranking. And frankly, they were better than No. 7.
The improvement at Stanford has been as swift as it has been lethal to opponents. Consider that the Cardinal had zero prospects drafted into the NFL after the 2008 and 2009 seasons. In as quick a turnaround as you're likely to see at a program with the high academic standards Stanford has, the program shunned the new-era spread passing attack that is otherwise speeding throughout the country and dedicated itself to a traditional power-based pro-style attack resulting in huge gains in the win column and the development of a rich stock of professional-grade talent.
Everyone knew that Andrew Luck was going to wind up being the first pick of the 2012 NFL draft. What may be even more remarkable than his brilliant college career, however, was how Stanford built a program around him. Stanford "only" had three other Cardinal players selected in April with Luck, but each of them came within the first 42 picks. That's a mark that only national champion Alabama beat. (The Crimson Tide saw five players selected among the first 35.)
With Luck now a member of the Indianapolis Colts, the pressure will be on Shaw and his staff to keep the ball rolling. The 2013 draft won't be as complimentary to the Stanford program as this past year's was, but this now appears to be a team capable of churning out top NFL talents with consistency.
Top-five prospects for the 2013 NFL Draft
*Indicates underclassman

1. OLB Chase Thomas (6-4, 240)

Only the presence of Luck and Stanford's dominant offense kept Thomas (pictured above) from earning recognition as one of the nation's elite defenders in 2011. In fairness, Thomas did receive some credit. Pac-12 coaches put him on the all-conference team and a few even listed him as an All-American. Thomas did not get the acknowledgement he deserved, however, considering the impact he made for the Cardinal in posting 52 tackles, including a gaudy 17.5 tackles for loss (including nine sacks) and forcing five fumbles. While listed as a strongside linebacker in Stanford's 3-4 scheme, in reality, the Cardinal coaching staff moved Thomas all over the field, alternately rushing him from the stand-up position from the right and left sides, having him attack gaps up the middle on the blitz, putting his hand in the dirt to rush as a traditional 4-3 defensive end and even splitting him out wide to cover slot receivers. Regardless of his role, Thomas' quickness, instincts and physicality consistently resulted in big plays for the Stanford defense last season. Used primarily as a traditional defensive end as a redshirt freshman in 2009, Thomas showed the potential to be a star early on, earning all-conference freshman honors by posting 36 tackles, seven tackles for loss and four sacks. Moved to the rush linebacker position in 2010, Thomas responded with a career-high 70 tackles, including 11.5 for loss and tying with Shayne Skov for the team-lead in sacks (7.5). Folks, I'll be the first to admit that I should have caught on quicker to the versatility and playmaking demonstrated by Shea McClellin at Boise State. I was still earlier than most, recognizing the myriad of possibilities the Chicago Bears' 2012 first round pick could bring to the NFL once I saw him in person at the Senior Bowl. I'm not waiting around this time... Assuming he remains healthy and shows some improvement in his pass coverage, Thomas is a star capable of playing well in either the 4-3 or 3-4 and could be a first round pick come April.

2. TE Levine Toilolo (6-7, 263)*

Along with Coby Fleener (now an Indianapolis Colt) and fellow redshirt junior Zach Ertz, Toilolo (full name pronounced La-Veen Toy-lo-lo) combined to give the Cardinal a three-headed monster at tight end that ranked among the most lethal units in all of college football last season, regardless of position. Toilolo finished second on the team to Fleener in touchdown receptions (six) in 2011, earning honorable mention all-conference honors, despite the fact that he "only" caught 25 passes (tied for sixth on the team) for 343 yards (fifth). While not as fast as Fleener (who was clocked at 4.45-4.50 at his Pro Day), Toilolo is bigger, stronger and more aggressive as an in-line blocker than his former teammate. Offering a similar skillset to former UCLA (and current Jacksonville Jaguars) standout Marcedes Lewis, Toilolo offers enough speed to challenge down the seam, the power to plow through defenders and the body control and ball skills to make plays in a crowd. Scouts will also like his bloodlines, as Toilolo has three uncles who each made names for themselves in the NFL in Dan Saleaumua, Edwin Mulitalo and Joe Salave'a. Toilolo looked fully recovered last season from the knee injury that required surgery and forced him to miss all but two plays in 2010 (injured making his only catch -- for 27 yards) but his final draft status will hinge on a clean medical report from NFL doctors.
Early in their respective careers, it appeared that Skov, not Chase Thomas, would be Stanford's dominant defender. If not for a torn ACL ending his 2011 season after only three games, he may have been the one to earn All-American attention as he certainly demonstrated the instincts, vision, physicality and closing speed to rack up impressive totals. Skov, in fact, was well on his way to a banner campaign as he had 19 tackles, including five for loss and 1.5 sacks at the time of his injury and was coming off a 2010 season in which he'd posted 84 tackles (leading the team), along with 10.5 tackles for loss, 7.5 sacks (tied for team-lead with Thomas) and five passes broken up. The question with Skov, of course, will be how he recovers from the left knee injury. While a terrific player, Skov has already shown a tendency to get nicked up (missed two games in 2010, as well). Scouts will also be sure to delve into Skov's background, as he was arrested for driving under the influence February 5 and will be held out of Stanford's opener against San Jose State as a one-game suspension. As part of his punishment for the arrest, Skov was briefly suspended from the team. Due to his recovery and suspension he was not able to participate in Stanford's spring practices. While he has been cleared to resume practice now, Shaw preached patience when asked about Skov's recovery during the Pac-12 media session this week. "There's no substitute for playing, and he hasn't played (since September),'' Shaw said, according to Jon Wilner of The Mercury News. "To get out there and make split-second decisions, after he missed so much time, might take a while.''
4. TE Zach Ertz (6-6, 250)*

With all due respect to Notre Dame's Tyler Eifert, in the eyes of NFL scouts, Toilolo and Ertz may be ranked 1A and 1B when it comes to gauging the top 2014 tight end prospects in the country. Therefore, being characterized as Stanford's fourth best prospect is more of a reflection of the talent in Palo Alto than a knock on the sure-handed Ertz, who could join his former teammate Fleener as a top 50 selection in the NFL draft despite not necessarily being the top prospect at his position on his own collegiate team. Like Fleener and Toilolo, Ertz is an absolute mismatch at an estimated 6-6, 250 pounds. Ertz began the 2011 season on a tear, catching touchdown passes in each of the team's first three games, which extended his streak of six consecutive games with a score going back to the 2010 campaign. Unfortunately, he suffered a knee sprain covering the opening kickoff against USC last year, which put a damper on what could have been a spectacular redshirt sophomore season. At the time of his injury Ertz had caught 22 passes for 308 yards and three touchdowns -- numbers that ranked higher than Toilolo's despite the fact that Ertz largely came off the bench in 2011 (three starts in ten games). Ertz, like Toilolo, does not boast the same straight-line speed that made Fleener such a big play specialist for the Cardinal but he shows good quickness out of his breaks and is a reliable hands-catcher. He's not as consistent an in-line blocker at this point as Toilolo but is better in this regard than Fleener.

5. RB Stepfan Taylor (5-11, 210)

While he has no doubt been aided by the presence of Luck and a terrific offensive line, Taylor's impressive production at Stanford will not go unnoticed by NFL scouts. Taylor, who enters his senior season, with 2,770 career rushing yards, is in position to challenge as the school's all-time leader in this category, needing 1,264 to pass Darrin Nelson. He's a well-built back who runs with authority, showing good leg drive and forward lean to get yardage after contact and must like the smell of the endzone as he's scored 30 career touchdowns -- 27 of them coming on the ground. Given some big holes, Taylor rarely wastes time dancing behind the line of scrimmage, though he does show enough wiggle to slip past defenders and has the speed to gain yardage in chunks. As one might expect considering the strong fundamental play from most of Stanford's prospects, Taylor is well coached. He gets his head around to catch passes cleanly, is willing to face up defenders as a blocker and gets the most out of his runs. In rushing for a career-high 1,330 yards last season (including an all-time best 177 yards (and two touchdowns) against Oklahoma State in the Fiesta Bowl, he's played well on the big stage. With defenses bound to make stopping him their top priority in 2012, however, Taylor could have a tough time duplicating his prior success and is viewed as a middle to late round NFL prospect, at this time, rather than the high pick candidate his impressive statistics might indicate.

Just missed:
DE Ben Gardner (6-4, 252)*
OC Sam Schwarzstein (6-3, 292)
NG Terrence Stephens (6-2, 295)
CB Terrence Brown (6-1, 178)*
FB/HB Ryan Hewitt (6-3, 238)*
For all of NFLDraftScout.com's team by team previews of the top prospects to watch in the 2012 season in preparation for the 2013 NFL draft, click here.

Photo credit: US Presswire