2013 NFL Draft: Washington Preview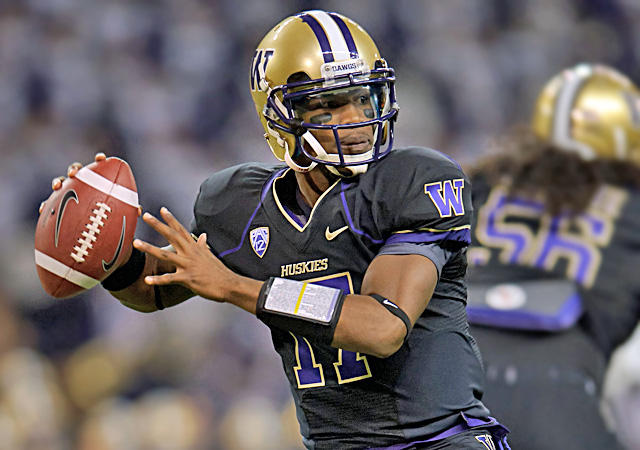 Keith Price emerged as the third best QB in the Pac-12 a year ago, behind Andrew Luck and Matt Barkley.
(Getty Images)
In preparation for the 2013 NFL Draft, NFLDraftScout.com will profile the top draft-eligible prospects from FBS-level programs. This summer series will run until the start of the college football season.
WASHINGTON HUSKIES

NFL Draft picks the past five years: Six
2012 NFL Draft picks: Two -- DT Alameda Ta'amu (Fourth Round, No. 109 overall), OG Senio Kelemete (Fifth Round, No. 151 overall).
At first glance, it would seem that the once-proud tradition of routinely producing several high-caliber NFL prospects from the University of Washington has hit rock-bottom. As shown above, the program has sent only six players via the seven round draft to the NFL over the past five seasons -- with only one of those (quarterback Jake Locker) coming among the first 78 picks. As a point of comparison, USC has had 40 players drafted into the NFL during this same time period.
In reality, UW hit rock bottom years ago and has steadily improved since Steve Sarkisian was hired as head coach. Each of the six players selected by the NFL have come following his three years as head coach. No Huskies were drafted in 2008-09.
Last year was a banner season for the Huskies, as many expected the team to struggle with Locker moving on to the Tennessee Titans. Despite it being his first season as the starter, then sophomore quarterback Keith Price actually proved to be a more consistently accurate passer than Locker. While the defense was abysal, between Price's passing and the physical running of Chris Polk -- who, incidentally fell out of the 2012 draft due to medical concerns, not a lack of talent -- the Huskies earned a trip to the Alamo Bowl where they faced another explosive offense in the Robert Griffin III-led Baylor Bears.
With Price returning and many of the team's best players (TE Austin Seferian-Jenkins, WR Kasen Williams, DT Danny Shelton, DE/OLB Josh Shirley) just true sophomores, the future looks sunny in Seattle... even if a young team facing a tough schedule might make the 2012 season closer to the grayish, drizzle normally associated with the region.
Top-five prospects for the 2013 NFL Draft
*Indicates underclassman

1. CB Desmond Trufant (6-0, 185)

The younger brother of Marcus Trufant (now a member of the Seattle Seahawks) and Isaiah Trufant (New York Jets), the NFL has been forecasted for Desmond Trufant since signing with the Huskies. As fate would have it, he's proven up to the challenge of his last name, emerging as one of the better coverage corners in the Pac-12 over his career. Instantly establishing himself as one of the better defenders on the team, Trufant played in all 12 games as a true freshman, starting the final nine games of the season and actually earning honorable mention all-conference honors with 47 tackles, six passes broken up and two interceptions. He posted similar numbers in his second season as a starter (48 tackles, four passes broken up, one interception) and enjoyed his best year to date as a junior with 64 stops, 14 passes broken up and another two pass thefts. Athletic and instinctive, Trufant has demonstrated legitimate NFL coverage ability and helped his cause by showing improved overall physicality in 2011. Though he's seen considerable time in both man and zone concepts, at this point Trufant's game translates better to an off-man scheme. He has the fluidity and straight-line speed to handle coverage duties and has proven ball skills (five career interceptons). To improve his standing with scouts, Trufant will need to show continued improvement as an open field tackler. While flashing physicality, too often he takes on ball-carries high and attemps to wrestle them to the ground or, worse, ducks and swipes at their legs, rather than bringing his hips wrapping his arms around for the secure take-down. With the Huskies' pass rush expected to improve this season, Trufant could be poised for the most impressive statistical season of his career.
2. QB Keith Price (6-1, 195)*
Amid the hype that followed Locker's every move at UW some close to the program quietly noticed that his backup, Price, actually was the more accurate passer in practices throughout much of their respective careers together. Proving more accurate in games, however, is a significant difference than doing so in practice and thus, few could have predicted the staggering success Price had last season in taking over the No. 8 overall pick of the 2011 NFL draft. Despite struggling, at times, with injury, Price took the reigns last season and broke the school record with 33 touchdown passes (against 11 interceptions) and completing 67% of his passes -- totals that rank better than anything Locker ever accomplished while with the Huskies. Price was especially impressive in the Alamo Bowl against Baylor, statistically "beating" Robert Griffin III with an NCAA record-breaking seven touchdowns (four passing, three rushing) on 23 of 37 passing for 438 yards in the 67-56 shootout. In an era in which passing statistics have become little more than a side note as teams gravitate toward the relatively simple spread attacks, Washington operates under a legitimate pro-style attack under Sarkisian and thus, Price's totals are exciting. While he certainly lacks the frame scouts would prefer, Price demonstrated the leadership, accuracy, touch and mobility necessary to make the jump to the NFL. In his first season as the starter, Price emerged as arguably the third best quarterback in the Pac-12 a year ago... a bold statement considering that No. 1 would be Andrew Luck and No. 2 was Matt Barkley... Pac-12 coaches agreed with this assessment, granting Price honorable mention all-conference honors. Having lost his blindside protection (LT Senio Kelemete), top receiver (Jermaine Kearse) and star running back (Chris Polk) to the NFL, Price could find the sledding much tougher in his second season as the starter. He's certainly flashed the rare skill-set, however, to pique the early interest of pro scouts, despite the fact that his size ultimately will limit his grade.
3. SS Sean Parker (5-10, 202)*

For years the University of Washington was nationally recognized for their ability to consistently churn out NFL caliber talent at two positions: quarterback and safety. While true freshman Shaq Thompson -- who some recruiting experts rated as the No. 1 overall prep prospect in the country -- will certainly generate the hype, Parker demonstrated the athleticism and ball skills to potentially have NFL scouts focusing once again in the back half of the Washington defense long before Thompson is draft-eligible. Parker, himself a very highly regarded prep prospect who turned down the likes of USC and Michigan to sign with Washington, played well as a true freshman, demonstrating the coverage abilities to operate as the team's nickel cornerback in the first nine games of the 2010 season before suffering a stinger that ended his first season of college football prematurely. Despite missing the spring as the team exercised extreme caution with his recovery, Parker emerged as a starter at strong safety last season, recording 91 tackles and four interceptions -- each of which led all returning Huskies. Instinctive, physical and having already demonstrated good ball skills (five career interceptions), Parker looks to be in good position to enjoy a strong junior campaign. His lack of prototypical size may keep him from being rated among the top safety prospects in the country, but the true junior has already caught the attention of pro scouts.
4. OL Drew Schaefer (6-4, 302)
For an offensive line that has struggled with durability and inconsistency over the past several seasons, Schaefer has proven to be a standout. After redshirting in 2008, Schaefer emerged as a solid part of the rotation in his second season with the program, seeing action at multiple positions and eventually starting the final four games of the year at the invaluable left tackle position. Schaefer was moved back inside to his more ideally-suited center position in 2010, starting 11 of 13 games there and moving outside to right tackle when injuries forced the team to re-shuffle up front. Finally allowed the opportunity to play just one position in 2011, Schaefer enjoyed his best season to date, making every snap at center for the Huskies. Though Scaefer's best chance at success in the NFL will come inside, he may be asked to move back outside to left tackle as a senior as the Huskies lost their best offensive lineman a year ago (Kelemete) to the Arizona Cardinals and lost incumbent starting right guard Colin Porter to a career-ending shoulder injury. Schaefer, himself, sat out the spring with what coaches called a "knee sprain." NFL scouts will appreciate the toughness and versatility Schaefer has demonstrated over his career. He's not an elite athlete capable of handling the speed rushers of the NFL as a tackle and can be beaten with quickness inside, as well. However, he's physical, tough and surprisingly effective as a combination blocker despite his lack of top-flight athleticism. Given a chance to develop, he could earn late round consideration in the 2013 draft.

5. RB Jesse Callier (5-10, 200)*

Callier is the logical candidate to replace Polk, who left Washington No. 2 on the team's all-time rushing list with 4,049 yards (just 57 yards behind Napoleon Kaufman) and as the Huskies' MVP each of the past three seasons. Though opportunites were limited with Polk handling most of the rushing duties, Callier has flashed the agility and speed to enjoy a breakout performance in 2012. He's seen action in all 26 of his games with the Huskies thus far, starting four as a true freshman in 2010 and enters his junior campaign having rushed for 693 yards (5.6 avg/carry) and caught 25 passes for another 163 yards. Callier, quicker than the powerful Polk, has made his greatest impact thus far for Washington as a kick returner, already ranking No. 2 on the school's all-time list with 1,309 yards. Callier has the athleticism to make big plays but hasn't yet proven to be a threat in the red zone, scoring only one rushing touchdown (against Colorado) thus far. He has the physical skill-set to enjoy a significant statistical jump this season, especially if the Huskies elect to take advantage of his receiving skills as the team brings along a young and largely inexperienced offensive line.
Just missed:
OLB Princeton Fuimaono (6-1, 220)*
WR James Johnson (6-0, 198)
OL Erik Kohler (6-5, 296)*

For all of NFLDraftScout.com's team by team previews of the top prospects to watch in the 2012 season in preparation for the 2013 NFL draft, click here.