2013 NFL Draft: Washington State Preview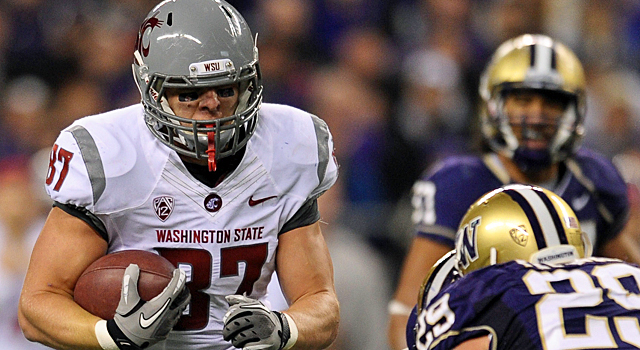 You may not know Andrei Lintz, but he could be an NFL prospect with Leach running Wazzu's offense.
(U.S. Presswire)
In preparation for the 2013 NFL Draft, NFLDraftScout.com will profile the top draft-eligible prospects from FBS-level programs. This summer series will run until the start of the college football season.
WASHINGTON STATE COUGARS

NFL Draft picks the past five years: Three
2012 NFL Draft picks: Zero
Few BCS conference teams can match the Washington State Cougars' recent futility when it comes to victories or producing NFL caliber talent.
Though the team was improving under Paul Wulff, the cold reality is that during his four years as head coach, the program went just 9-40 and saw only two players selected in the NFL's annual April draft. Those players -- OL Zach Williams (2011) and WR Brandon Gibson (2009) were each sixth round picks, selected No. 203 and 194 in their draft classes, respectively.
Given the incremental improvement being seen under Wulff, the Cougars elected to part ways and ponied up the money to land Mike Leach, who guided Texas Tech to bowl games in each of his 10 seasons at the helm.
Leach's dynamic Air-Raid offense has generated a level of excitement in the Palouse that hasn't been seen since the days of Mike Price and Ryan Leaf taking the Cougars to the Rose Bowl. Leach's scheme is good enough to help the Cougars rack up points even if their talent level was completely bare. To the delight of the Washington State faithful, Leach inherits a team that does have some legitimate NFL talent. Perhaps most exciting is that most of that talent lies on the offensive side of the ball.
Top-five prospects for the 2013 NFL Draft
*Indicates underclassman

1. WR Marquess Wilson (6-2, 188)*
Wilson enters his junior season as the most highly regarded pro prospect from Washington State since cornerback Marcus Trufant was selected No. 11 overall by the Seattle Seahawks in 2003. Though not a classic burner, the lean and athletic Wilson is a natural pass-catcher with impressive body control and deceptive speed. As the featured target in Wullf's offense, Wilson's production has been spectacular. He wasted little time in proving to be a difference-maker for Washington State, breaking the school's freshman records for catches (55) and receiving yards (1,006) and tying the all-time mark in touchdown receptions (five) from a first-year player. Wilson's numbers not only stood out against former Cougars, his 55 catches led all NCAA freshman receivers in 2010. Despite a revolving door at quarterback last year, Wilson was fantastic in 2011, shattering school records with 82 grabs for 1,388 yards and ranking second in WSU history with 12 touchdown catches. Needless to say, there is a great deal of anticipation as to what Wilson could accomplish as the focal point in Leach's high-octane passing attack. An All-American season or perhaps even a shot at the Biletnikof Award certainly seems possible, as does a potentially high draft pick whenever Wilson should elect to make himself eligible to the NFL. To reach any of these goals, however, Wilson needs to continue to get bigger and stronger (on tape he looks closer to 175), make his route-running a bit more precise and try to develop a bit more explosiveness. He's a naturally long-strider who is at his best running under Tuel's deep balls or using his long arms and body control to beat defenders in jump-ball situations. At this point, Wilson is ranked by NFLDraftScout.com as the No. 5 receiver potentially available in the 2013 draft and the No. 46 player, overall.

2. QB Jeff Tuel (6-3, 223)
Like their in-state rival, the University of Washington, the Cougars have enjoyed a great deal of success producing quality quarterbacks over the years, including but certainly not limited to the Throwin' Samoan Jack Thompson, Drew Bledsoe and Ryan Leaf. Tuel (pronounced "Tool") looked like he was on the fast-track to joining them when he earned five starts as a true freshman (Bledsoe the only other Cougar QB to ever start as a true freshman), completing 59% of his passes and throwing six touchdowns against five interceptions before going down with a dislocated knee cap. Unfortunately, the injury was just a preview of what was to come... Tuel enjoyed his best season to date in 2010, completing 60% of his passes for 2,780 yards, an 18-12 touchdown to interception ratio and earning honorable mention Pac-10 honors. Tuel's 2011 season was a disaster and perhaps sealed Wulff's fate. He was unable to start the season opener due to a bout with the flu but as the game went on he convinced the coaching staff he could play. He did but suffered a broken clavicle in doing so. He returned four games later (Stanford) but was re-aggravated the collarbone and also suffered a leg injury, ending his season with just 276 passing yards (64%) and one touchdown (no interceptions). When healthy, Tuel has demonstrated the combination of intelligence, mobility, and accuracy that every scout is looking for in a developmental quarterback. He possesses good size and enough athleticism to buy time in the pocket and scramble for yardage when the defense is caght napping. Tuel's best asset might be his touch, as he's consistently shown the ability to drop passes over the top of his receivers, leading them beautifully for long gainers. He wasn't often asked to make "stick" throws in Wulff's spread scheme and likewise won't be doing much of this in Leach's offense. If he can stay healthy, Tuel has the talent to thrive in Leach's offense and generate legitimate interest from NFL scouts.
3. TE Andrei Lintz (6-5, 252)
Of the five players featured on this list, Lintz is the player whose chance at the NFL is perhaps the most enhanced with Leach taking over the program. While the traditional tight end rarely makes an impact in Leach's offense, the Cougars don't plan on using Lintz as an-line blocker. His role, in fact, is expected to be more of a slot receiver, where his unusual combination of size and athleticism could make him a true matchup nightmare. Lintz, a native of Russia, signed with Washington State despite only beginning to play football in high school. He was rarely used under Wulff and enters his senior campaign with only eight career catches for 100 yards and two scores. As Leach implemented his offense this past spring, Lintz stepped to the forefront and longtime Washington State observers feel that he could be on the verge of a breakout senior campaign. Given his size and fluidity, some scouts might see Lintz as an intriguing developmental project worthy of late round consideration.

4. OLB/DE Travis Long (6-3, 256)
Having started all 36 possible games of his collegiate career, Long enters the 2012 season as the the Cougars' most experienced and recognizable defender. He's earned all-conference accolades after each of his three seasons, averaging 47 tackles, 11 tackles for loss and four sacks as a defensive end in the team's 4-3 alignment. Long could be in position to make even more plays behind the line of scrimmage this season as a featured pass rusher in the team's new 3-4 alignment. There are concerns, however, as to whether Long truly has the athleticism and flexibility to star in this role. Many of the plays in which he's made over his career have been due to hustle rather than sheer talent. Considering his prior success, Long deserves the benefit of the doubt and will certainly earn plenty of attention from NFL scouts. At this point, however, he's late round or undrafted free agent prospect despite his consistent production against Pac-12 competition.
5. OT John Fullington (6-5, 290)*

One area in which Washington State has traditionally lacked top-tier talent is along the offensive line. Though the Cougars' most recent NFL drafted prospect, Zach Williams (selected by Carolina in the sixth round of 2011), he is one of only four offensive linemen drafted out of Washington State since 1989! If his play over the first two seasons of his career is any indication, however, Fullington could be the next Cougar offensive lineman to earn significant NFL attention. Fullington started six games as a true freshman, the first coming at right tackle and the other five at the all-important left tackle position. Fullington was moved inside to right guard as a sophomore and handled the move nicely, earning honorable mention all-conference honors. He was moved back outside to left tackle by Leach and his staff and should perform well there. Leach's offense calls for offensive linemen to be split out quite wide. Fullington isn't an elite athlete but has the lateral agility and balance to protect the edge. He's only a junior and needs to get stronger, but Fullington is one to watch for the future.
Just missed:
CB Damante Horton (5-10, 174)*
SS Deone Bucannon (6-1, 190)*
OL Dan Spitz (6-7, 300)

For all of NFLDraftScout.com's team by team previews of the top prospects to watch in the 2012 season in preparation for the 2013 NFL draft, click here.