2013 NFL Draft: Illinois Preview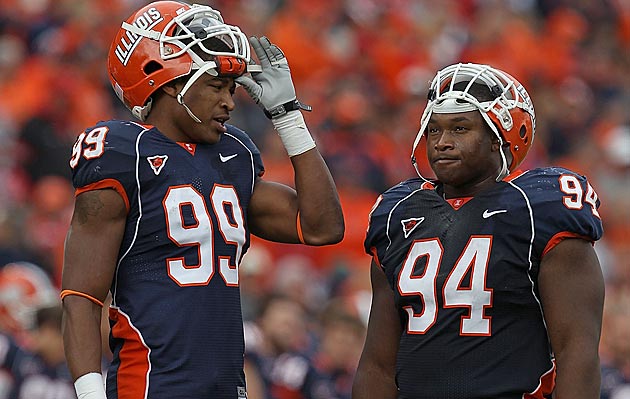 Michael Buchanan (99) and Akeem Spence, teammates since 2009, will anchor Illinois' defensive line. (Getty Images)
In preparation for the 2013 NFL Draft, NFLDraftScout.com will profile the top draft-eligible prospects from FBS-level programs. This summer series will run until the start of the college football season.
ILLINOIS FIGHTING ILLINI
NFL Draft picks the past five years: 16
2012 NFL Draft picks: 4 -- DE Whitney Mercilus [1st round, 26th overall], WR A.J. Jenkins [1st round, 30th overall], OT Jeff Allen [2nd round, 44th overall], FS Tavon Wilson [2nd round, 48th overall]
Three schools had at least four players drafted in the top-50 picks this past April. And while it wasn't a surprise to see Alabama and Stanford well represented early in the 2012 NFL Draft, few would guess the third team to be Illinois. Although the records might not reflect it, recruiting and attracting talented football players was never a problem during the Ron Zook era in Champaign as the Fighting Illini have had at least one top-50 selection each of the last five years. Two of the four top-50 picks from the 2012 NFL Draft were taken in the first round [Whitney Mercilus, A.J. Jenkins], the first time the Illini had a pair of first rounders in the same draft since 1996 when defenders Kevin Hardy and Simeon Rice were selected second and third respectively that year.
Despite losing several early round draft picks, new head coach Tim Beckman takes over a talented roster, who started 6-0 last season, but finished with just seven wins. And although Illinois had four top-50 selections for the first time in program history April, they might do it again in the 2013 NFL Draft. The Fighting Illini have a quartet of defensive studs who have NFL and early round potential, but all four will face a bit of a learning curve under new defensive coordinator Tim Banks.
Top five prospects for the 2013 NFL Draft
*Indicates underclassman
1. DE Michael Buchanan [6-6, 240]
Last season Whitney Mercilus received most of the attention on the Illinois' defense [and rightfully so], but opposite the 2012 first round pick was perhaps another future top-32 selection in Buchanan. He finished fourth in the conference last season with 7.5 sacks at the "Bandit" position and is expected to move to the similar "Leo" pass rusher position in 2012. Buchanan was a top-50 defensive line recruit out of high school and decided to stay in-state to play for the Illini. After serving mostly as a true freshman back-up in 2009, he started eight games as a sophomore, recording 40 tackles and a pair of sacks. Buchanan had a breakout, albeit somewhat overlooked, campaign as a junior last season, finishing second on the team with 7.5 sacks and adding 64 tackles, 13.5 tackles for loss and one forced fumbles. He earned Second Team All-Big Ten honors in 2011 and appears on just about every pre-season all-conference list. Buchanan has a tall, long frame and uses his length effectively to keep linemen from his body before ripping past the initial block. He moves well laterally and has the foot athleticism to play in space and close quickly in pursuit. Buchanan doesn't have elite bulk and lacks the body type to add much more muscle and will be labeled by some teams as a hybrid player, but he has the skill-set to lead the conference in sacks as a senior and boost his draft stock. So although he's last on Illinois' numerical roster [#99], Buchanan might be the first Illini prospect drafted next April.
2. CB Terry Hawthorne [6-0, 190]
Illinois' top playmaker isn't on offense or defense, he's on both. Hawthorne, who was an All-Big Ten Honorable Mention pick at cornerback last season, will also see some reps on offense as the Illini attempt to replace first round receiver A.J. Jenkins and his 90 catches from last season. While NFL scouts will love his willingness to play on both sides of the ball, they'll be looking at him mainly as a cornerback for the next level, a cornerback who has top-50 potential. An Illinois-native, Hawthorne was a four-star CB/WR recruit out of a high school, choosing the Illini over Oklahoma, Missouri and a host of other scholarship offers. He moved full-time to defense as a true freshman in 2009 [five starts] and recorded 30 tackles and his first interception, which he also returned for a score. Hawthorne battled an injury as a sophomore and made only one start, but returned last season as a junior and started 11 games at cornerback, finishing with 60 tackles, 5.0 tackles for loss, eight pass break-ups and a team-best three interceptions [one returned for a touchdown in the bowl game]. He doesn't have great size, but his speed and ballhawking ability is top-shelf, flashing the awareness and natural feel teams seek in defensive backs. In April, former Illinois' defensive back Tavon Wilson was a surprise second round pick by the New England Patriots. And just like Wilson, Hawthorne isn't a well-known name, but don't be shocked when he's an early round draft pick.
3. DT Akeem Spence [6-1, 305]*
A player who could easily be No. 1 on this list, Spence is a disruptive player who will move up this list quick if he continues to develop as a junior in 2012. A prototypical three-technique tackle, he has started every game since his redshirt freshman season and is the leader of the defensive line, showing the versatility to do whatever the new coaching staff asks in the trenches. Although he was overlooked as a high school recruit out of Florida, he showed up in Champaign with the motivation to not only find the field, but dominate between the white lines. After redshirting in 2009, he earned a starting job next to All-American and future first rounder Corey Liuget, finishing with 45 tackles, 4.0 tackles for loss and 1.0 sack as a freshman. Spence boosted his production as a starter and finished fourth on the team in tackles [69], adding 5.5 tackles for loss, 1.5 sacks and a forced fumble. He is naturally strong with the raw power to move blockers where he wants, gaining leverage and fighting through the whistle. Spence uses his quickness off the snap to attack and use his physical nature to aggressively battle his way into the backfield, although he needs to keep his eyes level to follow the ball and not take himself out of the play. Like Liuget two years ago, Spence could warrant first round consideration if he decides to declare early for the draft.
4. MLB Jonathan Brown [6-1, 235]*
The best linebacker in the Big Ten can historically be found at Penn State or Ohio State, but the most talented backer in the conference this season might be Brown. He led the team in tackles last season [108], but more impressively, he finished second in the conference and team with 19.5 tackles for loss. Brown, who lined up at weakside linebacker last season, moved inside to the MIKE position in the spring and is expected to be the leader of the defense this fall. He was a three-star recruit out of Memphis and corralled offers from LSU and other SEC schools, but chose Illinois for the chance to play early. Brown played in 12 games as a true freshman back-up in 2010, recording 31 tackles, 1.5 tackles for loss and an interception he returned for a score. He became a starter at WILL linebacker last season and led the Illini in tackles [108] and finishing behind only Mercilus in tackles for loss [19.5], adding 6.0 sacks and one interception. Brown is a competitive and driven football player who plays with a nonstop motor on the football field, but he needs to cage that aggression and cut down on the mistakes. He flashes good recognition skills, but will be asked to do some new things in 2012, including more coverage responsibilities and probably won't see as many chances behind the line of scrimmage. While he's still probably best known for his ill-advised groin punch to an unsuspecting Northwestern player last October, Brown is well on his way to pushing that incident towards the bottom of scouts' reports when they evaluate Illinois' talented linebacker.
5. C Graham Pocic [6-7, 305]
The Illinois projected offensive starters boasts just a pair of seniors, including three-year starting center Pocic, who is the lone offensive player on this list. It's rare to see tall players snapping the football with most centers, both college and pro, measuring at 6-4 or shorter, but Pocic is listed at 6-7 and is the tallest player on the Illini offensive line. At every program around the country, it's important to keep high-profile prep recruits in-state and Illinois was able to do that with Lemont-product as he received scholarship offers from Michigan, Florida, Penn State and several other prominent schools. After redshirting in 2008 and serving as the back-up in 2009, Pocic became the starting center as a sophomore [13 starts] and helped the Illinois offense break school records for points in a season and points per game. He started all 13 games again last season as a junior and is the unquestioned leader of the Illini offensive line in 2012, a group that will need as much guidance as possible. Pocic is physically strong and aggressive with the grit to finish through the whistle and tough-out the battles in the trenches. With several talented interior defensive linemen coming from Big Ten programs the past few years, including his own teammates, Pocic has been routinely tested as the rock of the Illinois line. Although not likely to be a Day 1 or 2 pick like the first four prospects on this list, Pocic currently projects as a mid-to-late round player and a borderline top-five senior at his position.
Just missed:
QB Nathan Scheelhaase [6-3, 200]*
OG Hugh Thornton [6-5, 310]
DT Glenn Foster [6-4, 260]
FS Supo Sanni [6-3, 220]
For all of NFLDraftScout.com's team by team previews of the top prospects to watch in the 2012 season in preparation for the 2013 NFL draft, click here.