2013 NFL Draft: Indiana Preview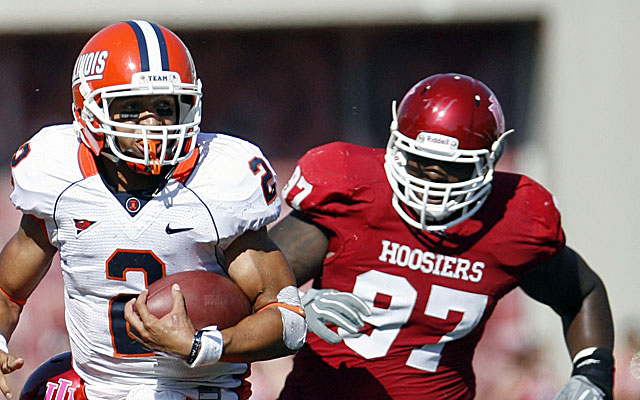 DT Larry Black (97) has the talent to warrant a draft selection.
(Getty Images)
In preparation for the 2013 NFL Draft, NFLDraftScout.com will profile the top draft-eligible prospects from FBS-level programs. This summer series will run until the start of the college football season.

INDIANA HOOSIERS
NFL Draft picks the last five years: 7
2012 NFL Draft picks: 0

Indiana has been near the bottom of the Big Ten basement for several years, earning just one bowl game bid since 1994. And to put that in perspective, Minnesota has had nine bowl appearances over that same stretch. The Hoosiers' struggles on the field can be linked to their lack of early round draft picks as Indiana hasn't produced a first round pick since 1994 (WR Thomas Lewis) or a top-10 pick since 1988 (OT Eric Moore). However, Indiana has had their share of quality players at the next level, including current NFLers CB Tracy Porter, OT James Brewer and OT Rodger Saffold.

In his first season in Bloomington last year, head coach Kevin Wilson and the Hoosiers had just one victory (against FCS-level South Carolina State), finishing near the bottom of every conference statistical category. However, year two should yield better results as Indiana returns its leading passer, rusher, receiver and sack leader. Although the Hoosiers don't have any top-100 players for next April, they shouldn't be shut out of the 2013 NFL Draft like they were in 2012.

Top-five prospects for the 2013 NFL Draft
*Indicates underclassman

1. DT Larry Black (6-2, 310)
Although he had a promising start to his career, Black hasn't taken the jump that most scouts had hoped. Nonetheless, he flashes talent to possibly warrant a draft pick if he shows more consistency as a senior. Entering his fourth year as a starter, Black has combined for 15.5 tackles for loss over his career, but almost half of that total came in 2009 (7.5), his freshman season. Despite not receiving an offer from Brian Kelly and his hometown Cincinnati Bearcats out of high school, he received a scholarship from Indiana, the only non-MAC team to offer him. After redshirting in 2008, Black earned a starting job as a freshman in 2009 (12 starts) and didn't disappoint with 29 tackles and career-bests in both tackles for loss (7.5) and sacks (1.5), earning numerous All-Freshman honors. He was used as more of a defensive tackle rotation in 2010 with only four starts, but started all 12 games again as a junior last season, setting a career-high with 47 stops. Black is a load to handle with a wide base and raw power, but is too easily handled by single blockers and needs to do a better job disengaging to be more of a factor in the play. He isn't quite the pro prospect that scouts once thought, but he still has the natural skill-set that isn't found just anywhere.

2. WR Kofi Hughes (6-2, 210)*
Despite a lackluster passing offense last season in Bloomington, Hughes managed to lead the team with 35 grabs, averaging 15.3 yards per catch. A former high school quarterback, he moved to receiver soon after arriving on campus in order to find the field early in his career. Hughes was a three-star recruit out of Indianapolis and soon committed to the Hoosiers after receiving his offer. He spent most of his freshman season on special teams in 2010 before becoming the team's top offensive target in 2011. Hughes finished his sophomore season with 35 catches for 536 yards and three scores, adding 162 rushing yards and a handful of tackles on special teams. While still lacking polish, Hughes progressed immensely from his freshman to sophomore seasons and should improve even more in 2012 with another full season at receiver under his belt. He is a creative athlete with the foot speed to make things happen with the ball in his hands, showing astute field awareness and natural instincts for the game. Hughes has room to improve his focus and route running to be considered a consistent receiving option in the pros, but could be on his way as he continues to develop.

3. C Will Matte (6-2, 290)
The lone starting senior on the offensive side of the ball, Matte is one of the longest tenured offensive linemen in the Big Ten. After starting every game his first two years, he missed three games last season because of an injury, but still has 33 career starts to his name for the Hoosiers. Matte was lightly recruited out of Illinois, but didn't receive an offer from the Illini, instead choosing to sign with Indiana. After redshirting in 2008, he started every game at center during his freshman and sophomore seasons. Matte started nine contests as a junior center and earned the title as captain as a junior so he will be looked upon as one of the senior leaders of the squad in 2012. He doesn't have the ideal body type or mauling strength, but he plays smart and leaves everything on the field. A Big Ten lineman (Michigan's David Molk) captured the Rimington Trophy last season as the nation's top center and Matte appears on the 2012 pre-season watch list for the coveted lineman award. Time will tell if he will warrant a draft pick next Spring, but Matte is undoubtedly one of the most important Hoosiers on the 2012 roster.

4. OLB Chase Hoobler (6-2, 240)*
Although he is only a redshirt sophomore and boasts just eight starts on his resume, Hoobler might be the most talented player on the Hoosiers' defense. He finished with 48 total tackles last season at strongside linebacker, his first year as a starter. Hoobler was highly decorated out of high school, but wasn't viewed as a top recruit and was overlooked by almost every Big Ten program despite growing up in the geographical heart of the conference. After redshirting in 2010, he worked his way onto the field as a freshman last season, starting nine games on the strongside and registering 48 tackles, 5.0 tackles for loss, 2.0 sacks and a forced fumble. At 246-pounds, Hoobler has the size and strength to hold his own in tight quarters, but his lack of speed is noticeable in pursuit when the ballcarrier gains a step. He dissects the action quickly and doesn't shy from attacking the play with aggressive intensity. Although most contend that Hoobler isn't fast or athletic enough to be much of a pro prospect, his instincts and football smarts should only continue to grow and he will be a player to keep an eye on over the next three years.

5. DT Adam Replogle (6-3, 290)
Another Ohio-native turned Hoosier, Replogle is the only true senior on the Indiana roster, entering the 2012 season with 35 career starts on the defensive line in Bloomington. If Matte is the leader and glue on the offensive side of the ball, Replogle is his counterpart on defense as his leadership and experience sets the tone for the players around him. A product of Centerville, Ohio, Replogle was a three-star defensive lineman, following his older brother Tyler (former Hoosiers linebacker) to Indiana. He started his freshman season on the bench, but soon became a starter and was the only true freshman to play in 2009 for Indiana. Replogle started every game as a sophomore and junior, including his best season last year in 2011 as he led the team in sacks (4.0). Entering his second season as a team captain, Replogle is one of the most productive players on and off the field for the Hoosiers and is one of the keys to the team's success this season. He isn't the most fluid big man, but he only knows one play speed (fast) and has proven to be effective when properly using his hands to fight off blocks. Replogle won't be mentioned among the conference's top pro prospects, but the NFL will love his work ethic and motor.

Just missed:
RB Stephen Houston (6-0, 220)*
TE Ted Bolser (6-6, 255)*
CB Greg Heban (6-1, 185)*
For all of NFLDraftScout.com's team by team previews of the top prospects to watch in the 2012 season in preparation for the 2013 NFL draft, click here.