2013 NFL Draft: Missouri Preview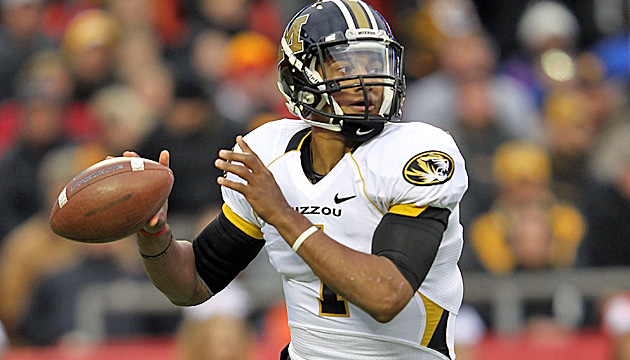 In preparation for the 2013 NFL Draft, NFLDraftScout.com will profile the top draft-eligible prospects from FBS-level programs. This summer series will run until the start of the college football season.

MISSOURI TIGERS
NFL Draft picks the last five years: 13
2012 NFL Draft picks: One -- TE Michael Egnew (Third Round, No. 78 overall)
After competing in the Big 12 (or its predecessor the Big 8) since 1922, the Missouri Tigers are making the jump to the SEC this fall.
Some have characterized the climb to be an insurmountable one. They argue that while the Big 12 certainly possesses some top teams the depth of the SEC is what makes it college football's elite conference.
They might be right.
But Missouri brings two things few teams in the SEC (or anywhere for that matter) have -- a coach the caliber of Gary Pinkel and a playmaking quarterback in junior James Franklin perfectly suited to Pinkel's explosive offense.
Largely due to the spread, read-option offense that is an off-shoot of the scheme Urban Meyer used to great success at Florida, the Tigers have quietly emerged as one of the more consistent winners in all of college football. Prior to Pinkel arriving, Missouri had gone to two bowl games in 18 years. After a few seasons of developing his program, Pinkel has led Mizzou to seven consecutive bowl games. In terms of producing NFL talent, despite the fact that the Tigers offered only one NFL draft-worthy prospect a year ago, five first round picks have been plucked from Missouri's roster over the past four years.
It remains to be seen how quickly Missouri will transition to the greater size and speed of SEC defenses. They're talented, well-coached and carrying a bit of a chip on their shoulder due to hearing all year long how difficult the adjustment to the SEC will be. As such, don't be surprised if the Tigers fare well... both on the field and on draft day.
Top-five prospects for the 2013 NFL Draft
*Indicates underclassman
1. OLB Zaviar Gooden (6-2, 230)
Quarterback James Franklin gets virtually all of the press revolving around the Tigers but Gooden (pictured above) is viewed by those close to the program as its' most unique athlete. The 6-2, 230 pound outside linebacker has reportedly been clocked in the 4.4s and after two solid (if somewhat unspectacular) seasons as the starter, there is a feeling that he may be poised to breakout in a big way as a senior and he was voted a team captain. Gooden was originally recruited as a safety and redshirted in 2008 playing at this position. He made the move to outside linebacker in 2009 and served as a quality backup, registering 30 tackles, including three for loss, while playing in all 13 games. Gooden impressed in 2010 during his first season as a starter, recording career-highs in tackles (85), tackles for loss (10) and sacks (three). His numbers slipped slightly this past season (80-eight-one) and he hasn't yet shown a knack for consistently making big plays, which is why he isn't more nationally recognized. Gooden's unique athleticism has drawn comparisons to former Missouri star (and current Atlanta Falcons' standout) Sean Weatherspoon. Thus far, however, Gooden hasn't played with the consistency that led the Falcons to making Weatherspoon the No. 19 overall pick of the 2010 draft. He relies on his speed to be in position to make plays, too often taking false steps or attempting to run around blocks. He's physical and feisty, however, and his athleticism and experience at safety make him a potentially unique weapon in coverage. With a big senior campaign, Gooden could push for a spot within the top 100 picks of the 2013 draft.
2. QB James Franklin (6-2, 225)*
Pinkel and offensive coordinator David Yost don't get enough credit nationally for the work they've done with Missouri's quarterbacks. Each of their three prior passers have gone on to the NFL (Brad Smith, Chase Daniel, Blaine Gabbert) and with only one starting season under his belt it is clear that Franklin is on his way towards extending that streak to four. A multi-dimensional athlete capable of beating defenses with both his strong right arm and legs, Franklin emerged last season to score 36 touchdowns against just 11 interceptions. He completed 63.3% of his passes and has an efficient, over the top release that aids the fact that he's shorter than scouts would prefer. While short, Franklin has a solid, athletic build and is a true scrambling threat, rushing for 981 yards and scoring 15 of his touchdowns a season ago via the run. There is no denying that Franklin, entering his true junior season, has a ways to go as a traditional NFL passer. Like the former Mizzou quarterbacks coached under Pinkel and Yost, he's been aided by the Tigers' relatively simple passing attack that features a great deal of screens and intermediate crossing routes designed to get the ball out of the quarterback's hands quickly. He flashes the ability to drop deep balls in the bucket but too often forced receivers to adjust slightly to off-target passes, limiting run-after-the-catch possibilities. He showed the type of moxie, athleticism and arm talent last season, however, to give Tigers' fans plenty of optimism that he'll handle the adjustment to the SEC just fine... that is if he's completely over the torn labrum in his throwing shoulder that required surgery during the offseason. He's participated in each of the team's final scrimmages and is expected to start when the Tigers open the 2012 season against Southeast Louisiana September 1.

3. DT Sheldon Richardson (6-3, 295)*
Talent evaluators have long championed the size and athleticism of SEC defensive linemen as one of the primary reasons why teams from this conference have won six consecutive national championships. Perhaps it is appropriate then that Missouri joins the conference the year that Richardson is expected to emerge as a full-time starter for the Tigers. Richardson originally signed with the Tigers as the crown jewel of their 2009 recruiting class. Rated by recruiting experts as the top defensive tackle prospect and a top five overall talent, Richardson was unable to fulfill the academic obligations and was instead forced to take the junior college route at the College of the Sequoias (CA). While there Richardson's legend continued and he briefly verbally committed to Southern California before electing to stick with his original plan and return to Missouri, his home state. Characterized by the Tigers' defensive line coach Craig Kuligowski as "the most hyped player ever to play at Missouri," Richardson didn't get a starting position handed to him. He entered camp last on the depth chart and had to work his way up, quickly proving to be a standout as part of the rotation but only starting two games last year as the Tigers returned starters Dominique Hamilton and Terrell Resonno. Despite his limited opportunities, Richardson developed into the Tigers' most disruptive interior defender last season, earning honorable mention all-conference honors with 37 tackles, eight tackles for loss and two sacks. Quick, powerful and eager to prove that he's worthy of the lofty rankings, Richardson enters the 2012 season rated here as Missouri's No. 3 overall NFL prospect but appears to have the package to overtake Gooden and Franklin as the Tigers' elite talent.
4. WR T.J. Moe (5-11, 200)
Much of the buzz this spring for the Tigers' receiving corps revolved around highly touted freshman Dorial Green-Beckham but the smart money might be on Moe to lead the team in most receiving categories -- just as he has the past two years. A dual-threat quarterback in high school, Moe quickly made the transition to receiver for the Tigers, showing surprising savvy as a route-runner and hands-catcher considering his lack of experience. He went from catching just two passes in 2009 to leading the team with 92 grabs for 1,045 yards and six touchdowns as a sophomore as Gabbert's favorite target. Moe's numbers dropped significantly last season (54-649-four) but this was more a reflection of Missouri's offense changing with Franklin's ability to run with the football than an indictment on Moe or any of Missouri's other receivers. Possessing a compact frame well suited to handling slot duties in the NFL, Moe shows good quickness in and out of his breaks and has enough speed to force defenders to be wary of his ability to sneak downfield. As he's been each of the past two seasons, Moe will be lining up in the "H" position, as the featured receiver in Missouri's offense. Whether his statistics rebound to the level he enjoyed in 2010 or not, Moe could earn late round consideration due in large part to the fact that while not special in any one way, he's proven himself to be a reliable target.
5. DE Brad Madison (6-4, 265)
Madison signed with Missouri as an offensive lineman but his lanky frame and initial quickness caused the Tigers to move him to defensive end during his redshirt freshman season. He operated strictly as a backup and special teamer initially, recording just one tackle in 2009 but looked like a future star a year later, earning a starting role at right defensive end and leading the team in both tackles for loss (12) and sacks (eight), which got him Second Team All-Big 12 accolades. Madison began his junior season in fine form a year ago, recording two sacks in the season opening win over Miami (Ohio) but suffered a shoulder injury soon thereafter. Rather than opt for surgery to repair the shoulder, Madison gritted it out playing all season long with the injury and seeing his statistics drop a bit because of it. He finished with 25 tackles on the season, with eight tackles for loss and five sacks and underwent surgery shortly after the season ended. Madison isn't an elite athlete but he shows some natural pass rush ability, varying his approach off the snap. He has enough speed to force offensive tackles to respect his ability to cross their face and get outside, as well as a stutter-step back inside and a swim move. Prior to the injury Madison showed good strength in holding up versus the run and has some natural explosiveness to him, as evidenced by the fact that he was the Missouri state shot-put champion his senior year in high school. Madison isn't going to wow scouts with his skill-set but could earn late round consideration should he bounce back in his final season.
Just missed:
ILB Andrew Wilson (6-2, 235)
CB Kip Edwards (6-1, 200)
P Trey Barrow (6-1, 205)
OT Elvis Fisher (6-5, 300)
RB Kendial Lawrence (5-09, 195)


For all of NFLDraftScout.com's team-by-team previews of the top prospects to watch in the 2012 season in preparation for the 2013 NFL draft, click here.