2013 NFL Draft: Tennessee Preview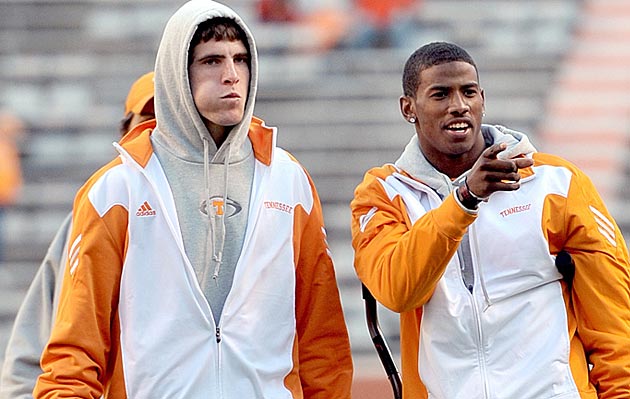 Injuries held back Tyler Bray (left) and Justin Hunter in 2011, but the sky's the limit in 2012. (US Presswire)
In preparation for the 2013 NFL Draft, NFLDraftScout.com will profile the top draft-eligible prospects from FBS-level programs. This summer series will run until the start of the college football season.

TENNESSEE VOLUNTEERS
NFL Draft picks the last five years: 14
2012 NFL Draft picks: One -- DL Malik Jackson (Fifth Round, No. 137 overall).

In terms of producing NFL talent, it may not appear that head coach Derek Dooley is doing a good job at the University of Tennessee.
Appearances can be deceiving, however.
While there have only been three players selected out of Knoxville during the NFL draft since Dooley landed the job, his 2012 roster features several prospects that have NFL scouts quite excited, not the least of which is junior quarterback Tyler Bray, a 6-5, 210 pounder with an absolute whip of an arm.
Unfortunately, while Dooley has done a nice job of re-stocking the talent level at Tennessee, he's had his hands full with problems both on and off the field. One of his most talented players -- wide receiver Da'Rick Rogers -- has transferred to Tennessee Tech after being placed on indefinite suspension by the coaching staff. Earlier in the season, Bray himself was the source of off-field distraction.
The Volunteers are only 9-15 over his first two seasons at the helm and 0-17 against teams ranked in the Top 25. For fans eager to see the Vols return to glory, that simply isn't close to good enough and thus Dooley enters the 2012 season very much on the hot seat. If his team can withstand the off-field distractions there is enough talent on this roster for Tennessee to be one of the most improved teams in the country and return to a bowl game.

Top five prospects for the 2013 NFL Draft
*Indicates underclassman

1. Justin Hunter (6-4, 205)*
The University of Tennessee long ago earned the reputation as "Wide Receiver U" but had fallen on relatively hard in recent years. Hunter, along with Rogers, certainly is the type of talent to earn back this proud distinction. Hunter signed with Tennessee as a highly regarded prep prospect and earned immediatel action, averaging an eye-popping 25.9 yards a catch in 2010 and earning a spot on the All-SEC Freshman team. He looked well on his way towards establishing himself as a potential all-conference selection last season, racking up 315 receiving yards over the first two games before tearing his ACL in Tennessee's first offensive series against Florida. Certainly he'll need to prove he's healthy this season if his great potential is to translate into a high-round selection, but before the injury, Hunter was earning comparisons to A.J. Green. Like the former Georgia All-American and current standout for the Cincinnati Bengals, Hunter is lean with good speed, leaping ability and catches the ball cleanly with his hands. He is a polished route runner, who, at least before his knee injury showed impressive spring in his legs to generate separation on cuts. He could plant his foot and use his size to muscle inside for the slant, as well as challenge the cornerback deep before quickly throttling down, dropping his hips and turning back for the deep out and is much more of a threat after the catch than most receivers his size, demonstrating a unique quick jump/twist he has used to shake defenders after catching quick-hitters. Hunter was performing this exact move when the injury occurred against the Gators. Though he's a bit high-cut and has a tendency to lose his balance when eluding defenders in tight quarters, he possesses rare acceleration for a receiver of his size. Considering his own talents, as well as that of his quarterback, Hunter is a candidate to leap more highly touted wideouts and earn the distinction of being the top wide receiver prospect in the country.
2. Da'Rick Rogers (6-3, 215)*
Despite the fact that Rogers has reportedly transferred to Tennessee Tech, the tape scouts have of him currently is as a Tennessee Volunteer. As talented as his potentially former teammate, Justin Hunter, is, Rogers (whose first name is pronounced Day-rick) might just be even more naturally gifted. While Hunter is often compared to A.J. Green due to his lanky build, strong hands and unique acceleration, Rogers is a virtual Julio Jones clone, exhibiting an exciting combination of size, strength and explosiveness. Rogers signed with Tennessee as one of the most highly regarded prep prospects in the entire country. He immediately showed off his versatility, racking up 167 yards as a receiver and 117 yards as a runner (reverses, etc.). He was expected to serve as the complementary piece to Hunter last season but stepped up once his teammate was injured and went on to lead the SEC with 1,040 receiving yards last season. He eclipsed the 100 yard mark in six games last year, one short of a Tennessee record and earned First Team All-SEC honors by the media and league coaches, alike. One of the elements to Rogers' game that is so impressive is that despite playing in the ultra-physical SEC, Rogers proved too strong for most teams to consider pressing. He's also versatile, showing the ability to line up outside, as well as in the slot. While it is easy to get excited about Rogers' size-speed potential, one of his greatest attributes is simply his toughness, as he absorbed several big collisions on games viewed and never dropped a pass due to a hit. He's generally a reliable pass catcher but will occasionally look to juke the defender before securing the pass, resulting in an occasional bad drop. Rogers is a powerful runner who fights for additional yardage and has the agility and speed to run away from the pack for explosive plays. While there are plenty of traits about Rogers scouts will love, one they must be concerned about is Rogers' accountability on and off the field. For violating team rules Rogers was placed on indefinite suspension August 23 by Dooley and has since transferred to Tennessee Tech. The Golden Eagles could enjoy the spike in national attention and the number of NFL scouts suddenly arriving on campus to scout the team now that Rogers has been added. For Rogers, himself, until he cleans up the conception that he's a trouble-maker, it may not matter how talented he is and at what level he demonstrates it, NFL teams will be too concerned to give him the first round grade he deserves.

3. QB Tyler Bray (6-5, 210)*
Not since the days of Peyton Manning or the championship run by Tee Martin have the Vols featured a quarterback that energizes the fan base like Bray. Like his top wideouts, Bray signed with Tennessee as a highly regarded prep and demonstrated early on that he was well worth the praise. While he lost in the race to be the team's starting quarterback at the beginning of 2010 by the end of the season, he'd worked his way onto the field, demonstrating raw talent and knack for the big play in completing 56% of his passes for 1,849 yards and a very impressive 18-10 TD to INT ratio. As one might expect given the talent Tennessee possesses, the expecations for Bray and this offense were enormous entering last season. Bray started off well before suffering a hand injury against Georgia that nearly ended his season. He wound missing five games and wasn't nearly as effective upon his return for the final few games, finishing the season completing 60% of his passes for 1,983 yards and 17 touchdowns against just six interceptions. Bray possesses a great deal of natural arm talent and possesses even more confidence in his ability to fit the ball between tight windows. In this way, he is reminiscent of former SEC standout Jay Cutler (Vanderbilt). Like Cutler, Bray seems to enjoy the challenge of tougher throws and will often attempt them rather than take safer options. He's consistently more accurate when driving the ball rather than touch passes and has become especially lethal due to his timing and accuracy on the slant and post with his big receivers. Furthermore, he might be the best of the top quarterback prospects at delivering a consistently ball on the deep out. He boasts a very quick release but doesn't fully take advantage of his height due to a three-quarters delivery. He's also a bit lazy with his fundamentals, failing to step into the direction of his passes. This consistently forces his receivers to adjust to his throws, cutting down on the potential for yardage after the catch and leading his teammates into some hellacious hits. For all of natural gifts, Bray remains a work in progress when projecting him to the NFL. For one, he takes the vast majority of his snaps out of the shotgun. More importantly, while willing to step up into a disintegrating pocket, he is a long-legged, relatively slow-footed athlete who has only marginal mobility overall. With greater attention to his technique and better leadership on and off the field, Bray will earn first round consideration.

4. OT Dallas Thomas (6-5, 305)
Considering the "skill" position talent Tennessee boats, it is easy to understand why any offensive lineman -- even a very good one like Thomas -- is often overlooked by the Tennessee faithful and national media. As the Vols' top senior prospect, however, NFL scouts are certainly keeping close tabs on the the athletic and versatile talent. Thomas signed with Tennessee as a relatively lightly regarded prospect and saw most of his playing time as a freshman on special teams. He earned the starting left tackle position as a sophomore, however, and went on to start the next 25 games of his career at the blindside position. Despite his experience at left tackle, the Tennessee coaches have moved Thomas inside to left guard for his senior season. It is a move that could pay off nicely for the Volunteers, as well as Thomas, as he possesses the skill-set to make a smooth adjustment. Thomas possesses very good initial quickness. He was susceptible to speed rushers, however, as lacks the sustained foot speed to earn top grades as a pass blocker. He gets an aggressive punch in but often stops moving his feet as he does so and therefore if his punch doesn't stop the pass rush entirely, leaving himself vulnerable to an outside speed rush or quick counter back inside. This isn't the typical rotund blocker who is simply too un-athletic to compete on outside. Thomas is an impressive athlete, who plays with good flexibility and balance. Plays with good leverage and possesses an athletic build with good arm length. While moving a legitimate NFL prospect during his senior season is typically grounds for questioning, Thomas should perform very well protected inside at guard and could prove to be one of the top senior offensive line prospects in the SEC. Thomas currently ranks as NFLDraftScout.com's No. 2 senior offensive tackle and the No. 7 offensive tackle, overall.

5. TE Mychal Rivera (6-3, 254)
NFL scouts focusing on Tennessee's "Big Three" in the passing game may not be able to look past the steady play underneath from Rivera, who unlike his teammates signed with Tennessee as a junior college transfer. Rivera, who originally signed with the Oregon Ducks out of high school, played the 2009 season at College of the Canyons, catching 32 passes for 316 yards and three touchdowns. Though he quickly earned the starting job with the Vols in 2010, Rivera was rarely utilized in the passing game, catching only 11 passes for 112 yards. This past season, however, Rivera became one of the more featured elements of the Tennessee aerial attack, catching the only touchdown of his career to date with the Volunteers in the same game in which star wideout Justin Hunter was injured (Florida). Rivera went on to catch 29 passes for 344 yards last year and looks poised to build significantly on those numbers this season. While his numbers aren't exactly eye-popping, they did place him second for the Vols' last season. Rivera has good initial quickness to gain a free release off the line of scrimmage and is a reliable hands-receiver dragging across the middle. Like most collegiate tight ends in recent years, he's more of a receiver specialist than a third offensive tackle, but isn't afraid of mixing it up as a blocker. With the 2013 tight-end class looking like another relatively lean group, Rivera could surprise as a middle-round prospect. The Senior Bowl is already looking at him.

Just missed:
DB Prentiss Wagner (6-2, 187)
WR Cordarrelle Patterson (6-3, 205)*
FB Ben Bartholomew (6-1, 251)
OC Alex Bullard (6-2, 309)*
WR Zach Rogers (6-0, 180)

For all of NFLDraftScout.com's team-by-team previews of the top prospects to watch in the 2012 season in preparation for the 2013 NFL draft, click here.