Week One Rewind -- Geno Smith steals the show
Each week, we rewind the game film to highlight the star-worthy performances that could impact the 2013 draft rankings.


Cam Newton seemingly came out of nowhere to win the Heisman Trophy, lead his team to a BCS title and wind up as the No. 1 overall pick of the draft in 2011.
Exactly one year ago today, it was Robert Griffin III whose sparkling performance in Baylor's upset over TCU, the defending Rose Bowl champs, led off my initial Weekly Review of the 2011 season.
New year, same type of story: West Virginia's Geno Smith stole the spotlight over the weekend from this year's Heisman favorite and presumptive No. 1 overall pick, Southern Cal's Matt Barkley.
Barkley and his top-ranked Trojans were predictably dominant over Hawaii Saturday, Smith (pictured above) was even better. Continuing the torrid pace he began by tossing six touchdowns in a 70-33 thrashing of Clemson January 4 in the Orange Bowl, Smith completed an eye-popping 32 of 36 passes for 323 yards and four touchdowns Saturday in the Mountaineers' opener against Marshall.
Smith was named the Walter Camp Offensive Player of the Week and frankly, he could have done more damage. Smith threw just one pass in the fourth quarter -- not surprisingly, it went for a touchdown (to Stedman Bailey) -- before spending the final 14:24 of the game watching comfortably from the sideline. Along the way, he'd not only guided West Virginia to touchdowns on seven of his nine possessions, Smith passed former St. Louis Rams' Pro Bowler Marc Bulger for the most touchdown passes (60) and completions (651) in school history.
Before crowning Smith as the next quarterback to suddenly leap into top five NFL consideration, it is only fair to consider his opponent. Marshall allowed a staggering 655 yards a game a year ago to opposing offenses. That ranked the Thundering Herd dead last in Total Defense among the 107 FBS teams in 2012 -- and that was with All-American Vinny Curry, now a Philadelphia Eagle, terrorizing opposing quarterbacks off the edge.
Another factor to keep in mind is that Smith is surrounded by a great deal of playmaking talent in Morgantown, highlighted by the country's elite slot receiver Tavon Austin and Bailey. Smith, furthermore, operates in a QB-friendly offense designed by Dana Holgorsen, who cut his teeth at the FBS level as first a receiver coach and eventually an offensive coordinator under Mike Leach at Texas Tech before helping develop Justin Blackmon and Brandon Weeden into first round talents as the offensive coordinator at Oklahoma State.
At the same time, Smith enjoyed his breakout campaign the year before Holgorsen arrived at West Virginia, leading the Big East in passing efficiency (144.7) while completing 64.8% of his passes for 2,763 yards and 24 touchdowns against only seven interceptions to earn Second Team all-conference honors from league coaches in 2010. Last season, his first under Holgorsen, Smith's numbers improved in every notable passing category from efficiency (152.6), completion percentage (65.8%), passing yards (4,385) and passing touchdowns (31) while still only throwing seven interceptions and he was rewarded with consensus First Team accolades.
The 6-3, 220 pound Smith isn't as athletic as Newton or Griffin (or Andrew Luck, for that matter), but he does have the scrambling ability to extend opponents to their breaking point. He turned a broken play Saturday into a 28-yard touchdown run and scored touchdowns on the ground a season ago against Clemson and Rutgers. He prefers to beat defenses with his eyes and pinpoint accuracy, demonstrating not only the recognition to change plays at the line of scrimmage but the zip to fire deep outs and crossing patterns, as well as the touch to hit receivers in stride on the deep ball.
At this early stage, Barkley remains the logical favorite to win the Heisman and perhaps be the first pick of the 2013 draft. For my money, Arkansas' Tyler Wilson, who also enjoyed a strong opening day performance (19 of 27 for 363 yards and three touchdowns/zero interceptions) is next.
Their lead certainly isn't as formidable, however, as the one that Luck once held over Newton and Griffin so don't be surprised if Smith, currently NFLDraftScout.com's No. 9 rated quarterback, steadily works his way up the board as the 2012 season unfolds.
*** WVU's Smith may have earned the buzz for his performance on Saturday but just a day earlier it was Tennessee junior Tyler Bray who served notice that he too deserves consideration as one of the elite quarterbacks in the country.
Scouts attending the game left acknowledging that the accuracy and gunslinger mentality which had helped Bray take the SEC by storm a season ago had returned now that the broken thumb on his throwing hand is healed. They also left dazzled with the debut of junior wideout Cordarrelle Patterson, a junior college transfer who caught six passes for 93 yards and a touchdown and also scored on a weaving 67-yard reverse.
Unfortunately, it was the struggles of North Carolina State junior cornerback David Amerson, however, that may have left the most lasting impression upon NFL talent evaluators.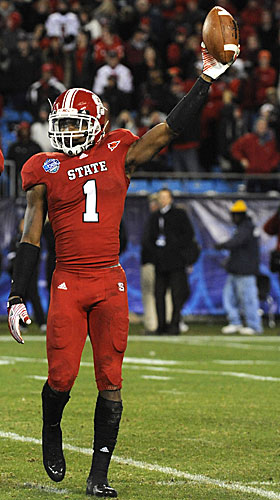 Amerson (pictured left), NFLDraftScout.com's top-rated cornerback and a returning All-American who led the country a season ago with a jaw-dropping 13 interceptions, was beaten on two long touchdowns in the opening quarter of action.
The first score came courtesy of Bray and Patterson just a few minutes into the game. Amerson was lined 10 yards back in off-man coverage against Patterson and slowed his shuffle when the 6-3, 205 pound receiver throttled down for an apparent out-route. That's when Patterson quickly accelerated, leaving Amerson flat-footed and behind for an easy 41-yard bomb down the left sideline from Bray.
He appeared to be in even worse position three offensive series later as he was beaten for a 72-yard strike by Bray to Zach Rogers. Amerson clearly expected to have safety Earl Wolff protecting him deep as he allowed Rogers -- who isn't the same caliber of athlete as Patterson -- to simply run past him down the middle of the field. Television cameras caught Amerson explaining to coaches following the play that he thought he had help over the top.
While a miscommunication in coverage may have been the culprit in Amerson allowing the second long touchdown reception, it doesn't account for his inability to stop Patterson on the reverse on Tennessee's very next offensive snap.
On this play Amerson was lined up deep across from Tennessee's "other" star receiver, Justin Hunter. He followed Hunter to the middle of the field from the right sideline only to discover that Patterson had taken a quick end-around and was dashing towards him.
Amerson fought off a quick block from Hunter and seemed to be in position to keep Patterson from extending the play much further. Patterson's speed and Amerson's poor angle, however, allowed the highly regarded Hutchinson (Kan.) Community College transfer to slip by untouched and race down the right sideline to give the Vols a 22-7 lead as the first quarter closed.
Scouts love Amerson's ball skills and at a lanky 6-2, 193 pounds he's been characterized by some as a virtual clone of All-Pro Nnamdi Asomugha.
Just as Asomugha struggled when asked to make the transition to the Eagles' man-off and zone-heavy looks a year ago after starring as a press corner for the Oakland Raiders, Amerson's long-legs and average acceleration make him susceptible to big plays.
In the right scheme, Amerson remains a highly regarded prospect. As he unfortunately demonstrated Friday night, however, Amerson does not possess the same quick-twitch acceleration that helped Patrick Peterson, Morris Claiborne and Stephon Gilmore land spots within the top 10 in the past two NFL drafts.
***Coming off their second BCS championship in three seasons and yet another dominant performance Saturday night against the No. 8 ranked Michigan Wolverines, it isn't easy to find a legitimate highly regarded NFL prospect from the Alabama Crimson Tide that doesn't already receive the hype he deserves.
Senior tight end Michael Williams, however, certainly qualifies.
In an era in which NFL teams are increasingly looking for receiver hybrids at tight end, the 6-5, 272 pound Williams (pictured right) is a bit of a throwback. He's fast enough to threaten the seam and possesses the soft hands to extend and pluck passes throughout his large catch radius, but he's also very strong, technically sound and competitive as an inline blocker. Alabama relied on this versatility to score each of their four offensive touchdowns against the Wolverines.
It's quite appropriate that Alabama's first touchdown of the 2012 season came on Williams' two yard reception in the first quarter. Though the catch was the only one Williams would make against the Wolverines, don't think it came by accident. Getting a score with Williams may have been a symbol of resolving unfinished business for Nick Saban and the Tide. It was Williams who last year lost out on a jump-ball to LSU free safety Eric Reid in what many believe was the deciding play in the team's regular season showdown.
Depending on the down and distance, Williams lined up as a traditional tight end alongside one of Alabama's offensive tackles, split out as a wide receiver, as a traditional lead fullback and even as a running back alongside quarterback A.J. McCarron. Alabama was most effective running the ball behind Williams all night long and each of their two rushing touchdowns came with him sealing off Wolverine defenders at the point of attack. Other than the touchdown he caught, Alabama's only other passing touchdown of the night came on McCarron's 51-yard touchdown toss to DeAndrew White, a play that was successful because Williams, who had lined up at fullback, took on and steered away hard-charging defensive end Craig Roh.
Williams isn't likely to run as fast or jump as high as some of glorified extra-large receivers from spread offenses that will be invited to the Combine this year characterized as "tight ends." His value lies in his versatility as a traditional third offensive tackle with the soft mitts to attack defenses quickly. It's a value that only makes a great Alabama team that much more indefensible and could ultimately result in Williams hearing his name called within the first two rounds of the 2013 NFL draft.


Photo Credits: US Presswire, Getty Images