Week 9 Rewind: Lattimore had right knee dislocated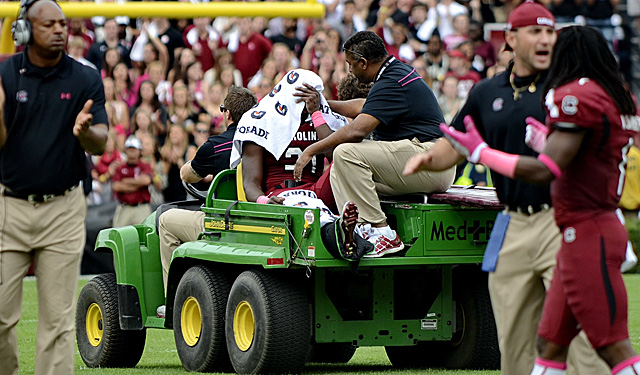 Marcus Lattimore rides off the field after his injury vs. Tennessee. (AP)
South Carolina junior running back Marcus Lattimore, the only runner given a first-round grade thus far by NFLDraftScout.com, was carted off the field in the second quarter of the Gamecocks' matchup against Tennessee with a right leg injury.
Head coach Steve Spurrier updated Lattimore's condition Sunday. Spurrier said that Lattimore's right knee was dislocated. The knee was put back in place after after he was taken from the field to a local hospital. Spurrier did not provide specifics as to ligaments or bones. The university released an update on Lattimore, as well, characterizing the injury as a "significant impact to the front of his right knee." The release notes that "several ligaments" were injured but that team doctor Jeffrey Guy did not find any fractures or other injuries.
The injury appeared to come from a low (but legal) hit from Volunteers' defensive back Eric Gordon, whose helmet hit Lattimore directly on his right knee. The star running back's knee appeared to go limp on contact. South Carolina coaches and medical personnel rushed to the field. They were soon followed by Lattimore's teammates and even Tennessee players in giving the star back well wishes as he was carted off the field with his head covered by a towel and his right leg appearing to be enclosed in an air cast.
More on Lattimore injury
Related content
As he had virtually all season long, Lattimore (pictured above) was playing well in this game prior to the injury. He'd rushed for a game-high 70 yards on 11 carries, including South Carolina's third touchdown, a 28-yard scamper off the left side with 9:54 remaining in the half.
The 6-0, 220 pound Lattimore took the SEC by storm as a true freshman in 2010. He rushed for 1,197 yards and scored 17 touchdowns. He appeared well on his way towards duplicating that success a season ago (818 yards, 10 TDs in seven games) before suffering a torn ACL in his left knee against Mississippi State October 15, 2011.
Scouts love Lattimore's power, lateral agility and burst. Lattimore has also proven to be a reliable receiver out of the backfield, as well as a savvy and physical pass protector. These traits, along with his immediate and sustained success against elite competition, led to Dane Brugler and I consistently listing him among our 2013 mock drafts. Lattimore is the only running back I've listed on my Big Board, a ranking of the top 40 NFL prospects in college football.
The injury is a serious one that ends Lattimore's season but Spurrier noted that his star back had not taken a redshirt season yet and remained positive about Lattimore's future.
"We're optimistic his football days are ahead of him," Spurrier said.
Whether those days are as a member of the Gamecocks or if Lattimore decides he wants to make the early jump to the NFL, of course, remains to be seen.
There's no other way to put it, Lattimore has tough decision ahead of him. He's already demonstrated the physical talent and work ethic to come back from one serious injury. Furthermore, NFL teams have shown a willingness to gamble in the first round on running backs coming off of major injuries. Willis McGahee was selected by the Buffalo Bills 23rd overall in the 2003 draft just four months after suffering severe ligament damage against Ohio State in the 2002 Fiesta Bowl. McGahee, of course, has gone on to enjoy a standout NFL career with the Bills, Baltimore Ravens and most recently with the Denver Broncos. The Detroit Lions' roll of the dice on oft-injured runner Jahvid Best with pick No. 30 in the 2010 draft is a more recent and sobering reminder that some athletes aren't quickly able to recapture their previous form.
Should Lattimore elect to leave school early, teams may have a hard time giving him the first round grade his talents clearly warrant. If Lattimore and his advisors feel he can demonstrate he is the road to a complete recovery by April, it is hard to imagine the highly regarded Lattimore falling out of the second day of the draft.
If Lattimore returned to South Carolina for a fourth season, obviously he could recover whatever stock may have been lost with this injury. Returning would certainly be a gamble, however. A third serious injury could force some NFL teams to take the supremely talented back off their draft boards entirely.
A highly regarded prospect and young man (Lattimore was the only South Carolina underclassman to be voted a team captain this year), scouts will want to give Lattimore the benefit of the doubt. Should this injury be of the season-ending variety, however, the real decision-makers in NFL front offices will have to consider the fact that Lattimore has watched his carries (249 in 2010, 163 in 2011, 143 in 2012) and yardage (1197-818-667) drop each of his three seasons of college football.
Big Ten Backs Vying to Fill Vacuum Left by Lattimore's Injury
With Lattimore universally regarded as the top talent among the running backs potentially available in the 2013 NFL draft, his injury could make the position race one of the more intriguing story lines leading up to April.
Scouts looking for running back talent certainly had to be paying attention to the Wisconsin-Michigan State battle, featuring highly regarded senior Montee Ball for the Badgers and Le'Veon Bell, a junior, for the Spartans.
Though they play the same position, the 5-11, 215 pound Ball and 6-2, 244-pound Bell are every bit as different as their size would indicate.
Neither back was helped much in this contest as the defenses were keying in on them and the passing attacks weren't able to force safeties deep. Each, however, demonstrated unique traits that will lead to success at the next level.
While Ball struggled to start the 2012 season, he'd be running well lately, putting together a string of three consecutive 100-yard efforts, including a dominating 247-yard, three-touchdown performance October 13 against Purdue.
Today couldn't have been any different for Ball, as the 2011 Heisman finalist was held to a season-low 2.1-yard average in this contest. He often had to make defenders miss before he even got to the line of scrimmage and was occasionally very impressive in doing so. Ball has some naturally elusiveness to him that can't be taught. He has very good lateral agility, including a nice jump-cut and enough acceleration to gain yardage quickly when the holes are there.
As one might expect given his size, Bell is a much more physical runner than his conference counterpart and often forced multiple defenders to bring him to the ground. Bell isn't just a brute, however. He has better manueverability (including a natural spin move), patience and burst than he's often given credit for and, like his Wisconsin opponent, is also a true three-down back, showing good awareness and physicality in pass protection, as well as soft hands and natural route-running savvy as a receiver.
Other than the game-winning reception by Bennie Fowler in overtime, in fact, Bell caught Andrew Maxwell's most important throw of the game -- a five-yard touchdown that tied things up with 1:01 left in regulation. This particular catch was a simple one but Bell has demonstrated excellent hands in past games and scouts are intrigued by the tough matchups in the passing game he'll force if moved around by a creative NFL offensive coordinator.
Bell currently ranks as NFLDraftScout.com's No. 3 running back, behind only Lattimore and Alabama's Eddie Lacy. Ball is our No. 3-rated senior at the position, behind Clemson's Andre Ellington and Stanford's Stepfan Taylor. The Big Ten duo make up one quarter of the eight running backs NFLDraftScout.com currently has within our top 100 prospects for the 2013 draft.
Defenses Leave QBs Drunk in Outdoor Cocktail Party
As he often does, CBS color commentator Gary Danielson perfectly summarized the reason Georgia was able to stop No. 2 Florida in the latest rendition of this terrific SEC rivalry: the Bulldogs' defense controlled the edge.
Outside linebacker Jarvis Jones certainly contributed to this. Coming off groin and ankle injuries that have each caused him to miss a game this season, Jones was everywhere in this contest, constantly harrassing Gators' quarterback Jeff Driskel and forcing two fumbles.
Jones' flashy game could result in SEC Defensive Player of the Week accolades. He earned precisely this distinction, along with several others, a year ago against Florida by posting four sacks, one of the reasons why I pointed to Jones as one of the five NFL prospects I was most looking forward to scouting this weekend.
While Jones certainly deserves a great deal of credit for his game-changing plays, scouts paying attention to the battles going on in the trenches had to be impressed with the physical play from Georgia defensive linemen John Jenkins (No. 6), Garrison Smith (No. 56) and Kwame Geathers (No. 99).
Jenkins, the only senior of the trio, was as dominant as I've ever seen him. Considering his massive frame (6-3, 358), scouts know Jenkins is going to be tough to move versus the run. Rather than simply rely on his mass as a barrier to rushing lanes, however, Jenkins showed excellent use of hands, consistently ripping through his opponents' attempts to latch onto his chest plate. He showed good balance and surprisingly light feet, sliding left and right as needed to help keep contain and force Driskel and the Gators' legitimate NFL-caliber back Mike Gillislee from turning the corner cleanly. He even occasionally broke through to supply some pass rush, showing a higher-revving motor than most players of his size.
Utah's Star Lotulelei and Ohio State's Johnathan Hankins currently rank as my top two prospects in the country, regardless of position. Neither, however, has been any better on a bigger stage than Jenkins was today. Scouts have known for a while now that a unique defensive tackle class will wind up being one of the most compelling storylines of the 2013 draft -- what is becoming increasingly clear is that in Lotulelei, Hankins and Jenkins we could have three DTs wind up as top 10 picks.
Surprising Lack of Recognition from Barkley Contributes to USC Loss
When Southern Cal's Matt Barkley made the controversial decision to bypass a likely top 10 pick in the 2012 NFL draft to return for his senior season some predicted he'd live to regret it.
It wasn't difficult to understand why. While Barkley was blessed to have one of the elite pass-catching duos in the country in junior Robert Woods and sophomore Marqise Lee, Barkley would be operating without left tackle Matt Kalil protecting his back. Furthermore, scouts would get another full season to make mountains out of whatever warts the top-rated quarterback possessed.
The problem is, with Barkley, there legitimately are questions of concern. Scouts have long worried that at 6-2, 225 pounds Barkley doesn't have the size to warrant a high grade. Everything else about Barkley -- from the size of his hands to his arm strength to his lack of elite athleticism to the struggles of several high profile Trojans quarterbacks preceeding him have all been used as reasons why he might slip.
One of the few areas in which even Barkley's detractors generally acknowedge the USC product is special has been his poise. Barkley was terrific in high profile contests a year ago against Notre Dame, Stanford and Oregon (10 TDs vs two INTs combined) and had only one game (Arizona State) in which he threw multiple interceptions.
While he threw for a stagging 493 yards Saturday against the Wildcats, Barkley didn't play with the poise and recognition late in this contest that I expect of a senior quarterback and potential high round pick. He was picked off twice Saturday by the Wildcats, the third game this season he's thrown multiple interceptions (Stanford, Cal) and he still has Oregon, ASU, rival UCLA and Notre Dame left in the regular season.
It wasn't just the interceptions that will trouble scouts, however. Barkley also made a mystifying decision in the game's final seconds that all but sealed Arizona's wild comeback victory.
Down 36-39 with just :55 seconds left, Barkley appeared to be his classically calm self, hitting running back Silas Redd and Lee on quick receptions that resulted in three first downs with time left and on the Arizona 48-yard line.
Rather than make one more intermediate pass to put the Trojans in position to attempt the game-tying field goal, Barkley got greedy, pump-faking and attempting to hit Lee deep down the left sideline for the game-winner. The aggression was commendable but the pass was significantly overthrown. Worse, it left just four seconds left on the clock, forcing Barkley's final attempt to be a Hail Mary that was batted away.
Physical UW Secondary Stuns No. 7 Oregon State
The Oregon State Beavers traveled north to Seattle to take on Washington ranked the No. 7 team in the nation, largely due to their own aggressive, physical and ball-hawking defense.
The Washington defense had been anything but productive in recent weeks, getting torched for an average of 43 points a game as the Huskies dropped three in a row since upsetting then No. 8 Stanford September 27.
Using a similar game plan as the one that helped the Huskies beat the Cardinal a month ago, Washington loaded up the box against Oregon State, forcing their defensive backs into a lot of risky man coverage.
Senior cornerback Desmond Trufant has responded well to this challenge all season long, emerging as one of the top cornerbacks in the country. He's always demonstrated the same caliber of athleticism owned by his two older brothers -- Marcus and Isaiah Trufant -- each of whom currently play in the NFL (Seahawks, Jets respectively). With 29 career passes defended up (including five interceptions) heading into the season, scouts knew he had the ball skills to play in the NFL, as well.
One area in which scouts wanted to see improvement from Trufant during his senior season was in terms of his overall physicality. He certainly showed that Saturday night, recording a game-high 10 tackles (nine solos) including a three-yard tackle for loss that set the tone for Washington's second big upset at CenturyLink Field this season.
While Trufant is certainly the Huskies' top senior prospect, the physical play from junior strong safety Sean Parker may have actually played a larger role in the upset. Parker was only credited with three tackles in the game but he supplied some devastating hits, including the clean, aggressive shot that knocked out Beavers' star wideout Markus Wheaton in the second quarter and led to an interception by the Huskies' Justin Glenn.
Trufant has likely played himself into the second round with his improved consistency this season and could see a bump as the draft approaches if he works out and interviews as well as expected.
Parker's stock has also risen this season. His lack of ideal size makes it unlikely he'll want to risk leaving for the NFL early, but he certainly demonstrated the toughness and closing speed NFL scouts are looking for.