10 underrated rookies shining in the NFL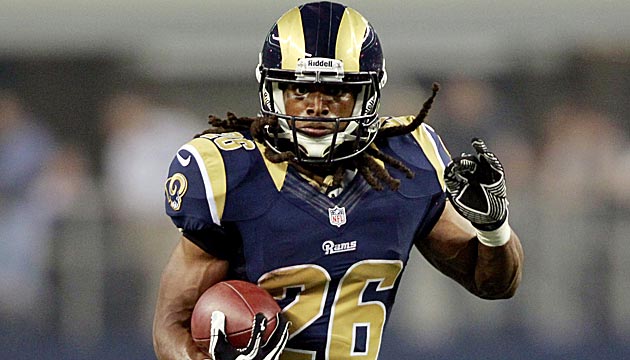 Daryl Richardson has been surprisingly important in St. Louis. (US Presswire)
Wins in the NFL often correlate with whether or not teams' draft classes were successful. Not just the top picks and first rounders, but also a team's ability to find underrated talents in the mid-to-later rounds.

While finding an Arian Foster (undrafted) or Tom Brady (sixth round) is rare, each draft class has prospects who seem to slip through the cracks on draft weekend, but months later are starting and contributing in the NFL as first-year players. And although the 2012 season is just half over, a few hidden gems are starting to shine.

For the Rams, running back Daryl Richardson, who was drafted with the second-to-last pick of the 2012 NFL Draft, has far surpassed expectations, averaging 5.4 yards per carry. With marginal size and strength, Richardson slipped down draft boards, but he is just 68 yards behind Steven Jackson for the team-lead in rushing, despite nearly half as many carries.

There are numerous examples of rookies exceeding expectations around the league like Richardson, but here are 10 notable first-year players who were also overlooked on draft weekend and have impressed through the first half of the season. Time will tell if they can keep up the pace, but their hot starts have teams optimistic about their NFL futures.
Several of the players listed below were projected as rookie standouts by Senior Analyst Rob Rang as part of his "Finding the Fits" series.
(Players are in alpha order)
Bengals LB Vontaze Burfict (undrafted, Arizona State): Assigned a special-teams role in training camp, Burfict has grabbed a starting outside linebacker spot by toning down his on- and off-field antics and turning up his focus thanks to Ray Lewis' former locker room mentor, Marvin Lewis.

Bills OT Cordy Glenn (second round, 41st overall, Georgia): A potential first-rounder a year ago, Glenn dropped to the second round because most viewed him as a guard-only prospect. However, the former Georgia product earned the Bills' starting left tackle position in the preseason and started the first four games there. Although he's missed the last few games with an injury, the coaches believe Glenn is the answer to Buffalo's search for a legit left tackle. Rang agreed.

Browns WR Josh Gordon (second round, supplemental draft): A highly controversial second-round selection in the July supplemental draft, Gordon has emerged as arguably the best big-play rookie receiver in the league. Gordon has only caught 17 passes through eight games but is averaging 22.3 yards per catch and leads all rookie pass-catchers with four touchdowns.

Packers CB Casey Hayward (second round, 62nd overall, Vanderbilt): Despite Packers' general manager Ted Thompson spending his NFL career as a player mostly at linebacker and special teams he's done an extraordinary job over his career of finding playmaking defensive backs. Hayward, a second round pick out of Vanderbilt, currently leads all rookies in both passes defended (11) and interceptions (four).

Colts WR T.Y. Hilton (third round, 92nd overall, Florida International): Although he has yet to start a game this season, Hilton, who was drafted in the third round, has impressed coaches with his playmaking ability with 18 catches for 253 yards, averaging a team-best 14.1 yards per reception. He fell on draft day because of durability concerns with his marginal size (5-9, 183), but Hilton's explosiveness has fans and coaches excited. This explosiveness was a primary reason why Hilton was projected as an excellent fit with the Colts by Rang entering the season.

Redskins RB Alfred Morris (sixth round, 173rd overall, Florida Atlantic): Mike Shanahan has made a career out of turning "second tier" running backs into stars. In Morris, he appears to have another. Morris, who played his collegiate ball at Florida Atlantic, was pegged by some scouts as too slow to be successful at running back in the NFL and projected to fullback. He has proven to be a perfect fit in the Redskins' one-cut scheme. He leads all rookies with 717 rushing yards, which ranks third in the NFL behind only Adrian Peterson and Marshawn Lynch.

Ravens K Justin Tucker (undrafted, Texas): After an up-and-down collegiate career at Texas, Tucker has emerged as one of the more reliable kickers as just a rookie with a 93.3 percent conversion rate so far. Tucker, who is the grandson of former Alabama linebacker Paul Tucker, has already earned the respect of his teammates. "Tucker's different from every other kicker," Ravens safety Bernard Pollard said. "He belongs in this locker room."

Seahawks QB Russell Wilson (third round, 75th overall, Wisconsin): Most believed the Seahawks signing Matt Flynn was a strong signal that they'd found their starting quarterback in the offseason. When Flynn wasn't healthy to start the season, head coach Pete Carroll made it clear the competition talk was more than a motivational ploy. Wilson won the starting job by outplaying Flynn and incumbent starter Tarvaris Jackson (subsequently traded to Buffalo). He joins the Redskins' Robert Griffin III as the only rookie quarterback to currently have thrown more touchdowns (10) than interceptions (eight).

Browns DT Billy Winn (sixth round, 205th overall, Boise State): Winn, projected to be a top-100 pick, fell out of the top 200 on draft weekend and landed in Cleveland as a sixth-rounder. With Browns' incumbent defensive tackle starters Phil Taylor and Ahtyba Rubin plagued by injuries, Winn has started the first eight games of the season and surpassed coaches' expectations, recording the first sack of his career last week.

Rams K Greg Zuerlein (sixth round, 171st overall, Missouri Western State): If there is such a thing as a rookie kicker sensation, Zuerlein, or better known as "Greg the Leg" or "Legatron," is it. He was perfect through the first five games, including 15 straight to begin his NFL career, and has converted five field goals of 50-plus yards with makes of 56, 58 and 60. One of his three misses on the season, which would have set a field goal distance record, was a 66-yard attempt. Zuerlein's talent, as well as Rams' head coach Jeff Fisher's willingness to try long kicks, made him an intriguing fit for St. Louis.