Weekly Rewind: As QBs Drop, OT Joeckel Continues to Rise
Which future NFL draft picks stood out during Week 11 of the 2012 college football season? NFLDraftScout.com Senior Analyst
Rob Rang
checks in with the performances that will have NFL scouts adjusting their rankings. Weekly Rewind is a running blog post updated throughout the day, with the stories in chronological order.
Wilson Teases With Big Arm, Guts in Loss To South Carolina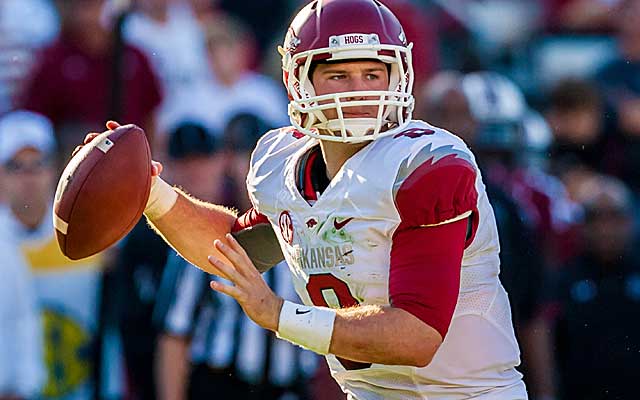 Arkansas QB Tyler Wilson turned in a gutsy performance against a tough South Carolina defense. (US Presswire)
Winning 38-20 in front of their home crowd, the South Carolina Gamecocks outplayed the Arkansas Razorbacks in every way Saturday.
Perhaps surprising, considering the score, South Carolina's most impressive effort came on the defensive side of the ball. Due in large part to the fact that sophomore defensive end JaDeveon Clowney is the nation's best player, the Gamecocks consistently put pressure on Arkansas quarterback Tyler Wilson, a potential first round pick in the 2013 NFL draft.
South Carolina intercepted Wilson twice and limited the SEC's leading passer (averaging 317.5 passing yards per game) to a mediocre performance that looks much better in the statbook than it did live. Wilson threw for 192 yards in the first half but just 85 yards after that. He also threw two second half interceptions.
Considering the lack of protection he had up front, as well as limited experience (other than Cobi Hamilton) at receiver, it is a testament to Wilson's guts and talent that he enjoyed the success he did. In a year of highly inconsistent play from the most talented quarterbacks, those traits could transate into a first round pick.
As much as one play ever can, the skill-set that could cause a team to gamble big on the Arkansas quarterback was demonstrated on Wilson's game-tying touchdown pass to true freshman receiver Keon Hatcher midway through the second quarter.
Facing third and goal, Wilson took the snap from shotgun and quickly located Hatcher coming free across the middle from the slot. Wilson had to rely on his correct pre-snap read because Clowney had slipped past Arkansas' left tackle with an explosive swim move and was barreling in on the quarterback at top speed. Wilson took a physical, clean hit to the chest and threw a strike to make the first catch of Hatcher's career a memorable one.
Better protection would have put Wilson in better position to make a similar play when Arkansas faced 3rd and goal from the three-yard line with 3:30 before the half, while the game was still competitive. This time, however, it was the Gamecocks' talented senior pass rusher, Devin Taylor, who was in Wilson's face before he had a chance to breathe. The 6-7, 267 pound Taylor was unblocked off the right side and forced Wilson's throw to be slightly behind his most reliable receiver, senior Cobi Hamilton. Hamilton who was open, wasn't able to snatch the ball before South Carolina defender Akeem Auguste knocked it away.
Scouts like Wilson's arm talent and guts but he showed throughout the second half why he remains a flawed quarterback.
While Wilson has the velocity and touch to make the breath-taking throw, he does not possess great accuracy, overall, at least not in terms of consistency. Arkansas' well-designed routes puts opposing defensive backs in difficult positions. This gives Wilson (and other quarterbacks who've played in this offense) bigger windows than he'll often see in more traditional pro-style attacks in the NFL. Wilson's moderate ball placement on intermediate and shorter checkdown throws limited his receivers' ability to generate yardage after the catch in this contest and in previous games viewed.
Wilson's most impressive traits are his arm strength and guts. He is willing to stand in and take a direct shot to complete passes, which has led to his twice being knocked out of games with head injuries over his two seasons as the Razorbacks' starting quarterback. He's been tested this year considering the fact that he lost three receivers to the NFL a year ago.
South Carolina won this game due to their ability to slow down Wilson and the passing attack but this was all set up by forcing the Gamecocks to abandon their star all-purpose ball-carrier Dennis Johnson after he fumbled early. Johnson, who entered the game as the Southeastern Conference's reigning career all-purpose yardage leader with 5,084 yards, was limited to just 58 total yards Saturday. Johnson, who I highlighted as one of the five prospects to watch this week, had a critical fumble on the Gamecocks' five-yard line. The 5-08, 212 pound pin ball is difficult for defenders to tackle due to his excellent balance, as well as short, choppy steps that give him power and quickness. Down big throughout the second half, Johnson only had five touches over the final two quarters, robbing Arkansas of their most consistent player on offense.
Joeckel, Matthews Deserve Credit for Aggies' Win
With all due respect to Texas A&M head coach Kevin Sumlin, his offensive coordinator Kliff Kingsbury and their star quarterback Johnny Manziel, the biggest reasons (literally and figuratively) for the Aggies' stunning win over Alabama Saturday are named Luke Joeckel and Jake Matthews.
The juniors rank as the nation's elite bookend tackles and frankly, their ability to control the point of attack made the Aggies a somewhat predictable upset candidate. Their ability to pin Alabama inside and allow Manziel to out-flank the normally sound Tide defense helped stake the Aggies to a 20-0 lead in the first half. Powerful, athletic and poised, each demonstrated the skill-set that will result in a top 20 selection in the 2013 NFL draft should they elect to come out early.
Joeckel, NFLDraftScout.com's top-rated prospect regardless of position, was particularly impressive in this contest especially in critical situations. Time after time, Texas A&M ran behind him in short yardage situations, including on their first touchdown of the game. His stellar pass protection gave Manziel extra time on the magical score shown below. With Joeckel (No. 76 in video below) demonstrating the foot speed, long arms and balance to handle an outside speed rush, Manziel was given the time to dance in the pocket, nearly fumbling along the way, to roll left and find Ryan Swope for the Aggies' second score.
Manziel found Swope for another huge gain early in the fourth quarter after Alabama had closed the lead to 23-17. Desperate to create some some pressure on Manziel, the Tide resorted to a relatively rare blitz. Joeckel initially stoned 6-6, 248 pound sophomore linebacker Adrian Hubbard, who had lined up as a 4-3 defensive end. After knocking him to the right, Joeckel switched off to stop a looping Alabama defensive tackle as Manziel threw a strike to his senior wideout. Swope caught the 28-yard pass and absorbed a huge hit from Alabama defensive back Ha'Sean Clinton-Dix which drew a flag, giving the Aggies a first down at the Tide's 25-yard line.
Joeckel again showed the ability to quickly erase one defender before switching off to another on Manziel's beautifully thrown 24-yard touchdown pass to Malcolme Kennedy with 9:10 left in the fourth quarter.
Quarterbacks have been taken with the No. 1 overall pick every year since 2008. That year, the Miami Dolphins made former Michigan standout Jake Long the first selection. Considering how the quarterbacks have left a lot to be desired this season, it wouldn't be surprising to see teams recognize the relative safety that an elite tackle like Joeckel provides and consider him very early -- perhaps even at No. 1 overall.
BYU, Utah Pass-rushers Give Beehive State Its Sting
The average football fan might be surprised with how highly the state of Utah would rank in a national competition for NFL prospects.
Utah defensive tackle Star Lotulelei didn't have a big statistical night against the University of Washington but that's largely because the Huskies double-teamed him most of the game. When he was assigned just one blocker, Lotulelei demonstrated the quick hands and feet that belie his 6-3, 320 pound frame.
Lotulelei, the reigning Morris Trophy winner, has been my top-rated prospect much of the year. I'll be the first to admit that the defensive tackle hasn't been as consistent as I would like but he clearly possesses some special attributes. As mentioned, he's quick. He's also quite strong, showing the heavy hands and upper body strength to rip violently free from blocks. He used his great strength to simply bull rush through Washington left guard Dexter Charles for a sack late in the third quarter with the Huskies nursing a 21-15 lead.
While his physical traits cannot be ignored, Lotulelei's mental mistake midway through the fourth quarter led to the Huskies pulling away. The senior defensive tackle was caught offsides to extend a Washington drive -- the second time Lotulelei was penalized for guessing the snap count rather than watching the ball.
Teams won't forget Lotulelei's lack of discipline but ultimately it will be his physical traits that will prove the more lasting impression. Lotulelei's size, strength and athleticism make him scheme-versatile and quite likely a top five pick.
It is precisely this position and scheme versatility that has made BYU's Ezekiel "Ziggy" Ansah the hottest senior prospect in the country.
The 6-6, 270 pound native of Ghana originally came to BYU on a track scholarship and only began playing in football in 2010. Having been shuffled between defensive end and linebacker the past two years, Ansah entered his senior season with just 10 combined tackles. Demonstrating much greater awareness and strength this season, however, Ansah has been terrific, standing out in high profile games against Boise State, Notre Dame and Georgia Tech in recent weeks and reportedly earning an invitation to the Senior Bowl.
It was easy to see what Phil Savage and the Senior Bowl scouts saw in Ansah, who dominated Idaho Saturday night, playing both with his hand in the ground as a defensive end and as a stand-up rusher. Ansah is quick off the snap and has long strides that gobble up territory on his way to the quarterback. He's also very long and aware in the passing game, knocking down two passes in the first half before the game got out of hand. Perhaps most exciting -- considering his relative lack of time in the game -- is that Ansah has naturally heavy hands. He broke away easily from Idaho offensive linemen's attempts to control him.
Ansah has improved throughout the season, enjoying the most dramatic breakout performance this year of any senior prospect. Ansah entered the season barely on the blip of scouts' radar but he's pushing for a spot in NFLDraftScout.com's top 50 currently and could very well emerge as a legitmate first round with a solid week in Mobile.