Report: Tyrann Mathieu to enter 2013 NFL Draft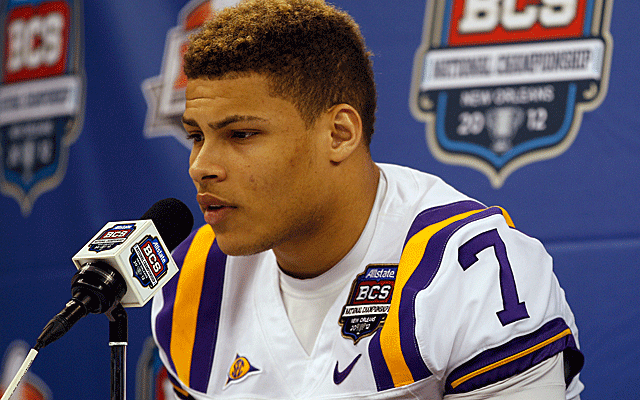 CB Tyrann Mathieu was dismissed from LSU in August after multiple failed drug tests.
(Getty Images)
According to a report by ESPN.com, former LSU cornerback Tyrann Mathieu will make himself eligible for the 2013 NFL Draft.

Nicknamed the Honey Badger for his play on the field, Mathieu was dismissed from the LSU football program in August after multiple failed drug tests and checked into a drug and alcohol recovery center in Houston. This past October, he was arrested, along with three former LSU football players, after police found drug-related materials in Mathieu's apartment, including 10 bags of high-grade marijuana. According to reports, Mathieu was expected to re-enroll at LSU for his senior season, but his latest arrest made that possibility unlikely.
More on NFL draft
Related links

A Heisman Trophy finalist last season, Mathieu was projected as a top-32 pick this summer based on his play over his first two seasons in Baton Rouge. Although he doesn't have ideal size or speed, he showed a knack for the big play with 20 passes defended, 11 forced fumbles and four interceptions over his career, covering the entire field and always seeming to be around the ball. Mathieu doesn't have the ideal traits of a NFL cornerback, but he is best suited to play a hybrid nickel role where he can line up all over the field, covering both the run and pass. He might not fit the traditional mold, but he has a versatile skillset that makes him a unique blend of several positions, including linebacker, safety and cornerback.

However the character and off-field concerns will push Mathieu's draft value out of the first round and possibly out of the top 100 picks altogether. He has been involved with multiple drug incidents and completed a rehab stint with former NBA player John Lucas, who battled his own drug addiction in the past. Mathieu was also accused of promoting parties at a local night club through videos and fliers, potential NCAA violations.

Trouble seems to follow Mathieu, but the NFL has numerous examples of players who were red-flagged during the draft process for nonfootball concerns and went on to be contributors at the next level. St. Louis Rams cornerback Janoris Jenkins was arguably the best defensive back in this past April's NFL Draft, but he slipped to the second round because of several drug-related occurrences. Jenkins has 47 tackles and three interceptions as a rookie and was recently named the NFC Defensive Player of the Week after he intercepted two passes last week at Arizona, returning both for touchdowns.

While somewhat similar, Mathieu's situation is also different. After his dismissal from Florida, Jenkins transferred to the FCS-level for his senior season and also participated in the Senior Bowl. Mathieu hasn't played football since last year's BCS national title game and, as an underclassman, won't have the opportunity to play in any predraft all-star games.

It's likely that Mathieu will be taken off some team's draft boards, but if a team feels comfortable with his character and past transgressions, the talent will be tough to pass up in the middle rounds.