2013 NFL Combine: Scott, Sorensen stand out among 'second tier' QBs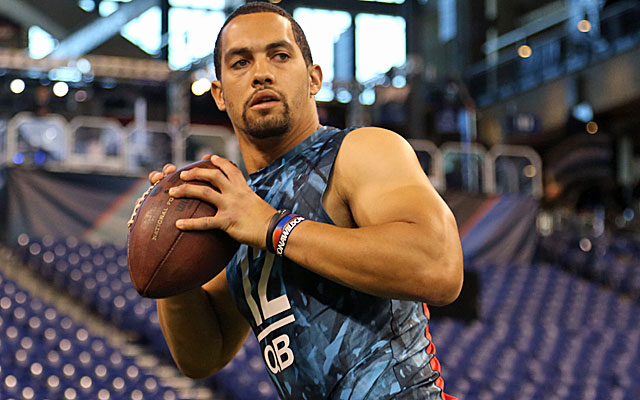 INDIANAPOLIS -- Scouts will tell you no workout -- whether at the combine or a pro day -- carries nearly as much weight in a player's final evaluation as game tape, but there is no denying an impressive throwing session in Indianpolis can generate a jump up draft boards.
As one of the fortunate few members of the media allowed to watch quarterbacks throw at the combine each year since the NFL cracked open their doors to us in 2007, I've personally been on hand to watch strong workouts help push the draft stock of passers from John Beck to T.J. Yates.
Generally speaking, the quarterbacks this year performed as expected. West Virginia's Geno Smith, NFLDraftScout.com's top-rated passer, was the best of the 14 quarterbacks who threw, though he was hardly dynamic. Arkansas' Tyler Wilson and Florida State's E.J. Manuel continued the positive momentum each had generated with solid showings in Mobile at the Senior Bowl.
Two relatively under-the-radar passers who may have helped their causes Sunday were Arizona's Matt Scott and Southern Utah's Brad Sorensen.
Scott, who finished third behind Smith (4.59) and Manuel (4.65) in the 40-yard dash testing with a best of 4.69 seconds, demonstrated the live arm to go along with his athleticism.
The ball explodes out of his hand on short and intermediate throws. Several caught receivers by surprise during the gauntlet drills with how quickly they arrived.
It wasn't all good for Scott, however, as his accuracy tailed off on deeper throws. Also, while Scott demonstrates plenty of arm talent, his footwork can be a bit inconsistent. He didn't consistently step into his throws Sunday.
As one of the few quarterbacks in the 2013 class with dual-threat capabilities, Scott could spark interest early in Day 3 of the draft or perhaps even earlier if he impresses teams on the white board. The 6-foot-2, 213-pound Scott has just 17 career starts after backing up Nick Foles for much of his time while with the Wildcats. It is worth noting, however, that Scott had actually beaten out the Philadelphia Eagles' passer for the starting position in 2009 before an injury allowed Foles to take over.
Sorensen, 6-foot-4, 229, is certainly not the athletic threat Scott is but was even more impressive during the throwing drills. He has an efficient, over-the-top delivery and showed good arm strength and accuracy to all levels.
Sorensen initially played at BYU but elected to transfer to Southern Utah after serving a two-year LDS mission in Spain. Despite only playing three years for the Thunderbirds he left SUU as the school's all-time leading passer with 9,445 passing yards and 61 touchdowns.
Sorensen's traits are impressive but he'd struggled earlier in his career when SUU faced top competition. Obviously there were no defenders on the field during Sunday's passing drills, but by performing well in front of hundreds of scouts in the stands Sorensen may have reassured talent evaluators of his ability to perform well in the clutch, which could be enough to get him drafted.