2013 NFL Combine: Florio says teams want to know if Manti Te'o is gay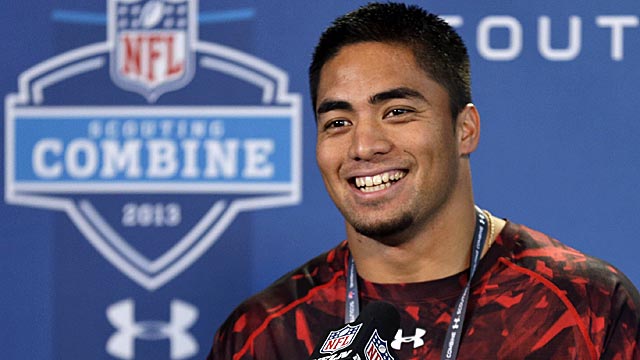 Manti Te'o has been big news throughout the combine. (Getty Images)
According to Mike Florio of Pro Football Talk and NBC Sports, NFL coaches and GMs want to know if Notre Dame linebacker Manti Te'o is gay.
"On the field, you still have to account for what happened in the BCS National Championship Game against Alabama," Florio told the Dan Patrick Show. "Here's the elephant in the room for the teams and it shouldn't matter, but we have to step aside from the rest of reality and walk into the unique industry that is the NFL. Teams want to know whether Manti Te'o is gay. They just want to know. They want to know because in an NFL locker room, it's a different world. It shouldn't be that way."
Florio isn't the first to raise the question of NFLDraftScout.com's second-ranked inside linebacker, but he's the first to discuss the factor (nonfactor?) in an open public forum. Whether NFL teams actually asked the question in one-on-one interviews -- Te'o said he met with 20 teams at the combine before working out with linebackers Monday -- is doubtful.
"I don't think you can ask that question -- because of the Dez Bryant question (he was asked by Dolphins GM Jeff Ireland if his mother was a prostitute) of a few years ago," Florio said. "If you go Katie Couric on Manti Te'o, it's going to come out that some team, some GM some coach asked Manti Te'o if he's gay. Then you'll have to deal with all the distraction and all the stuff that flows after that."
Patrick interrupted Florio to ask: "You're telling me that you're hearing from teams who want to know this, but how do you ask it? Are they trying to find a finesse way to ask that question, or are they going to do investigative work on finding out if Manti Te'o is gay?"
Florio said: "It's been described to me as the proverbial elephant in the room and I don't think anyone knows how to solve this dilemma yet. It's just that they want to know what they're getting. They want to know what issues they may be dealing with down the road. We just assumed that at some point there would be an openly gay player in an NFL locker room and the team would have to work with the realities and make sure that everything's fine.
"Now you have a situation where you have a guy who was in a relationship with a fake girl who ended up being a real man, and the man has said to Dr. Phil that he was romantically in love with Manti Te'o, it just raises a lot of questions that the NFL at some point is going to have to deal with.
"Tony Dungy makes a great point on this. If the NFL were ready for an openly gay player, there would be an openly gay player. Nobody knows better the feel of an NFL locker room than someone who's in it.
"I'm not saying anyone would take Manti Te'o off the board if they suspected he's gay or know he's gay. That's just the thing that's out there that they want to know the answer to."