2013 Draft: Tampa Bay Buccaneers spotlight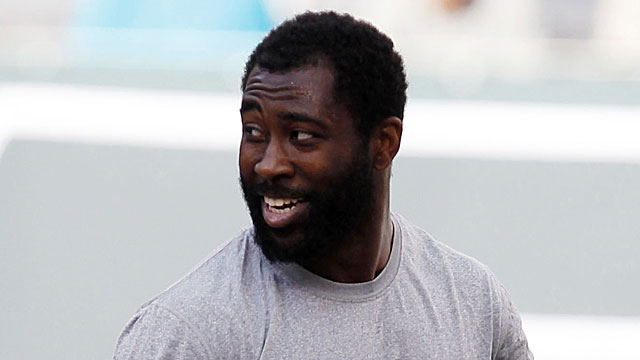 If Darrelle Revis does end up in Tampa Bay, it will shake up their draft strategy.
(US Presswire)
Tampa Bay Buccaneers 2013 draft picks: 13, 44, 73, 112, 147, 181, 196 (comp)
Primary needs: CB, DE, NT
General manager: Mark Dominik, fifth season
Five draft picks that clicked:
--RB Doug Martin, 31st overall, 2012
--LB Lavonte David, 58th overall, 2012
--LB Mason Foster, 84th overall, 2011
--WR Mike Williams, 101st overall, 2010
--OG Jeremy Zuttah, 83rd overall, 2008
The most pertinent question for the Buccaneers might not be who they'll draft in the first round, but whether they can entice the New York Jets to take it off their hands in exchange for cornerback Darrelle Revis.
The much-discussed swap is the leading storyline in the draft rooms of both teams this month.
The Bucs reportedly are willing to part with their first- and second-round pick in 2014, but could be convinced to give the Jets what they want -- the 13th overall pick this April and another top pick next year. That's before doling out about $15 million per year in salary.
Dominik isn't afraid to gamble, and he worked with Idzik in the Buccaneers' scouting department.
Both were in Tampa Bay when the Buccaneers sold off two first-round picks to the Jets. Johnson helped the franchise win its only Super Bowl.
If Tampa Bay selects a defensive back, they'll be praying he's 70 percent as good as Revis.
There could be a top-quality cornerback on the board at No. 13 if the Buccaneers hold onto the pick. Options include Florida State's Xavier Rhodes and Washington's Desmond Trufant. Dominik and coach Greg Schiano sound as if they're locked into a cover man, Revis or no Revis.
"I think anybody would like to have, theoretically, guys you think can be shutdown corners," Dominik said. "Those are really hard to find. They are rare, so that makes them an interesting commodity. We go into the draft every year and everybody thinks maybe that's the guy. But there's very few of them and when they come out it's pretty noticeable who they are. The other guys are good and solid, and dependable but they never get to that elite status because they're just so hard to find."
Schiano said he's more than willing to play a rookie at the position -- or any position. He played his top three draft picks a total of 48 games in 2012. But Revis would be something special.
Said Schiano, speaking of a hypothetical No. 1 smother corner: "Any coach would tell you if you take away the No. 1 receiver on a football team it will make your job easier."
Now he must help determine if Revis is worth the escalating asking price or if the franchise is willing to be patient with an effective, methodical rebuilding plan.
Five players that should be on the Tampa Bay Buccaneers draft radar:
Player, school (overall rating, position rating)
CB Xavier Rhodes, Florida State (2, 14)
Defenders drafted out of the Seminoles' program have been kind to the Buccaneers in recent years -- Derrick Brooks, Dexter Jackson, et al -- and Rhodes has the size and range to be a quick contributor and longtime starter. Rhodes is similar in his physical style of play to Samari Rolle, who played for the Titans and Ravens. Rolle was originally a second-round pick out of Florida State. At present, Leonard Johnson (undrafted, 2012, Iowa State) is the top cornerback on the current roster among those likely to be back next season. The Bucs traded Aqib Talib to the Patriots for a fourth-round pick in 2013. Cornerback Eric Wright was suspended four games for Adderall use, voiding the $7.5 million in guarantees for next season. Look for Wright to either renegotiate or be released. That leaves the Bucs with no experienced corners, save players such as Leonard Johnson and Danny Gorrer, who were pressed into service.
DT Star Lotulelei, Utah (2, 16)
Losing Roy Miller to Carolina in free agency was an underrated defection for the Buccaneers, who don't know if Derek Landri can hold down the fort on every down. That would not be a question with Lotulelei, who has the strength and explosiveness to play a "zero" technique or the tilted nose. An investment in Lotulelei, who is unlikely to fall out of the top 10, would only benefit three-technique defensive tackle Gerald McCoy. Lotulelei has the upside, skill set and frame to draw reasonable comparisons to Haloti Ngata of Oregon vintage.
TE Zach Ertz, Stanford (2, 43)
A smooth athlete who can bust the seam and will draw mismatches in an offense that forces the back-level defenders to pay mind to 6-foot-5 wide receiver Vincent Jackson and bowling-ball running back Doug Martin. Ertz, a receiving tight end first, can do enough inline to be a three-down player. Dallas Clark, a free agent who turns 34 in June, became a short-range security blanket for QB Josh Freeman. He had 47 receptions, including 23 first downs.
DB Tyrann Mathieu, LSU (12, 87)
Given the off-field drama with Talib and the buyer's remorse with Wright, this is a steep gamble. But the reward, whether pairing Mathieu with former SEC rival Mark Barron or using him as a nickel cornerback in a pass-happy division, he's talented enough to vastly improve a pass defense that was 29th in passing yards per game. Ronde Barber will be 38; his first year at safety was solid, but he hasn't committed to playing in 2013. The risk with Mathieu's dedication won't keep up with his passion for extra curriculars.
DE Michael Buchanan, Illinois (16, 174)
Buchanan has an NFL body and the athleticism to compete at the NFL level. If he can do it consistently, he could blossom as Michael Bennett (undrafted) did with the Buccaneers. Buchanan is more of a hybrid player, and after running a 4.71 40-yard dash at 247 pounds at his pro day, will get more looks as a pass-rush specialist or 3-4 rush linebacker. The Buccaneers could use a high-energy terror off the edge in a division dominated by Drew Brees, Matt Ryan and Cam Newton.
.