NFL Draft: Fraternal brothers of rehab helping Lattimore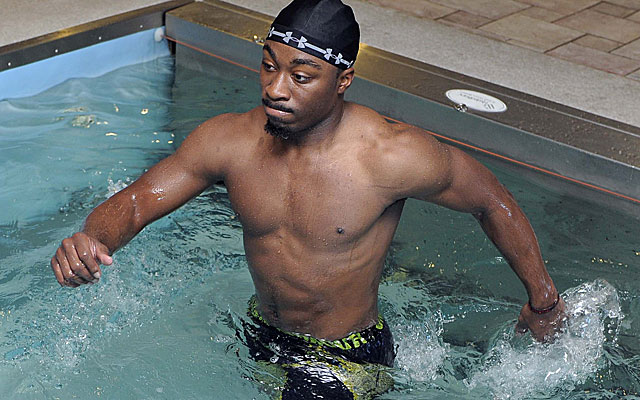 In the 1970s, the idea of rebuilding a physically devastated human was so compelling that it was the basis of a television series The Six Million Dollar Man.
But when the San Francisco 49ers selected South Carolina running back Marcus Lattimore in the fourth round of the NFL Draft on Saturday, 131st overall, it was the latest affirmation that was once fiction has become accepted as reality.
More on the NFL draft
Analysis

Related links
Video
Lattimore served notice as a freshman in 2010 that he was a potential future first round pick in the NFL draft when he rushed for 1,197 yards, caught 29 passes for 412 yards and scored 19 touchdowns. But right now this otherwise marvelous 5-foot-11 1/4, 221-pound athlete is unable to play football, but is working hard to be ready as soon as possible.
And, it seems, what is possible with injured players has become almost unbelievable.
Lattimore is an unwilling member in a fraternity of elite running backs who returned or are returning from gruesome and devastating knee injuries. They include Willis McGahee of the Broncos; mew teammate Frank Gore of the 49erand the Vikings' Adrian Peterson, whose phenomenal return to dominance last season with 2,097 yards rushing earns platinum status in this fraternal order.
Most important, these famous men, bound by their cruel and infamous historical similarities, became an active support group immediately after Lattimore was felled Oct. 27 in a game against Tennessee last season. That was the day he experienced that worst nightmare they all share in common -- for the second time in two years.
It was a horrific, don't-watch-that-replay moment in which his right leg was obviously pointing the wrong way and resulted in an injury that included a grotesque dislocation and tears in three ligaments -- the anterior collateral, lateral collateral and posterior cruciate. In 2011 he underwent surgery to repair major damage to his left knee.
"This proves bad things happen to good people," said renowned orthopedic surgeon James Andrews, who tended to McGahee, Gore and Peterson but admits he has a special connection to Lattimore.
But even before Andrews operated on Lattimore last year, those other players had a dramatic effect on the young athlete.
Lattimore admits that on Oct. 28 as he lay in a Columbia, S.C., hospital, he didn't know exactly what he wanted to do. He had worked so hard to rehab his left knee and now his right knee was injured even worse.
But as a TV flickered in his hospital room that day, Lattimore noted that McGahee ran for 122 yards to lead the Broncos over the Saints, 34-14. Lattimore knew McGahee was on the brink of being a first-round draft pick out of Miami in 2003 when he blew out three ligaments in a bowl game. McGahee could have gone back to college, but entered the draft and the Buffalo Bills took a chance on him with the 23rd pick. After sitting out one year to rehab, McGahee has since run for more than 1,000 yards four times.
The next night there was another game on TV in the hospital room, showing Gore and the 49ers beating up the Arizona Cardinals. Gore had major surgeries on both knees while at Miami before being drafted in the third round of the 2005 draft by the 49ers. Now he holds the franchise record in rushing.
Both McGahee and Gore sent texts to their injured fraternity brother while he was in that South Carolina hospital. Gore joked that he knows injuries to both knees are a good thing because he wouldn't favor one leg. McGahee boosted Lattimore's confidence by saying "Look at me and Gore. ... and just look what Adrian is doing."
Dr. Andrews notes that there are similarities between Lattimore and Peterson. Their injuries were alike, but more important "their work ethics are the same -- very, very focused and advanced."
Peterson finally spoke to Lattimore on Nov. 4, not in a text but on the TV the week after the injury. Lattimore watched Peterson rush for 182 yards and two touchdowns against Seattle.
"My mind was made up then," Lattimore told ESPN, adding he knew it was time to get ready for more football.
While Dr. Andrews revels in rebuilding these men, he is concerned that these celebrity successes may bring the wrong message to young athletes. He says these stars were able to come back because they were in such great shape. Andrews discusses the importance of preparedness and injury prevention in his new book Any Given Monday.
Andrews warns that not everybody can recover from such catastrophic injuries, regardless of advanced medicine or large financial backing. On that subject, it should be noted that, after adjustment for inflation, the Six Million Dollar Man of the 1970s would now cost $27,552,315.16.