Finding the Fits: Alonso could star as QB of Bills' defense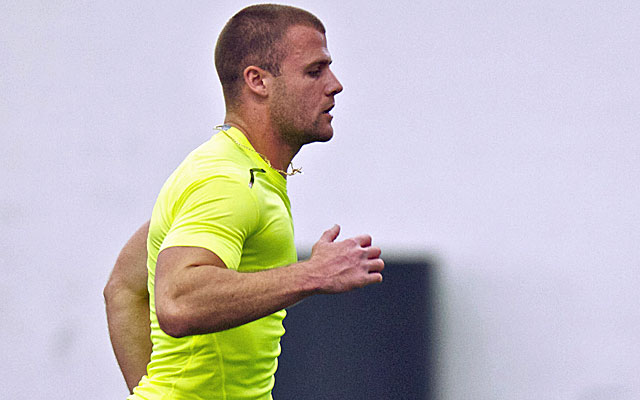 During the next several weeks, NFLDraftScout.com will review the more intriguing picks made during the 2013 NFL draft in a series called "Finding the Fits." The goal of the series is to identify one relatively unheralded player per team who appears to be a good schematic fit and, therefore, more likely to be a surprise contributor early in his pro career.
Buffalo Bills Best Fit: LB Kiko Alonso, Oregon, 2nd Round, No. 46 overall.
Virtually all of the attention will be heaped upon Buffalo's skill-position talent – especially quarterback EJ Manuel, the team's first draft pick -- but it was the shortcomings on defense that pushed former head coach Chan Gailey out the door.
Splashy free agent addition Mario Williams registered 10 1/2 sacks (his highest total since 2008) but the No. 1 overall pick of the 2006 draft didn't have the impact on the Bills' defense GM Buddy Nix expected after signing the former Houston Texans' Pro Bowl defensive end. The Bills finished 22nd in the NFL last year in total defense, including 31st against the run. Williams leads a defensive line that also boasts Pro Bowler Kyle Williams and former No. 3 overall pick Marcell Dareus. The defensive line isn't the problem.
Linebacker, however, has been a significant source of concern in Buffalo. Signing Williams' former North Carolina State teammate Manny Lawson will help at outside linebacker but the inside was very much in question with the team releasing veteran Nick Barnett and trading away their other starter on the inside, Kelvin Sheppard, to the Indianapolis Colts. In exchange for Sheppard the Bills gained pass-rusher Jerry Hughes, who played better as a 3-4 outside linebacker in Indianapolis last season than he had as an undersized defensive end in the 4-3.
The need for a playmaker for the inside could push Alonso into an early starting, and perhaps starring, role for the Bills.
Alonso was overshadowed throughout his two starting seasons with the Ducks but frankly he was a more consistent big-play producer in Eugene than his former teammate Dion Jordan, who was selected 43 picks earlier by the Miami Dolphins.
Alonso is a highly athletic, tenacious defender with a history of making big plays in big games. His agility, speed and instincts make him a legitimate three-down defender -- critical when taking into consideration that if the Bills have plans to jump in the AFC East standings they'll have to not only improve against the run but slow down Tom Brady's quick-hitting passes over the middle.
If he can remain healthy -- a big if -- Alonso could take charge as a quarterback, of sorts, on the defense, which might help deflect some pressure on the other, more celebrated quarterback the Bills drafted in 2013.
Bills Banter (Other thoughts on the Bills' 2013 draft class): The days following the draft are especially enlightening because scouts are more willing to share their unbiased opinions on drafted players.
The selection of Manuel has been criticized and certainly surprised many (including me) who theorized head coach Doug Marrone and offensive coordinator Nate Hackett would stick with who they knew and draft Ryan Nassib, the passer they'd worked with at Syracuse.
The perception by many is that the Bills' selection of Manuel at No. 16 overall was a reach. Representatives from multiple teams have told me, however, that they saw the former Florida State star as the top quarterback in the 2013 draft class. One highly placed source for a team other than the Bills said Manuel was the best "by a wide margin."
It is easy to understand why. Dual-threat quarterbacks took the league by storm last year and Manuel possesses an intoxicating combination of physical traits to go along with toughness and intelligence.
If he adjusts to the Bills' quick-hitting attack as quickly as he did to the Detroit Lions' offense at the Senior Bowl, Nix's long search for a young quarterback may be over.
Aiding in Manuel's development, of course, will be the receivers the Bills landed via the draft. Robert Woods was the most polished receiver in the 2013 draft and will overtake veteran Stevie Johnson as the Bills' top target over the next few years. Speedster Marquise Goodwin is a threat to score every time he touches the ball. Chris Gragg is a classic H-back and a matchup nightmare for defenses which already have to account for the surprisingly athletic Scott Chandler, a 6-foot-7, 260-pound former receiver. If undrafted free agent Da'Rick Rogers commits himself to the game, he'll prove a standout, as well.
-- The Bills' 2013 draft class:
1st Round - No. 16 overall - QB EJ Manuel, Florida State
2nd Round - No. 41 overall - WR Robert Woods, Southern Cal
2nd Round - No. 46 overall - LB Kiko Alonso, Oregon
3rd Round - No. 78 overall - WR Marquise Goodwin, Texas
4th Round - No. 105 overall - S Duke Williams, Nevada
5th Round - No. 143 overall - S Jonathan Meeks, Clemson
6th Round - No. 177 overall - K Dustin Hopkins, Florida State
7th Round - No. 222 overall - TE Chris Gragg, Arkansas
-- Key Undrafted Free Agents Signed:
WR Da'Rick Rogers, Tennessee Tech
QB Jeff Tuel, Washington State
CB Nickell Robey, Southern Cal
WR Brandon Kaufman, Eastern Washington
OLB Keith Pough, Howard
Read more about all of the Bills' picks here.