Finding the Fits: Dobson extends the Marshall plan for Patriots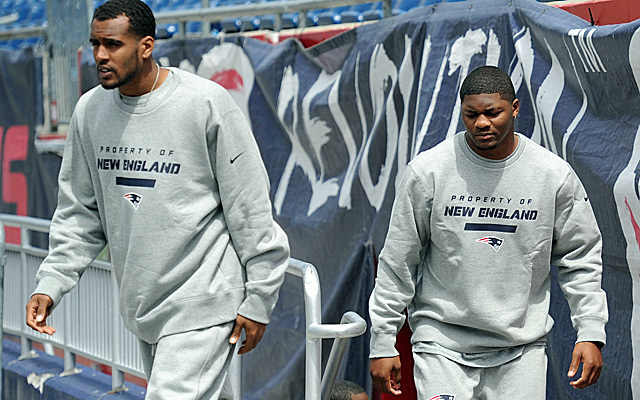 During the next several weeks, NFLDraftScout.com will review the more intriguing picks made during the 2013 NFL draft in a series called "Finding the Fits." The goal of the series is to identify one relatively unheralded player per team who appears to be a good schematic fit and, therefore, more likely to be a surprise contributor early in his pro career.
New England Patriots Best Fit: WR Aaron Dobson, Marshall, Second Round, No. 59 overall
From an outsider's perspective, the high-powered offense orchestrated by quarterback Tom Brady for the New England Patriots probably doesn't look like it has changed much over the past several years.
From a numerical standpoint, it hasn't. In the Patriots' last two trips to the Super Bowl, they led the NFL with an average of 411.2 total yards of offense in 2007 and were second only to Drew Brees' Saints with 428 yards in 2011. This past year New England once again led the NFL with 427.9 yards per game.
The difference lies with the pass-catchers Brady targets. In 2007, he took advantage of arguably the most dangerous vertical threat the NFL has ever seen with Randy Moss to the tune of an NFL-record 23 receiving touchdowns. By 2011 (and extending through this past season), the Patriots had shifted their attention to tight ends Rob Gronkowski and Aaron Hernandez and slot receiver Wes Welker, each of whom presented their own matchup quandaries to opposing defenses.
As productive as the Patriots were in attacking the middle last year, they saw few big plays on the outside. This fact pushed Bill Belichick and Co. to pursue Pittsburgh Steelers' restricted free agent Emmanuel Sanders, one of the league's better vertical threats. After watching their offer get matched by the Steelers, the Patriots predictably looked to the draft for a big receiver with speed. Enter Dobson, a 6-foot-3, 210-pounder who clocked in at 4.42-seconds during his Pro Day and wowed scouts at the Senior Bowl with his fluidity and ball skills. While many receivers coming from "small" schools struggle when pit against the top talent in Mobile, I was impressed with Dobson's fluidity and savvy as a route-runner. Don't be surprised when Brady is, as well.
Veteran-laden teams like the Patriots rarely receive significant contributions from rookies, but Dobson offers the size, speed and soft hands to make an impact -- just as other former Marshall and Patriots' standouts (Moss, Troy Brown) have done in the past.
Pondering the Patriots (Other thoughts on New England's 2013 draft class):
The Patriots had only two defenders post more than four sacks a season ago -- journeyman Rob Ninkovich, who led the club with eight quarterback take-downs and first-round pick Chandler Jones, who had six. As such, it wasn't a surprise that the club took a pass rusher with their first pick. My colleague Pete Prisco, in fact, called it.
The Patriots' first selection of the 2013 draft, outside linebacker Jamie Collins could wind up a star in this defense… if he continues the career arc he demonstrated after signing with Southern Miss as an oversized safety. The highly athletic Collins has all of the physical traits to develop but remains quite raw. Belichick hasn't been shy about gambling on athleticism – especially on the defensive side of the ball – throughout his career. He could win big with Collins.
The Patriots entered the 2013 draft with no picks in rounds 4-6 but after trading out of the first round, ended up acquiring the selection to nab wideout and return specialist Josh Boyce, who, if not for a broken toe, may have warranted top 75 consideration. Boyce lacks Dobson's size but possesses quickness, straight-line speed and was highly productive at TCU despite turnover at the quarterback position. Some scouts (not affiliated with the Patriots) feel that Boyce could wind up being one of the true steals of the 2013 draft.
Even casual observers of the NFL Draft may have noticed that the Patriots selected three former Rutgers' standouts in 2013. Considering that cornerback Logan Ryan (No. 83 overall), safety Duron Harmon (No. 91 overall) and linebacker Steve Beauharnais (No. 235 overall) have been preceded by cornerback Devin McCourty (first round pick, 2010), receiver Tiquan Underwood (UFA, 2011), defensive linemen Alex Silverstro and Justin Francis (UFAs, 2011, 2012, respectively), it is clear that the Patriots have an affinity for the Scarlet Knights.
The common link is former Rutgers' (and current Tampa Bay Bucs') head coach Greg Schiano, a close friend of Belichick and a man who leads his team with a similar highly competitive, no-nonsense approach as the Patriots' top decision-maker.
The Patriots haven't struck gold by nabbing players coached by Schiano yet but the "familiarity breeds success" philosophy was clearly in play with these selections. Don't be surprised if Ryan and Beauharnais, in particular, outplay their draft slots.
-- The Patriots' 2013 draft class:
2nd Round - No. 52 overall – OLB Jamie Collins, Southern Mississippi
2nd Round - No. 59 overall – WR Aaron Dobson, Marshall
3rd Round – No. 83 overall – CB Logan Ryan, Rutgers
3rd Round – No. 91 overall – S Duron Harmon, S, Rutgers
4th Round – No. 104 overall – WR Josh Boyce, TCU
7th Round - No. 226 overall – DE/OLB Michael Buchanan, Illinois
7th Round - No. 235 overall – ILB Steve Beauharnais, Rutgers
-- Key Undrafted Free Agents Signed:
OT Elvis Fisher, Missouri
WR T.J. Moe, Missouri
CB Stephon Morris, Penn State
OC Matt Stankiewitch, Penn State
TE Zach Sudfield, Nevada
Read more about all of the Patriots' picks here.