2014 NFL Draft: Six offensive prospects who could emerge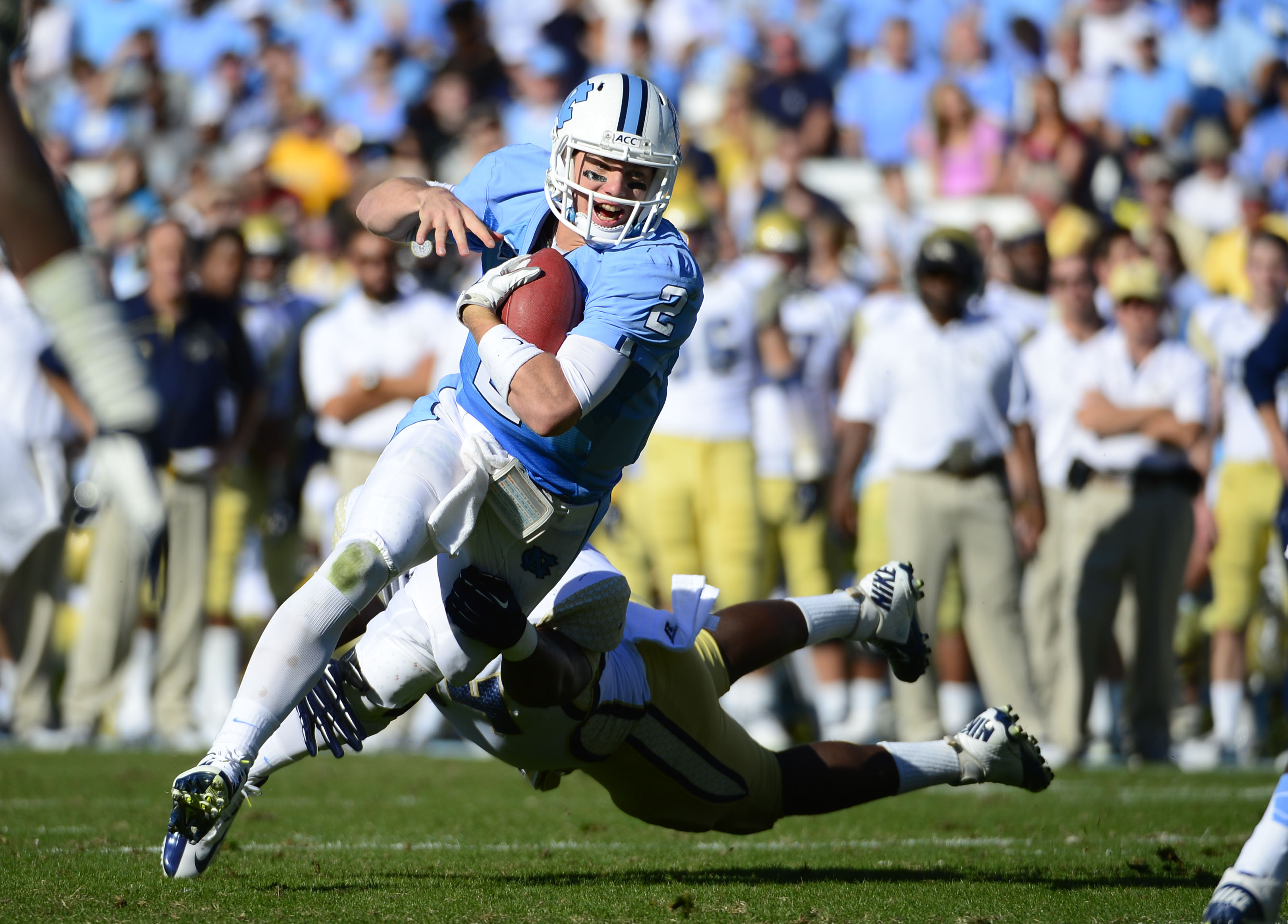 Last summer, I became enamored with this swing tackle from Oklahoma. Watching his junior tape, he looked athletic and long with a wide base. The more research that I did, the more that I liked and realized he wasn't going to last long on draft day. That player was Lane Johnson. And although last summer I never expected him to be picked fourth overall in the 2013 NFL Draft, he was one of the players whom I pegged to emerge as a senior prospect. On the flip side, Michigan defensive end Craig Roh was an example of a player whom I expected to take a big step forward last year, but he had a very pedestrian 2012 season and went undrafted.
It's rare for players to go from obscurity to a top-five draft pick like Johnson, but each NFL draft is littered with players who emerged as seniors, putting themselves in position to be higher draft picks than originally thought.
We all know about the top-tier senior prospects like Taylor Lewan, C.J. Mosley and Anthony Barr, but the prospects below are also on the NFL draft radar. The purpose of this exercise is to try to identify the seniors who aren't household names yet (none of these prospects appear on my preliminary 2014 NFL Draft top-50 board), but with strong final seasons, they might be able to inch up draft boards over the next 11 months.
QUARTERBACK
Bryn Renner, North Carolina (6-3, 215, 4.79)
OVERVIEW
The Tar Heels have pumped a lot of talent through the NFL pipeline as of late, but before T.J. Yates was drafted in 2011, North Carolina hadn't produced an NFL quarterback. And while time will tell if Yates will ever be more than a solid backup, Bryn Renner will audition for NFL scouts this fall in his third season as the starting quarterback in Chapel Hill. He has steadily improve his production the past two seasons and finished strong in 2012 with four straight 300-yard passing performances to end the year with an 11-2 TD-INT ratio over that stretch. As North Carolina enters year two in Larry Fedora's offense, the stage is set for Renner to take a big leap forward as a signal caller.

ANALYSIS
The son of a football coach, Renner is a tough-minded competitor who might replace Arkansas' Tyler Wilson as the toughest quarterback in college football. He doesn't have an elite arm and will get himself in trouble when forcing throws, but he shows good enough arm strength for the next level with downfield touch. Renner understands how to find mismatches and exploit them, doing a nice job taking what the defense gives him. His ball placement and on-field leadership need refinement, but he'll look down the gun barrel and give his weapons a chance to make a play.

2013 OUTLOOK
While he won't "wow" with his physical tools, Renner is an intriguing quarterback prospect who might surprise as a senior if he continues to improve.
Three more potential breakout QB prospects:
Casey Pachall, TCU
Brendon Kay, Cincinnati
Jeff Mathews, Cornell
RUNNING BACK
LaDarius Perkins, Mississippi State (5-10, 190, 4.42)
OVERVIEW
In Dan Mullen's four seasons as coach at Mississippi State, the Bulldogs have produced a pair of NFL running backs, Anthony Dixon (49ers, sixth round, 2010) and Vick Ballard (Colts, fifth round, 2012). But LaDarius Perkins might have the best pro potential of the three. A Greenville, Miss., native, he has rushed for 2,012 yards over his first three seasons at Mississippi State, including a team-best 1,024 yards in 2012. The Bulldogs return their top-seven rushers from a year ago, so Perkins will have fresh legs and should improve upon his 5.0 yards per carry average from 2012.
ANALYSIS
Perkins has outstanding plant-and-go acceleration, doing a nice job side-stepping defenders with strong footwork to make clean cuts. He has a compactly-built upper body and keeps his legs pumping with balance to pick up chunks of yards after initial contact. Perkins' vision runs hot/cold too often, and he struggles to improvise at times when the hole isn't there, but he has the lateral agility and quick feet to scamper from defenders. He adds value as a pass-catcher and return man on kickoffs, averaging 21.1 yards per return in Starkville.
2013 OUTLOOK
Perkins enters this season as the SEC's top senior rusher and might be able to parlay a strong final year in Starkville into a top-100 draft choice.
Three more potential breakout RB prospects:
David Fluellen, Toledo
Antonio Andrews, Western Kentucky
Fitzgerald Touissant, Michigan
WIDE RECEIVER
TJ Jones, Notre Dame (5-11, 190, 4.46)
OVERVIEW
With Tyler Eifert now in the NFL, Notre Dame needs a new go-to offensive target for Everett Golson or whichever quarterback is under center for the Irish. And that player might be Tai-ler "TJ" Jones, who tied Eifert for the team lead in catches (50) and receiving scores (four) last season. With 30 starts and 111 career catches in South Bend already on his resume, Jones is well acquainted with Brian Kelly's offense and has proven to be a reliable threat at every level. He also has football in his blood: his late father (Andre Jones) starred for the Irish in the '80s, his uncle (Philip Daniels) played 15 seasons in the NFL before retiring in 2010, and his godfather (Raghib "Rocket" Ismail) was one of the more exciting players in his prime.
ANALYSIS
Jones has excellent footwork in his routes and sets up his moves well, doing a nice job working back to the ball to give his quarterback a clean target. He fights for the ball and shows strong hands to come down with throws away from his body, making some tough catches look easy. Jones has an accurate sense of his surroundings with good shake after the catch to slither around defenders and explode upfield. He has a lean, narrow frame and lacks much bulk but is tougher than he looks to get every yard that he can as a ballcarrier.
2013 OUTLOOK
Jones has an active streak of at least one catch in 27 consecutive games and is poised for a breakout season as a senior if he can take that next step in his development.
Three more potential breakout WR prospects:
Jalen Saunders, Oklahoma
Mike Davis, Texas
Noel Grigsby, San Jose State
TIGHT END
Kaneakua Friel, BYU (6-5, 250, 4.68)

OVERVIEW
There is no question that the Cougars' top receiving option is senior wideout Cody Hoffman, who is one of the best receivers in the country. But Kaneakua Friel emerged in 2012 as an intriguing tight end talent, finishing his junior season second on the team with five receiving touchdowns. He got off to a hot start last season with 15 catches in the first three games before cooling off and recording just 15 catches in BYU's final 10 contests. Nonetheless, Friel has worked hard to stay focused and earn more and more playing time, even after the coaching staff asked him to move to linebacker last spring due to the crowded depth chart at tight end.
ANALYSIS
A tall, well-built athlete, Friel looks the part with fluid body control, adjusting his frame to snare passes away from his body. He is lean-muscled and needs to do more work in the weight room to get stronger and max out his frame. Friel needs to cut down on the dropped passes, struggling with focus issues at times. He has excellent speed for the position to stretch the seam and catch defenders off balance in the middle of the field. Friel needs to play smarter and avoid pushing off downfield, something that he won't be able to get away with in the NFL.
2013 OUTLOOK
Friel has intriguing NFL tools but needs to turn the flashes into more consistency as a senior to prove to pro scouts that he has the potential for the next level.
Three more potential breakout TE prospects:
Gabe Holmes, Purdue
Ted Bolser, Indiana
Arthur Lynch, Georgia
OFFENSIVE TACKLE
James Hurst, North Carolina (6-6, 310, 5.43)
OVERVIEW
A five-star recruit out of high school in Indiana, James Hurst spurned offers from Alabama, Ohio State and basically every other program in the country to enroll at North Carolina. He earned the starting left tackle job as a true freshman and has started 36 games the past three seasons, forming one of the top blocking tandems in the country along with Jonathan Cooper at left guard. Hurst earned first-team All-ACC honors as a junior and -- with Cooper, Brennan Williams and Travis Bond now in the NFL -- Hurst is the leader of the North Carolina offensive line for 2013. Some scouts believe he can develop into a high first-round pick.
ANALYSIS
Hurst passes the eye test with a tall, well-proportioned frame with adequate bulk. He has a terrific work ethic and competitive drive, fighting through the whistle to eliminate his target. Hurst is a smart, heady player with great instincts and anticipation to recognize defensive pressures and adjust accordingly. He works hard to square his shoulders and stay balanced on the move, easily getting to the second level with better foot quickness than expected. Hurst has room to improve his hand placement and technique, but he understands angles and plays like a seasoned veteran.
2013 OUTLOOK
Hurst will be tested in the 2013 opener against South Carolina's Jadeveon Clowney, so the Tar Heel left tackle will have the opportunity to prove right away that he's a top-tier prospect.
Three more potential breakout OT prospects:
Zack Martin, Notre Dame
Austin Wentworth, Fresno State
Wesley Johnson, Vanderbilt
INTERIOR OFFENSIVE LINEMEN
Gabe Jackson, Mississippi State (6-4, 320, 5.34)
OVERVIEW
It's tough to classify Gabe Jackson as a "breakout" star because he has been a stud in the SEC the past few seasons. But, being an offensive guard, he's still flying under the radar. After redshirting in 2009, he earned the starting left guard job as a redshirt freshman and has been the foundation of the Bulldogs' offensive line the past three seasons, starting 39 straight games. Quarterback Tyler Russell and running back LaDarius Perkins will receive most of the headlines, but Jackson will be a substantial key to the Bulldogs' offensive success in 2013.
ANALYSIS
Jackson has an ideal frame and base with natural athleticism to pull and appear effortless mirroring defenders. He does a nice job extending at the point of attack to keep defenders from his frame and takes pride in his aggressive approach to the game. Jackson isn't overly explosive, but he does a nice job getting to the second level and attacking defenders in space. He has a bad habit of overextending and needs to play more controlled, especially in space, but he is equally tough as a run blocker and pass protector.
2013 OUTLOOK
While he isn't quite in the Jonathan Cooper/Chance Warmack category, it wouldn't be surprising if Jackson is the first guard drafted next April.
Three more potential breakout interior OL prospects:
Marcus Hall, Ohio State
Spencer Long, Nebraska
Weston Richburg, Colorado State
Potential breakout defensive prospects will be posted on Tuesday.