Finding the Fits: Dallas to win big doubling down on Williams, Romo?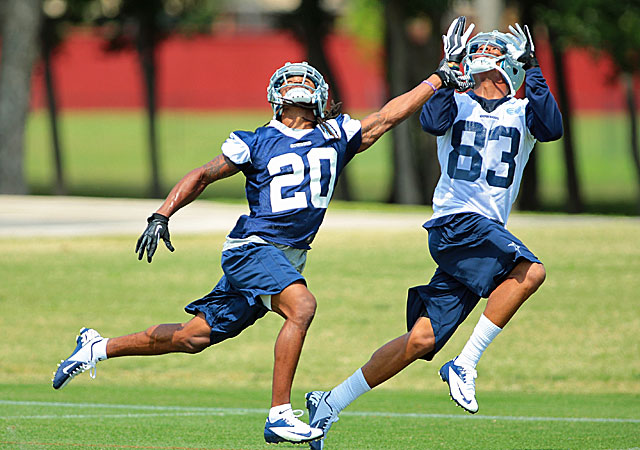 During the next several weeks, NFLDraftScout.com will review the more intriguing picks made during the 2013 NFL draft in a series called "Finding the Fits." The goal of the series is to identify one relatively unheralded player per team who appears to be a good schematic fit and, therefore, is likely to be a surprise contributor early in his pro career.
Dallas Cowboys' Best Fit: WR Terrance Williams, Baylor, 3rd Round, No. 74 Overall
By signing quarterback Tony Romo to a six-year, $108 million contract (including $55 million guaranteed) a few weeks before the draft, Dallas Cowboys owner Jerry Jones erased any doubt as to who he sees as the present and future leader of his franchise.
When taking into consideration that each of the Cowboys' first three picks were added to aid Romo, as well, it is clear that Jones is doubling down rather than hedging his bet on the 33-year-old passer.
The selection of Williams is a perfect example of the gambling philosophy Jones and his staff have taken in recent years when it comes to the draft.
Despite boasting an impressive combination of size (6-2, 210), straight-line speed (4.48) and production (NCAA-leading 1,832 yards ), Williams was one of the more polarizing receivers of the 2013 draft class. He was given a lot of freedom as a route runner at Baylor and generally caught passes over his shoulder more effectively than balls coming right at him.
In short, Williams was viewed as an ideal vertical threat but a gamble as a possession receiver in a timing-based attack.
Because of his ability to buy time in the pocket, as well as his vision and strong-arm, Romo is one of the league's most dangerous deep-ball passers, making him a perfect quarterback to take advantage of Williams' unique traits. With two established (but somewhat unreliable) stars in Dez Bryant and Miles Austin already split out wide, as well as the ultra-reliable Jason Witten down the middle, Williams won't see much double coverage but could see plenty of big play opportunities in three and four receiver sets.
Fantasy football enthusiasts, take note: This is precisely the role that saw Laurent Robinson explode for 11 touchdowns in 2011. The Cowboys struggled to replace Robinson's big plays last year, which could put Williams in position to receive early playing time.
Disappointment in Dallas (Other thoughts on the Cowboys' 2013 draft class):
In an informal poll taken of high-ranking scouts and front office executives, the Cowboys' selection of former Wisconsin center Travis Frederick was viewed as the "biggest reach of the 2013 first round."
That isn't to say that Frederick isn't a solid player (he is) or that he doesn't fill a glaring need for this club (he does). The consensus, however, is that Frederick should have been selected in the mid to late second round rather than at No. 31 where the Cowboys picked him. Dallas originally held the rights to the No. 18 overall pick and some believe the team was targeting three players with this pick -- interior offensive linemen Jonathan Cooper (North Carolina) and Chance Warmack (Alabama) or Texas safety Kenny Vaccaro. With each off the board at No. 18, Dallas traded back, allowing San Francisco to move up and snag LSU safety Eric Reid.
Reid would have been an interesting fit in Dallas. His length, athleticism and experience could have provided the Cowboys with an intimidating presence in a secondary desperately needing it. Fourth-round selection J.J. Wilcox boasts a high upside but, with only one season of experience on defense, he is no lock to be an immediate upgrade over projected starters Barry Church or Matt Johnson.
Tight end Gavin Escobar and running back Joseph Randle are intriguing options in Dallas' offense. Escobar has a long ways to go as a blocker, but he could prove the reliable pass-catcher to complement Witten that Dallas had hoped Martellus Bennett would provide after drafting him in the second round in 2008. Randle is a slasher with vision and better burst than his 40-yard dash time would indicate. He isn't as explosive as incumbent starter DeMarco Murray but presents a similar skill-set overall and could prove Dallas' best value from this draft.
-- The Cowboys' 2013 draft class:
1st Round -- No. 31 overall -- OC Travis Frederick, Wisconsin
2nd Round -- No. 47 overall -- TE Gavin Escobar, San Diego State
3rd Round -- No. 74 overall -- WR Terrance Williams, Baylor
4th Round -- No. 80 overall -- S J.J. Wilcox, Georgia Southern
5th Round -- No. 114 overall -- CB B.W. Webb, William and Mary
6th Round -- No. 151 overall -- RB Joseph Randle, Oklahoma State
7th Round -- No. 185 overall -- OLB Devonte Holloman, South Carolina
-- Key Undrafted Free Agents Signed:
ILB Brandon Magee, Arizona State
S Jakar Hamilton, South Carolina State
RB Kendial Lawrence, Missouri
Read more about all of the Cowboys' picks here.
Read the rest of the Finding the Fits series here.