2014 NFL Draft: Five defensive prospects who could emerge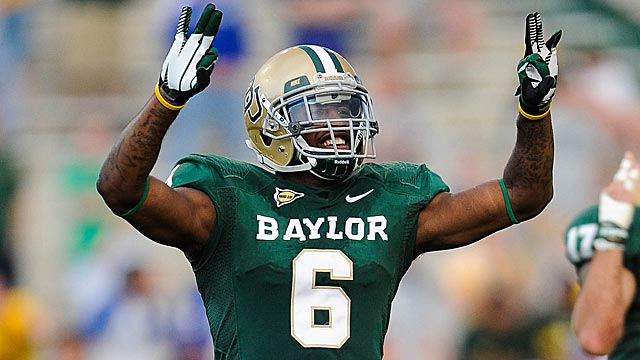 We all know about the top-tier senior prospects like Taylor Lewan, C.J. Mosley and Anthony Barr, but the prospects below are also on the NFL draft radar. The purpose of this exercise is to try to identify the seniors who aren't household names yet (none of these prospects appear on my preliminary 2014 NFL Draft top-50 board), but with strong final seasons, they might be able to inch up draft boards over the next 11 months.

On Monday I broke down several offensive prospects that could emerge as seniors in 2013 and today we examine potential breakout prospects on defense.

DEFENSIVE END
Chidera Uzo-Diribe, Colorado (6-3, 250, 4.68)

OVERVIEW
There were few bright spots for Colorado's 117th nationally ranked defense last year, but pass rusher Chidera Uzo-Diribe (chee-dera U-zo da-REE-bay) was one of them. He led the Buffs with seven sacks and 10.5 tackles for loss as a junior in 2012, his first season as a full-time starter at defensive end. The son of Nigerian immigrants, Uzo-Diribe focused on basketball in high school and doesn't have a strong football background, but has steadily improved each season since arriving in Boulder. And 2013 could be his best year yet, especially with 15-year NFL veteran Jim Jeffcoat the new defensive line coach at Colorado.

ANALYSIS
An athletic edge rusher, Uzo-Diribe is a good-looking specimen with smooth hips and flexible joints to easily change directions and look natural in space. He has very good get-off speed and runs the arc well with excellent range and pursuit speed for the position. Uzo-Diribe has some tweener traits and needs to continue to get stronger to better shed blocks and work his way through the trash. He is a smart, accountable leader and hard worker off the field with competitive ambition. Uzo-Diribe has experience rushing from both a two- and three-point stance.

2013 OUTLOOK
Although he lacks ideal size and strength for the position, Uzo-Diribe has more than enough athleticism to be a dangerous edge rusher and a productive senior season will vault him up draft boards.

Three more potential breakout DE prospects:
Kareem Martin, North Carolina
Chris Smith, Arkansas
Tyler Scott, Northwestern

DEFENSIVE TACKLE
Bruce Gaston, Purdue (6-2, 305, 5.12)

OVERVIEW
The past few seasons in West Lafayette, Kawann Short has received most of the attention on the interior of Purdue's defensive front. But without the play of nose tackle Bruce Gaston right next to him, Short wouldn't have been able to be as productive. Gaston has experience lining up all over the Boilermakers' defensive line the last three years, starting 30 games in a Purdue uniform. Unlike Short, Gaston isn't the type of interior defender who will have gaudy statistics (5.5 tackles for loss, zero sacks in 2012), but he has some untapped potential.

ANALYSIS
Gaston has the natural size for the position with a wide frame and powerful limbs to control blockers and eat up space. He moves well for his size with impressive lateral agility for a man his frame, flashing range and hustle to fight through the whistle. Gaston shows natural ball awareness to always be around the play, using his eyes to track and attack. He allows himself to get too tall off the snap and will lose leverage, but has the active hands to rip past initial blocks and work up and down the line of scrimmage.

2013 OUTLOOK
Gaston likely won't be able to replace the production of the departed Short, but he does have a chance to improve his NFL standing if he takes on larger role as a senior.

Three more potential breakout DT prospects:
Calvin Barnett, Oklahoma State
Aaron Donald, Pittsburgh
Taylor Hart, Oregon

LINEBACKER
Jeremiah Attaochu, Georgia Tech (6-2, 240, 4.64)

OVERVIEW
A native of Nigeria, Jeremiah Attaochu started the past two seasons as a stand-up pass rush linebacker in Georgia Tech's 3-4 defense. He was one of only three ACC players with double-digit sacks in 2012, leading the team with 10 sacks and 12 tackles for loss and earned All-ACC honorable mention honors. Attachou, who has 19 career sacks for the Yellow Jackets, will transition to more of a hand-on-the-ground defensive end position as a senior in new defensive coordinator Ted Roof's four-man front.

ANALYSIS
Attaochu looks the part with an athletic build and long arms, using his range to make plays all over the field. He has good get-off quickness with the chase skills to track down the ballcarrier from behind and finish. Attaochu is a fiery player with a violent temperament, but needs to keep his wits on the field and control his intensity. He will bite hard on play fakes and get grabby in coverage, but Attaochu has an impressive blend of athleticism and strength to work off blocks and battle through the whistle.

2013 OUTLOOK
As Georgia Tech transitions to a 4-3 scheme, Attachou will move to more of a traditional defensive end role and will have the opportunity to show NFL scouts he can be scheme versatile and get after the passer in any formation.

Three more potential breakout LB prospects:
Prince Shembo, Notre Dame
Max Bullough, Michigan State
James Morris, Iowa

CORNERBACK
LaMarcus Joyner, Florida State (5-8, 195, 4.52)

OVERVIEW
After playing mostly cornerback as a true freshman, LaMarcus Joyner moved to safety where he started 27 consecutive games the past two seasons for the Seminoles, recording six interceptions. He flirted with entering the NFL Draft early, but returned for his senior year in order to take command of a leadership role and improve his NFL standing. One of the ways he'll be able to do that is showing his position versatility, moving to cornerback as a senior, something that was "as much his idea as it was anybody's," according to first-year defensive coordinator Jeremy Pruitt.

ANALYSIS
Joyner only knows how to go full speed, playing fast with natural acceleration to go 0-to-60 in a flash. He is a violent, punishing striker and although he doesn't have ideal size, he plays like he's four inches and 30 pounds bigger. Joyner shows excellent timing as a tackler, but will hit too high at times and needs to improve his consistency as a finisher. His lack of size shows up in man coverage at times, but he is an excellent leaper and doesn't back down to anyone. Joyner has strong football character and is always looking to improve. He also averages almost 25 yards per kickoff return on special teams.

2013 OUTLOOK
Some will automatically write him off due to his lack of size, but Joyner plays fast and decisive with the natural football instincts and versatility that NFL teams seek in the secondary.

Three more potential breakout CB prospects:
Ricardo Allen, Purdue
Jimmy Legree, South Carolina
Bene Benwikere, San Jose State

SAFETY
Ahmad Dixon, Baylor (6-0, 205, 4.49)

OVERVIEW
Born and raised in Waco, Dixon originally committed to Texas before switching to Baylor. He almost changed his mind again after a late push by Lane Kiffin at Tennessee, but Dixon decided to stay with his hometown Bears. Dixon has started the past two seasons at Baylor's nickel "Bear" position, which is a hybrid linebacker/safety role, steadily improving each year. Last year as a junior, he finished with 102 tackles, 5.5 tackles for loss, five passes defended and two interceptions.

ANALYSIS
Dixon is an excellent size/speed athlete with the fluidity and natural speed to cover the entire field. He is a physical striker and enjoys throwing his body around in run support. Dixon works hard to shed blocks to make open-field stops and is a physical tackler, but needs to consistently wrap up and not just hit his target. He is confident in coverage to jump routes and aggressively go after the ball, but his cover awareness is still a work-in-progress, too often a step late to the play against the pass. Dixon is a versatile prospect in both man and zone coverage, lining up over the slot and in the deep half of the field.

2013 OUTLOOK
Dixon will move from the hybrid "Bear" position to strong safety in 2013 and with Kenny Vaccaro now in the NFL, it wouldn't be surprising if he emerges as the conference's top safety.

Three more potential breakout S prospects:
Craig Loston, LSU
Hakeem Smith, Louisville
Christian Bryant, Ohio State