Finding the Fits: Giants' rich defensive line improves even Moore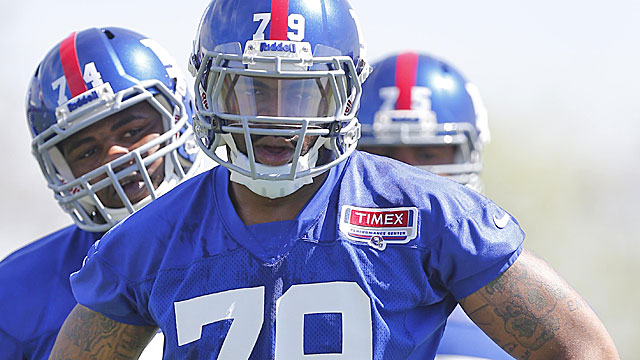 During the next several weeks, NFLDraftScout.com will review the more intriguing picks made during the 2013 NFL draft in a series called "Finding the Fits." The goal of the series is to identify one relatively unheralded player per team who appears to be a good schematic fit and, therefore, more likely to be a surprise contributor early in his pro career.

New York Giants' Best Fit: DE Damontre Moore, Texas A&M, 3rd Round, No. 81 overall

Since Jerry Reese took over as general manager, no NFL team has more consistently re-stocked pass-rushers than the New York Giants.

Despite already boasting a talented defensive line which featured the likes of Michael Strahan, Osi Umenyiora, Justin Tuck and Mathias Kiwanuka (among others), the Giants kept the pressure on opposing quarterbacks via the draft (Jason Pierre-Paul, Linval Joseph, Marvin Austin) and free agency, as well (Shaun Rogers, Cullen Jenkins). The strategy has helped New York take home the Lombardi Trophy in two of the past six years.

New York continued this strategy in 2013 with Moore and second-round defensive tackle, Johnathan Hankins, each of whom had earned plenty of first-round buzz in the months leading up to the draft.

On paper, the Giants got a steal with Moore at No. 81 overall. After all, in his first season at defensive end, Moore tore apart the SEC to the tune of 80 tackles, 20 tackles for loss and 12.5 sacks -- each of which led the Aggies. NFLDraftScout.com ranked him as the No. 52nd overall prospect in the draft.

As scouts looked past Moore's numbers and focused on his traits, however, a troubling lack of explosiveness became evident. In the final three opportunities the Aggie had to impress scouts prior to the draft -- a bowl game matchup against Oklahoma offensive tackle Lane Johnson, the combine and Texas A&M's Pro Day, Moore disappointed.

As Moore disappointed scouts in these events, talent evaluators began to grow concerned that the first team All-SEC defender would struggle in the NFL. While possessing a lanky frame and a terrific motor, Moore does not possess the burst to consistently beat NFL tackles with his speed nor is he currently strong enough to win with power.

As such, it is with an eye toward the future that the Giants' selection of Moore makes sense.

With Moore's length, instincts and passion, he has a chance to be a very good NFL player; he's just not yet physically developed enough to star as a rookie. Because the Giants already boast a terrific defensive line they can afford to put Moore in the weight room and let him develop as a potential replacement for Umenyiora (who signed with Atlanta in the off-season) and/or Tuck, who is entering the final year of his contract.

New York Notion (Other thoughts on the Giants' 2013 draft class):

The selection of Justin Pugh at No. 19 overall was viewed by many as a bit of a reach, but considering his stellar play at left tackle over the past three seasons, as well as New York's lack of depth at multiple positions along the offensive line, the move certainly makes sense. Pugh will be asked to make the transition to right tackle as a rookie but ultimately could wind up inside at guard due to less-than-ideal arm length.

Whereas Moore plays with the hustle and determination that the Giants have generally required from their defensive linemen, Hankins could be quite a project for old-school head coach Tom Coughlin.

Hankins possesses the length, strength and remarkably light feet to be a star but struggled with conditioning at Ohio State. This could be another example of the rich getting richer, however. If anyone can motivate Hankins to achieve success it could be Coughlin. With New York's talented rotation of defensive linemen, Hankins could be asked to only contribute a dozen snaps or so a game, which could also light a fire in him.

Considering all of the pre-draft buzz surrounding Ryan Nassib as a possible first-round selection by the Buffalo Bills, his drop to the fourth round came as quite a surprise. It clearly was for the Giants, as well, who elected to trade up to nab the Syracuse product.

While Eli Manning's job is unquestionably safe, Nassib was viewed by some scouts as this year's "perfect backup quarterback." The highly intelligent and competitive Nassib will continue to work at his craft even though he'll be playing behind one of the most durable quarterbacks in NFL history. Nassib will prepare for each game as if he was the starter, which isn't necessarily the case with every backup quarterback. That sense of professionalism (not to mention Nassib's upside) made him an intriguing option for a team that isn't necessarily looking to groom their next star passer as much as find a suitable option should Manning (or current backup David Carr) suffer an injury with the team's season on the line.

-- The Giants' 2013 draft class:

1st Round - No. 19 overall - OL Justin Pugh, Syracuse

2nd Round - No. 49 overall - DT Johnathan Hankins, Ohio State

3rd Round - No. 81 overall - DE Damontre Moore, Texas A&M

4th Round - No. 110 overall - QB Ryan Nassib, Syracuse

5th Round - No. 152 overall - S Cooper Taylor, Richmond

7th Round - No. 225 overall - OG Eric Herman, Ohio

7th Round - No. 253 overall - RB Michael Cox, Massachusetts

-- Key Undrafted Free Agents Signed:

LB Etienne Sabino, Ohio State

WR Marcus Davis, Virginia Tech

Read more about all of the Giants' picks here.

Read all of the Finding the Fits series here.