Finding the Fits: Redskins find quick repair in FS Thomas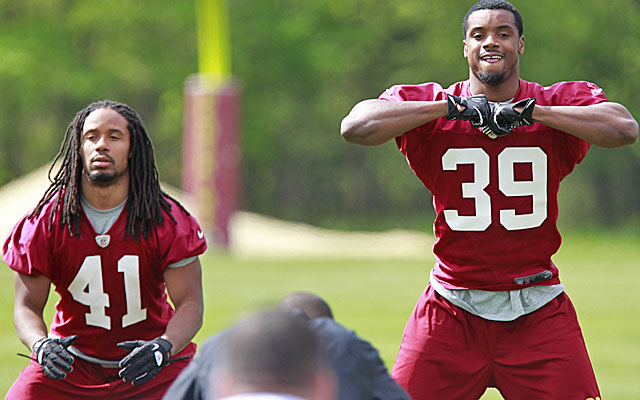 During the next several weeks, NFLDraftScout.com will review the more intriguing picks made during the 2013 NFL draft in a series called "Finding the Fits." The goal of the series is to identify one relatively unheralded player per team who appears to be a good schematic fit and, therefore, more likely to be a surprise contributor early in his pro career.
Washington Redskins' Best Fit: FS Phillip Thomas, Fresno State, 4th Round, No. 122 overall
It has been a revolving door at safety for the Washington Redskins since the shocking murder of Sean Taylor November 28, 2007.
The Redskins thought they'd found a reliable starter in Tanard Jackson but he was indefinitely suspended prior to the start of the season. Because of the fact that it was Jackson's third failed test since being drafted by Tampa Bay in 2007, he'll have to win his appeal just to get reinstated for 2013.
Veteran Madieu Williams struggled as Jackson's replacement last year and the team has made little effort to re-sign the unrestricted free agent.
As such, the playmaking Thomas could be in position to start as a rookie.
Few outside of the WAC may have known Thomas' name prior to a dominating 2012 campaign in which he was named one of three finalists of the Thorpe Award. Though he ultimately lost to Mississippi State cornerback Johnthan Banks, Thomas was a more productive all-around player for the Bulldogs than Banks (or Alabama's Dee Milliner, for that matter). Thomas led the country with eight interceptions (three of which he returned for touchdowns), while forcing four fumbles and registering 84 tackles.
Thomas had shown similar game-breaking ability earlier in his career, recording a combined five interceptions and two forced fumbles in his first two seasons of action but missed the entire 2011 season after sustaining a broken leg and dislocated ankle in a non-contact drill only days before the season opener. The injury meant that Thomas entered his senior campaign as a bit of a unknown to some but his incredible 2012 season certainly proved that he was back to his playmaking self.
For as many big turnovers as Thomas produced for the Bulldogs, he was prone to over-aggression as an open-field tackler. He is unquestionably talented but will need to show greater patience and strength when wrapping up if Washington is to make the improvement needed in the secondary.
Reading the Redskins (Other thoughts on Washington's 2013 draft class):
Having given up their 2013 first round selection a year ago as part of their aggressive move up to land Robert Griffin III, Washington couldn't afford luxury picks. Therefore, it is tough to knock a team that recognizes an area of concern and addresses it.
The Redskins finished 30th in the NFL in pass defense in 2012 and made upgrading their secondary an obvious priority with three ballhawks selected over the two days in which Washington owned draft picks.
Thomas was sandwiched by second round cornerback David Amerson, whose 18 career interceptions made him the NCAA's active leader until he left NC State early for the NFL and former Georgia free safety Baccari Rambo, who finished second to Amerson with eight interceptions in 2011.
Amerson is a classic gambler who made a lot of big plays with for the Wolfpack but also gave up plenty. His spectacular combination of size (6-1, 205), speed (4.38) and ball skills made him a strong value at No. 51 overall.
The even better value, however, came with Rambo in the sixth round. Physical and instinctive, Rambo proved himself to be a standout throughout his career with the Bulldogs and slipped in large part due to questions about his maturity. A top 100 talent capable of not only making this roster but perhaps emerging as a starter, Rambo could prove to be one of the real steals of the 2013 draft if was humbled by the long wait to hear his name called and takes his opportunity seriously.
Unearthing hidden gems is nothing new for the Redskins, who, of course, found Alfred Morris in the sixth round a season ago. The rookie from Florida Atlantic led all NFL running backs not named Adrian Peterson with a sparkling 1,613 rushing yards a year ago but Washington clearly wanted to add another dimension to their ground game, as evidenced by the fact that they invested third day picks in Florida State's Chris Thompson and Rutgers' Jawan Jamison.
Like Morris, Thompson and Jamison each possess better vision and burst than straight-line speed, making them potential standouts in Washington's zone blocking attack. Thompson is the more electric of the two and has drawn comparisons to Darren Sproles from some scouts but is coming off of a torn ACL. Jamison, on the other hand, has a similar build and game to former Rutgers (and current Baltimore Ravens) star Ray Rice. Each could contribute as a change of pace back with Thompson potentially earning time as a returner, as well.
-- The Redskins' 2013 draft class:
2nd Round - No. 51 overall - CB David Amerson, North Carolina State
3rd Round - No. 85 overall - TE Jordan Reed, Florida
4th Round - No. 119 overall - FS Phillip Thomas, Fresno State
5th Round - No. 154 overall - RB Chris Thompson, Florida State
5th Round - No. 162 overall - OLB Brandon Jenkins, Florida State
6th Round - No. 191 overall - S Bacarri Rambo, Georgia
7th Round - No. 228 overall - RB Jawan Jamison, Rutgers
-- Key Undrafted Free Agents Signed:
OT Xavier Nixon, Florida
OC Tevita Stevens, Utah
WR/RS Nick Williams, Connecticut
Read more about all of the Redskins' picks here.
Read all of the Finding the Fits series here.