Finding the Fits: What Can Brown do for Ravens? Replace Lewis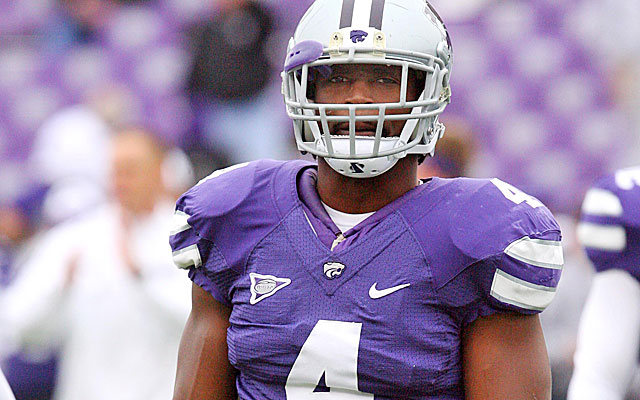 During the next several weeks, NFLDraftScout.com will review the more intriguing picks made during the 2013 NFL draft in a series called "Finding the Fits." The goal of the series is to identify one relatively unheralded player per team who appears to be a good schematic fit and, therefore, more likely to be a surprise contributor early in his pro career.
Baltimore Ravens' Best Fit: ILB Arthur Brown, Kansas State, 2nd Round, No. 56 overall
A year ago, it was rookie Andrew Luck replacing the legendary Peyton Manning as the leader of the Indianapolis Colts.
The Baltimore Ravens can only hope for similar success from their new quarterback of the defense, Arthur Brown, who by being selected No. 56 overall, has the gargantuan task of taking over for the equally legendary Ray Lewis, who retired shortly after helping the Ravens win the Super Bowl.
Just as the cerebral, highly accurate Luck was the perfect candidate to replace Manning, Brown's instincts and reliable open-field tackling will aid in the Ravens' transition from Lewis, a 13-time Pro-Bowler, seven-time All-Pro and two-time NFL Defensive Player of the Year.
Brown began his collegiate career at the University of Miami, where Lewis' legend began. After struggling to make an impact there, however, he (and his brother, current Philadelphia Eagles' running back Bryce Brown) elected to transfer closer to home and play at Kansas State. Once eligible, Arthur emerged as a superstar, earning the Big 12 Defensive Newcomer of the Year in 2011 and repeating as a first-team all-conference selection as a senior.
The no-nonsense Brown isn't a rah-rah leader like Lewis and it would be presumptuous to think he'll enjoy the same long-term success as the future Hall of Fame inside linebacker.
But just like how Luck helped the Colts transition into a new era without Manning, don't be surprised when Brown capitalizes on the extra attention he's bound to receive as Lewis' replacement and earns legitimate Rookie of the Year consideration with a strong first season in the NFL.
Ravens' Roost (Other thoughts on the Ravens' 2013 draft class):
Following the retirement of Lewis, as well as the poaching of several other notable defenders by other clubs in free agency, the Ravens' perch atop the NFL seems to be a precarious one, at best.
Yet another brilliant draft by Ozzie Newsome and Eric DeCosta, however, could make the 2013 Ravens' defense better than last year's Super Bowl champs.
The Ravens' first pick, safety Matt Elam, comes from the same mold as longtime Baltimore superstar Ed Reed. Like the 5-foot-11, 205-pound Reed, Elam, 5-foot-10, 208, is undersized but very physical and an instinctive playmaker with a history of making the game-changing play in big games. While Kenny Vaccaro (drafted No. 15 overall by the Saints) is the most fluid in coverage and San Francisco first-round pick Eric Reid (drafted No. 18 overall) offered the best combination of size and explosiveness, several scouts viewed Elam as the best all-around player in a strong 2013 safety class. Many, in fact, felt that had he measured in just an inch or two taller, Elam would have been the first safety selected.
The two defenders Baltimore selected after Elam and Brown could also prove to be quality additions, though neither may make an immediate impact.
Regardless of the level of competition one is facing, any time a player earns All-American honors three consecutive years it deserves mention - and that is precisely what former Missouri Southern State defensive tackle Brandon Williams accomplished.
Williams' broad build and awesome strength helped him standout against elite competition at the Senior Bowl and earned him a spot on my Rang's Gang. He faces an uphill battle in carving out playing time for himself considering Baltimore's depth on the defensive line but don't be surprised if he winds up becoming the reliable run-stuffing presence that the Ravens thought they were getting with Terrence Cody, who, thus far has been a disappointment after getting selected No. 57 overall in 2010.
The Ravens went the big school route with Ohio State's John Simon a round later but he also was among my favorite prospects in the draft. The blue collar pass-rusher was the Big Ten Defensive Player of the Year this season, showing the strength, instincts and underrated athleticism to one day earn a role as an outside linebacker -- just as former 4-3 defensive end Paul Kruger did when the Ravens drafted him out of Utah back in 2009.
-- The Ravens' 2013 draft class:
1st Round - No. 32 overall - S Matt Elam, Florida
2nd Round - No. 56 overall - ILB Arthur Brown, Kansas State
3rd Round - No. 94 overall - NG Brandon Williams, Missouri Southern State
4th Round - No. 129 overall - OLB John Simon, Ohio State
4th Round - No. 130 overall - FB Kyle Juszczyk, Harvard
5th Round - No. 168 overall - OT Ricky Wagner, Wisconsin
6th Round - No. 200 overall - DE Kapron Lewis-Moore, Notre Dame
6th Round - No. 203 overall - OL Ryan Jensen, Colorado State-Pueblo
7th Round - No. 238 overall - WR Aaron Mellette, Elon
7th Round - No. 247 overall - CB Marc Anthony, Cal
-- Key Undrafted Free Agents Signed:
OT Rogers Gaines, Tennessee State
TE Murphy Holloway, Maryland
RB Ray Holley, Louisiana Tech
DE Will Pericak, Colorado
Read more about all of the Ravens' picks here.
Read all of the Finding the Fits series here.