Finding the Fits: Steelers' first-round success to continue with Jones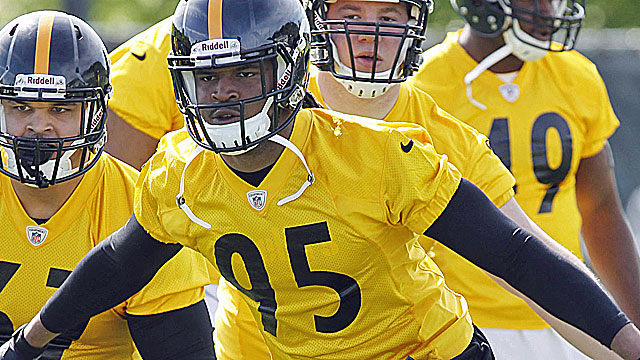 During the next several weeks, NFLDraftScout.com will review the more intriguing picks made during the 2013 NFL Draft in a series called "Finding the Fits." The goal of the series is to identify one relatively unheralded player per team who appears to be a good schematic fit and, therefore, more likely to be a surprise contributor early in his pro career.

Pittsburgh Steelers' Best Fit: OLB Jarvis Jones, Georgia

Historically, one of the least active teams in the NFL when it comes to veteran free agency, the Pittsburgh Steelers don't just talk about building through the draft, they actually do it.

The shared vision between general manager Kevin Colbert and his personnel department and head coach Mike Tomlin and his staff has been referred to by some as simply "the Steelers' Way." Selecting physically and mentally tough players who fit in with the blue- collar mentality of the area isn't, of course, new to Colbert and Tomlin. What is obvious, however, is that the approach has led to great success in the draft, especially in the first round.

Consider the players Pittsburgh has selected in the first round since the turn of the century and it is easy to see why the Steelers are an annual contender: WR Plaxico Burress (2000), NG Casey Hampton (2001), OG Kendall Simmons (2002), S Troy Polamalu (2003), QB Ben Roethlisberger (2004), TE Heath Miller (2005), WR Santonio Holmes (2006), LB Lawrence Timmons (2007), RB Rashard Mendenhall (2008), DL Ziggy Hood (2009), OC Maurkice Pouncey (2010), DL Cameron Heyward (2011), OG David DeCastro (2012).

As the list indicates, the Steelers just don't miss in the first round. Don't expect that to change with Jarvis Jones, the most productive pass rusher in college football a season ago and a perfect schematic fit in Dick LeBeau's 3-4 scheme.

While others slighted Jones due to his less-than-ideal 40-yard dash time, Pittsburgh scouts appreciated the only numbers that mattered -- his production. Despite playing in the ultra-competitive SEC and being the focus of every opponent's blocking scheme, Jones led the country in sacks (14.5), tackles for loss (24.5) and forced fumbles (seven) in 2012. While holdover Jason Worilds is an intriguing young pass rusher himself, Jones' burst and motor should be enough to overtake him in the right outside linebacker role where former Steelers' great James Harrison used to win the 2008 AP Defensive Player of the Year.

Jones may not be able to match Harrison's level immediately, but don't be surprised when he contends for Defensive Rookie of the Year honors while racking up double-digit sacks.

The Steelers could receive strong play from several other rookies in 2013 (not the least of which is potential starting running back Le'Veon Bell), but no player added via the draft this year better exemplifies the physicality, production and tenacity that has helped Pittsburgh become one of the NFL's model franchises than Jones.

Pondering Pittsburgh's picks (other thoughts on the Steelers' 2013 draft class):

While the Steelers fortified their pass rush with Jones in the first round, running back Le'Veon Bell and wideout Markus Wheaton could see similarly productive roles as pass-catchers on the offensive side of the ball.
Bell's primary role, of course, will be as a runner. Every bit as bruising as his 6-foot-2, 230-pound frame sounds, the former Michigan State star could emerge as the Steelers' starting running back, bringing back memories of some of the other big backs of Pittsburgh's past. Bell is hardly just a plodder, however. He is quick to the hole, has good lateral agility and sets up defenders well. Simply put, he is a much more elusive back than his size would indicate.

Bell is also a terrific receiver out of the backfield and it is in this role that he could really turn heads in offensive coordinator Todd Haley's offense. With the strong-armed Ben Roethlisberger attacking defenses deep with vertical routes, there should be plenty of space for Bell to take advantage of his soft hands and ability to make defenders miss.

With Mike Wallace getting $60 million from the Miami Dolphins, the Steelers needed to find another speedster capable of tracking down Roethlisberger's bombs and Wheaton was a terrific value at No. 79 overall. Built similarly to new teammates Antonio Brown (5-10, 186) and Emmanuel Sanders (5-11, 180), Wheaton, 6-0, 182, brings speed, elusiveness and surprising physicality as a run blocker.

The Steelers nabbed Brown out of Central Michigan in the sixth round in 2010 and may have found a similar diamond in the rough with seventh-round pick Nicholas Williams this year. Williams only played one season of football in high school and therefore didn't get much attention by recruiters. He did, however, play well enough at the FCS level to earn an NFL Combine invitation where he proved remarkably athletic. Don't be surprised if he makes this squad as a developmental five-technique defensive end.

Nose guards Omar Hunter and Anthony Rashad White are among a handful of intriguing undrafted free agents who could carve out a niche on this squad, providing further evidence that Pittsburgh's 2013 draft class could be a return to the Steelers Way.

-- The Steelers' 2013 draft class:

1st Round - No. 17 overall - OLB Jarvis Jones, Georgia

2nd Round - No. 48 overall - RB Le'Veon Bell, Michigan State

3rd Round - No. 79 overall - WR Markus Wheaton, Oregon State

4th Round - No. 111 overall - S Shamarko Thomas, Syracuse

4th Round - No. 115 overall - QB Landry Jones, Oklahoma

5th Round - No. 150 overall - CB Terry Hawthorne, Illinois

6th Round - No. 186 overall - WR Justin Brown, Oklahoma

6th Round - No. 206 overall - ILB Vince Williams, Florida State

7th Round -- No. 223 overall - DL Nicholas Williams, Samford

-- Key Undrafted Free Agents Signed:

NG Omar Hunter, Florida

NG Anthony Rashad White, Michigan State

WR/RS Reggie Dunn, Utah

OC Joe Madsen, West Virginia

OC Ivory Wade, Baylor

LS Luke Ingram, Hawaii

RB Curtis McNeal, Southern California

Read more about all of the Steelers' picks here.