Finding the Fits: Enigmatic Wilson could surprise for gambling Bears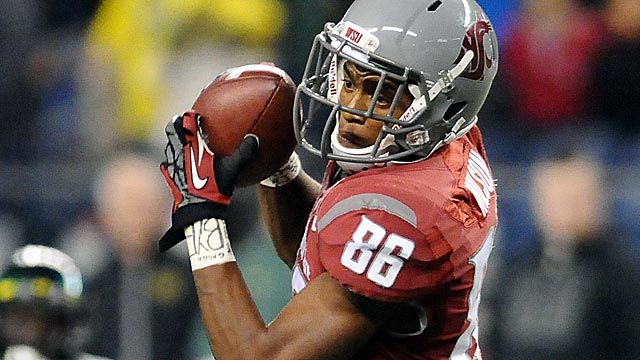 During the next several weeks, NFLDraftScout.com will review the more intriguing picks made during the 2013 NFL draft in a series called "Finding the Fits." The goal of the series is to identify one relatively unheralded player per team who appears to be a good schematic fit and, therefore, more likely to be a surprise contributor early in his pro career.
Chicago Bears' Best Fit: WR Marquess Wilson, Washington State, seventh Round, No. 236 overall
While the Bears are hoping that their first two picks of the 2013 draft -- offensive lineman Kyle Long and linebacker Jon Bostic -- emerge as immediate starters, the club's last pick could make a surprising contribution as a rookie, as well.
Seventh-round picks rarely make a significant impact in their first year in the NFL, but the enigmatic wideout Wilson is far from the normal late-round prospect.
A year ago, the 6-foot-3, 194-pound Wilson was coming off of a record-breaking sophomore season in which he earned second-team all-conference honors from Pac-12 coaches for a Washington State squad that finished 4-8. While being down by double-digit points in most games put the last-placed Cougars in position to air out passes (and drive up Wilson's statistics), Wilson's 82 catches for 1,388 yards and 12 scores were reflective of his own talents and not just a by-product of scheme or the scoreboard.
Wilson was pegged as a potential Biletnikoff candidate once Mike Leach brought his Air-Raid offense to Washington State. But rather than star in 2012, Wilson stumbled, sulked and ultimately quit the team, publicly criticizing the former Texas Tech head coach and his staff on his way out.
Wilson's mouth pushed him to the seventh round. His soft hands and surprisingly elusiveness (considering his lanky frame) could find him a niche on a club that boasts one superstar pass-catcher in Brandon Marshall but otherwise lacks dynamic playmakers. Alshon Jeffery is a physically imposing possession receiver, and Earl Bennett has emerged as a quality option out of the slot (averaging a team-best 15.3 yards per catch in 2012). But neither is a consistent big-play threat. Devin Hester provided this threat but, unfortunately, that was about all that he provided, and the Bears want him to focus again on returning kicks.
Much is changing in Chicago (more on this below). But as long as Jay Cutler is the starting quarterback, receivers who can get open and catch the ball will always have a chance to star.
Should Wilson show improved commitment in the weight room and practice field, he will not only make the Bears' final roster, he'll wind up catching more passes in his rookie season than most of the 26 receivers selected ahead of him in the 2013 draft.
Monsters (or Mirage) of the Midway (Other thoughts on the Bears' 2013 draft class):
While the hiring of Chip Kelly in Philadelphia or the quarterback carousel in New York saps most of the national attention, the Bears are undergoing one of the more fascinating transitions in the NFL.
Gone are Lovie Smith and Brian Urlacher, two long-time symbols of the blue-collar grit that embodied the city, team and its passionate fans. Replacing their defensive-minded approach is new coach Marc Trestman and a high-octane passing attack tasked with making Cutler the most prolific quarterback in team history.
While the characters are different, at least one thing remains the same in Chicago -- surprising draft-day decisions.
The "C" plastered on each of the Bears' helmets might never be more appropriate than now, as it can stand for the Calculated Risk that general manager Phil Emery took with virtually all of his selections in the 2013 draft, beginning with highly athletic but largely inexperienced offensive lineman Long at No. 20 overall.
The 6-6, 311-pound Long possesses all of the physical traits that scouts are looking for and is expected to start at right guard immediately. He plays with the aggression and physicality to handle the inside and is used to an up-tempo offense. He started just four games at Oregon (playing in just 11 games on the offensive line), and many of those came on the left side.
Jordan Mills, the "other" offensive lineman selected by the Bears, doesn't possess as much upside but is more fundamentally sound and could also get pushed onto the field if Chicago's latest reshuffling up front doesn't go smoothly. The Bears invested big money in free-agent left tackle Jermon Bushrod, but he might be the only player assured of lining up at the same position that he played last year -- and, of course, that was as a member of the New Orleans Saints.
While Long is expected to start immediately, Bostic is likely to make the splashier entrance into the NFL. The Bears believe Bostic is athletic and instinctive enough to handle any of the three linebacker positions in their 4-3 alignment, but Bostic took most of the first-team snaps inside during the team's rookie minicamp, making him the logical candidate to replace Urlacher.
Bostic made a lot of plays while at Florida but not as many as Khaseem Greene made at Rutgers. Greene was allowed to play recklessly with the Scarlet Knights, leaving some of the more traditional run-stuffing duties to teammates to allow him to take advantage of his awareness and burst to the ball. On a defense already boasting a number of playmakers, Greene could fit right in, as could sixth-rounder Cornelius Washington, a poor fit in the 3-4 front that he played in while at Georgia but an intriguing situational pass rusher in this scheme.
The Bears' 2013 draft class can be seen as a microcosm of their entire offseason -- none of their moves looks like a "sure thing," but the winnings can be big if some of Chicago's high-stakes gambles pay off.
-- The Bears' 2013 draft class:
1st Round -- No. 20 overall -- OL Kyle Long, Oregon
2nd Round -- No. 50 overall -- ILB Jon Bostic, Florida
4th Round -- No. 117 overall -- OLB Khaseem Greene, Rutgers
5th Round -- No. 163 overall -- OT Jordan Mills, Louisiana Tech
6th Round -- No. 188 overall -- DE Cornelius Washington, Georgia
7th Round -- No. 236 overall -- WR Marquess Wilson, Washington State
-- Key Undrafted Free Agents Signed:
RB Michael Ford, LSU
CB Demontre Hurst, Oklahoma
DT Brent Russell, Georgia Southern
Read more about all of the Bears' picks here.