Unheralded rookies poised to make noise: NFC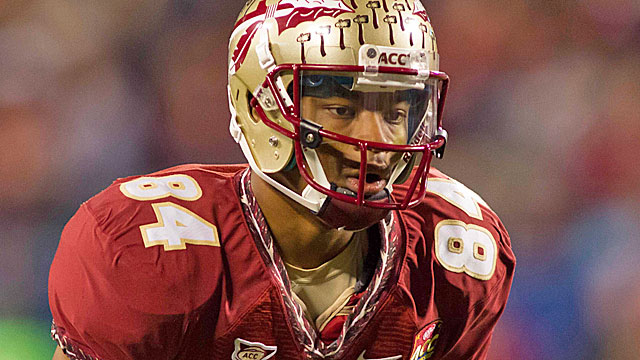 Arian Foster, London Fletcher, Tony Romo and Wes Welker have all played in multiple Pro Bowls, but that's not all that connects these current NFL stars. Each also entered the league as undrafted rookie free agents facing long odds to earn an NFL paycheck.
It's a stunningly talented fraternity to be a part of. Willie Brown, Lou Groza, Richard "Night Train" Lane, Larry Little, Warren Moon, Marion Motley, Joe Perry, John Randle and Emlen Tunnell all were one-time undrafted players who now have busts in the Pro Football Hall of Fame.
Late-round picks also face daunting odds just to make rosters -- much less become stars. Washington Redskins running back Alfred Morris was an afterthought as a sixth-round pick last year. However, he made an immediate impression during offseason workouts and quickly emerged as the Redskins' top back in training camp -- going on to finish second in the NFL with 1,613 rushing yards.
NFLDraftScout.com takes a look at the top unheralded rookies on each team, who is standing out early and examines those most likely candidates to emerge as contributors -- or legitimate stars.
Dallas Cowboys -- LB Brandon Magee, Arizona State: How badly did the Cowboys want to add Magee to the roster? Not enough to draft him, but enough to offer him a higher signing bonus to sign with Dallas than any seventh rounder received in 2012. Magee has a nose for the ball and thrives with his smarts, digesting information quickly and reacting to make the play. His lack of NFL measureables is the main reason that he went undrafted with just 4.7 speed at 5-foot-11 and 223 pounds with arms under 29 inches in length. But Magee has the instincts and positional versatility to not only make the 53-man roster but earn early playing time on special teams and as a key reserve.
New York Giants -- TE Morgan Newton, Kentucky: Most undrafted free agents are signed within hours of the conclusion of the draft, but Newton is an example of a player who earned his way onto the roster during rookie minicamps. Weeks after the 2013 NFL Draft, New York tried out dozens of players and decided to sign Newton to a contract as a tight end. At one time considered the quarterback of the future at Kentucky, Newton struggled with consistency as a passer, transitioned to a receiving role as a senior but finished his Wildcat career with only one catch. At 6-4 and 240 pounds, Newton has the size and athleticism but is still very new to the position and will be a strong candidate for the practice squad.
Philadelphia Eagles -- DT Isaac Remington, Oregon: To little surprise, Eagles first-year head coach Chip Kelly drafted four Pac-12 players in the 2013 NFL Draft, but shockingly, none from Oregon. However, he did bring in a few former Ducks as undrafted free agents, including Remington, who is an interesting fit, likely as a five-technique lineman in the Eagles' new-look 3-4 defense. Remington was more of a rotational player in college with only a handful of starts in Eugene the last two seasons after transferring from the junior college level. He finished his senior season with 22 tackles, four tackles for loss and a sack. At 6-6 and 298 pounds with NFL length, Remington fits Kelly's desire to get bigger up front.
Washington Redskins -- WR Nick Williams, Connecticut: The Redskins have a bit of a logjam at the wide receiver position, especially in the slot, where Santana Moss and Aldrick Robinson are expected to compete. But Williams is a dark horse to possibly make the roster as an inside receiver and on special teams as a return man. His lack of size (5-9, 184) and speed (4.59) stand out, but he is quicker than fast, knows how to get open and looks to create after the catch. Williams is tough and gutsy over the middle but needs to prove he can eliminate the drops to stick at the next level. He scored a pair of touchdowns on punt returns as a senior for the Huskies, finishing his collegiate career with four career returns for scores.
Chicago Bears -- RB Michael Ford, LSU: While Matt Forte is the Bears' feature back and Michael Bush provides a quality No. 2 option, the third-string running back job will come down to a competition between Ford and former Notre Dame back Armando Allen. Ford was a top high school recruit and led LSU in rushing in 2011 but saw his production diminish in 2012 as the Tigers favored a more back-by-committee approach. He looks the part with a thick build and good quickness between the tackles, lowering his pads and running with fresh power. Ford has enough athletic tools for the next level. But in order to stick around in the NFL, he must prove he can be reliable catching the ball and blocking.
Detroit Lions -- QB Alex Carder, Western Michigan: Matthew Stafford is fully entrenched as the Lions' starting quarterback, and Shaun Hill has a firm grasp on the back-up job. But if Detroit decides to keep a third quarterback on the active roster, that spot will likely come down to the battle between Carder and second-year player Kellen Moore. Carder didn't quite have the senior year expected after missing six games with a broken finger on his throwing hand, but he finished his collegiate career with 84 career touchdowns and hasn't gone unnoticed during offseason workouts. As head coach Jim Schwartz said, "There is something about the confidence that a quarterback brings to the table; you just know it's not too big for him. I would say that about Alex."
Green Bay Packers -- TE Jake Stoneburner, Ohio State: The last year hasn't exactly gone according to plan for Stoneburner, who was arrested and indefinitely suspended last June and finished his senior year with just 16 catches. He moved to a slot receiver role in Urban Meyer's spread offense and was viewed as a "tweener" by many scouts around the league. Stoneburner has a lean, lanky build and, at 6-3 and 250 pounds, he looks more like a bulky wide receiver, but he has enough speed and the blocking effort needed for the NFL. It's a crowded depth chart at tight end for Green Bay with Jermichael Finley, Andrew Quarless and D.J. Williams leading the way, but Stoneburner could be the next Tom Crabtree for head coach Mike McCarthy and his offense.
Minnesota Vikings -- WR Rodney Smith, Florida State: Neither of the Vikings' projected starting wide receivers were on the roster last year. Veteran wideout Greg Jennings was added to the mix via free agency, and rookie Cordarrelle Patterson was one of Minnesota's three first-round picks. Jerome Simpson, Jarius Wright and Joe Webb are expected to fill out the remaining spots on the wide receiver depth chart, but don't count out Smith. At 6-4 and 225 pounds with 4.51 speed, he has the combination of natural athleticism and size that will create mismatches, especially in the red zone. Although he's not the same type of athlete as Greg Childs, Smith might be able to fill his role as the No. 4 or 5 wide receiver on the roster.
Atlanta Falcons -- LB Brian Banks, no college: Already a great P.R. story, the journey of Banks will grow even more if he's able to secure a spot on the Falcons' 53-man roster. For those unaware of Banks' background, he was a standout high school football player and had verbally committed to play collegiately at Southern Cal. However, he was accused of rape and kidnapping and ended up spending five years and two months in prison before being exonerated last year. Banks, now 27 years old, hadn't played any type of organized football in almost a decade, but he has performed well at Falcons minicamps. With Atlanta's thin depth at linebacker, Banks is an inspiring feel-good story, and he might also play in an NFL game soon.
Carolina Panthers -- DE Craig Roh, Michigan: A freshman starter four years ago in Ann Arbor, Roh showed flashes of big-time potential. But his career never took off, and a big reason for that is the way the coaching staff moved him all over the defense. He started at outside linebacker before moving to defensive end and tackle, lining up in both three- and four-man fronts. Roh has an active motor and never gives up on plays, but he struggles to maintain leverage and brings a limited repertoire of pass-rush moves. His production leaves a lot to be desired for a four-year starter (10.5 career sacks), but his energy and versatile experience will give him a chance to earn a roster spot.
New Orleans Saints -- OLB Eric Martin, Nebraska: As the Saints transition back to a 3-4 defensive scheme led by new coordinator Rob Ryan, Martin has a good chance to stick on the roster as a versatile pass rusher. He was a little-known reserve as an underclassman at Nebraska, but the light bulb seemed to go on for him as a senior, finishing 2012 with team bests in sacks (8.5) and tackles for loss (16.5). Martin has only average physical tools, but he's able to win with intensity and initial burst and power to dominate blockers one-on-one using his length effectively. There are some concerns about his ability to digest an NFL playbook, but if the Saints are patient, Martin could be a diamond in the rough.
Tampa Bay Buccaneers -- CB Branden Smith, Georgia: As Tampa Bay attempts to improve its pass defense, the Buccaneers have several new faces at the cornerback position, most notably perennial Pro Bowler Darrelle Revis and second-rounder Johnthan Banks. But the Bucs also added Smith, who doesn't look like much at 5-10 and 172 pounds, but he has legitimate 4.3 speed with the foot quickness to mirror and stick with receivers on the outside. He won't back down from contact, but his lack of size does show in run support and against bigger receivers. Like Leonard Johnson, who was an undersized undrafted rookie a year ago, Smith might surprise if he gets a chance to see the field in 2013 due to his fluid athleticism.
Arizona Cardinals -- OLB Dan Giordano, Cincinnati: A hand-on-the-ground defensive end in college, Giordano lacks ideal traits to be a hybrid pass rush linebacker in Arizona's 3-4 scheme, but he might be a fit in pass defense situations when the Cardinals use more of a four-man front. At 6-3 and 261 pounds with 4.95 speed, he doesn't have top-notch athleticism to compensate for his average size and strength, but he plays with the relentless energy needed for the next level. Giordano wasn't overly productive in college with only five sacks as a senior and is definitely a long shot to stick on the roster with his limited versatility, but he brings intensity on each snap that the coaches will love.
San Francisco 49ers -- OT Luke Marquardt, Azusa Pacific: At 6-9 and 315 pounds, Marquardt is a tough guy to miss. He was a high school basketball player but played football in college, starting at tight end before moving to offensive line as a freshman. Marquardt worked hard to get stronger, adding more than 80 pounds since high school, and started 22 games as a sophomore and junior. However, he missed his senior season and most of the pre-draft process with a broken right foot. Leverage will always be an issue for Marquardt due to his height, but he isn't afraid to deliver a punch at the point of attack with his powerful upper body. Although he needs time to develop, Marquardt is worth keeping around the building for San Francisco to monitor his growth.
St. Louis Rams -- LB Daren Bates, Auburn: A good example of a linebacker-safety tweener prospect at 5-11 and 210 pounds, Bates saw time at both positions in college and will likely practice at both spots for the Rams. He always seems around the ball and uses his 4.5 speed and sideline-to-sideline range to make plays all over the field. Bates is a physical hitter, has done a nice job filling out his frame but doesn't consistently wrap up and leaves too much production on the field. He has the intangibles that coaches will love, always getting his nose dirty and rallying the troops as a defensive leader. Bates likely will never be an NFL starter, but he has the skill set to stick around as a special teams ace and, barring injury, I'll be surprised if he doesn't make the 53-man roster out of camp.
Seattle Seahawks -- WR Matt Austin, Utah State: The Seahawks' depth at receiver has been very average in recent years. But after adding Percy Harvin and Chris Harper in the offseason, the position is suddenly a strength. Despite a crowded depth chart, Austin is a name to watch in Seattle as an undrafted free agent who might be able to earn his keep, most likely on the practice squad to start. He isn't a burner but has enough speed with smooth breaks to set up his routes and the body control to adjust to passes and complete the catch. The Seahawks have had recent success with Utah State alums (linebacker Bobby Wagner, running back Robert Turbin), and Austin could be the next in line.