Unheralded rookies poised to make noise: AFC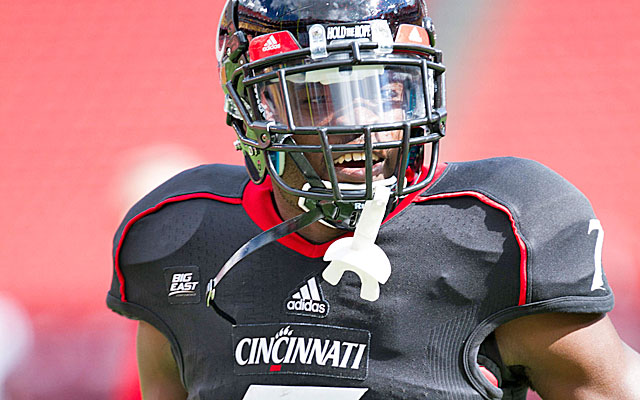 Arian Foster, London Fletcher, Tony Romo and Wes Welker have all played in multiple Pro Bowls, but that's not all that connects these NFL stars. Each entered the league as undrafted rookie free agents facing long odds to earn an NFL paycheck.
It's a stunningly talented fraternity to be a part of. Willie Brown, Lou Groza, Richard "Night Train" Lane, Larry Little, Warren Moon, Marion Motley, Joe Perry, John Randle and Emlen Tunnell all were undrafted players who now have busts in the Pro Football Hall of Fame.
Late-round picks also face daunting odds just to make rosters -- much less become stars. Washington Redskins running back Alfred Morris was an afterthought as a sixth-round pick last year. However, he made an immediate impression during offseason workouts and quickly emerged as the Redskins' top back in training camp -- going on to finish second in the NFL with 1,613 rushing yards.
NFLDraftScout.com takes a look at the top unheralded rookies on each team, who is standing out early and examines those most likely to emerge as contributors -- or legitimate stars.
Buffalo Bills -- CB Nickell Robey, Southern Cal: To play the cornerback position at the NFL level, you need size and speed. If you're short, you'd better be fast. And if you're slow, you better have the size to match up with pro receivers. At 5-7 with 4.55 speed, Robey lacks elite speed and size. But like he showed at Southern Cal, he has the knack for putting himself in the right place at the right time to make plays. He started every game for the Trojans during the past three seasons and played resilient and tough. His lack of size showed up, too, often in coverage and against the run. Robey will likely never be able to hold up on the outside, but he displays savvy cover skills and feet to possibly make a living as a nickel or dime cornerback.
Miami Dolphins -- WR Jasper Collins, Mount Union: Making the jump from Division III competition to the NFL is a tough task, but as former Purple Raider wide receivers Pierre Garcon (Redskins) and Cecil Shorts (Jaguars) have shown, it's possible. And following in their footsteps, Collins could surprise in Dolphins camp this summer, but he will need some time to adjust to the pro game. He has only average size and build to match his rather pedestrian straight-line speed but flashes initial quickness in and out of his breaks and is an advanced route runner for a "small school" prospect. Collins will never be the biggest or fastest but does the little things well and could prove to be a quality depth player.
New England Patriots -- WR Kenbrell Thompkins, Cincinnati: The Patriots have one of the more inexperienced and unproven groups of wide receivers in the NFL, which might open the door for one of New England's rookies to emerge. My money is on Thompkins being that guy. A cousin of Steelers wide receiver Antonio Brown, Thompkins was arrested seven times between ages 15 and 18 but has since matured and rebuilt his image at Cincinnati, producing on the field and staying clean off it. The Patriots drafted Aaron Dobson and Josh Boyce and added rookie free agents T.J. Moe and Mark Harrison, but it wouldn't be a surprise if Thompkins leads all of New England's rookies in receiving in 2013.
New York Jets -- WR Ryan Spadola, Lehigh: While the Jets' quarterback situation is the No. 1 story in New York, they also need help at wide receiver no matter who is taking snaps from under center. Veteran Santonio Holmes is the Jets' de facto No. 1 target, and Rex Ryan is hoping for Stephen Hill to take a big step forward in his second season in the NFL. But there is room on the roster for a player like Spadola to have a strong training camp and earn a spot on the practice squad despite his likely limited contributions on special teams. Spadola has the skill set to be a reliable No. 4 or 5 receiver for the Jets, possibly giving Mark Sanchez a poor man's Jordy Nelson.
Baltimore Ravens -- QB Dayne Crist, Kansas: A former blue-chip high school recruit, Crist was expected to be the quarterback to lead Notre Dame and Charlie Weis to the promised land. But after four seasons of inconsistency and injury in South Bend, he transferred to Kansas, where he was reunited with Weis for his final season of eligibility in 2012. Crist's career collegiate stats aren't pretty (only 20 touchdown passes, 18 interceptions), but he has the size (6-4, 235), arm strength and attitude that attracted Baltimore's attention. Crist probably isn't anything more than a camp arm who will have a tough time beating out Caleb Hanie for the No. 3 quarterback job, but he has the physical tools that might entice the Ravens into keeping him around through (at least) training camp.
Cincinnati Bengals -- CB Onterio McCalebb, Auburn: A college running back, McCalebb doesn't look like an NFL-ready prospect at 5-10, 168 pounds. Of course, he has the speed to run away from everyone else on the football field. He rushed for 2,586 yards in his career at Auburn as a part-time running back, but he went undrafted largely because he was viewed as an athlete without a natural position. Nonetheless, players with his speed (among the leaders at the combine with a 4.34 40-yard dash) will always have a chance at the next level. And McCalebb's chance might be at a position that he has never played before: cornerback. If he shows enough during mini-camp, McCalebb might be able to earn a roster spot as a return man while developing on defense.
Cleveland Browns -- DE Dave Kruger, Utah: The Gronkowski brothers have company in the competition for the most family members in the NFL as Dave and Joe will join Paul Kruger in the NFL this season. Unlike Paul (second-rounder, 2009 NFL Draft) and Joe (seventh-rounder, 2013 NFL Draft), Dave wasn't drafted. His becomes the toughest path of the Kruger brothers to make an active roster as a rookie. The bad news for him is the Browns' three-man defensive front might be their strongest unit on the roster. The good news? His older brother, Paul, recently signed a lucrative deal with the Browns, giving Dave a familiar face at training camp as the 6-5, 300-pounder attempts to earn his keep.
Pittsburgh Steelers -- OG Nik Embernate, San Diego State: The Steelers' offensive line has been a troublesome unit in recent memory, but Pittsburgh didn't spend any of its nine 2013 NFL draft picks on an offensive lineman. They signed Embernate as an undrafted free agent. He not only has a chance to make the team but also earn some playing time as a rookie. He started 46 games at San Diego State and is known as a strong drive blocker who will latch onto defenders and drive them out of the play. Ramon Foster and Dave DeCastro are penciled in as Pittsburgh's starters at guard, but depth is lacking behind them. Embernate needs to refine his mechanics, but his mauling mentality will give him a shot.
Houston Texans -- RB Cierre Wood, Notre Dame: The Texans' zone-blocking run scheme helped transform Arian Foster from an undrafted free agent to one of the top backs in the NFL, and other undrafted free agents are taking notice. Houston snared four rookie free agents who could have easily heard their names called over draft weekend: Cierre Wood, Dennis Johnson, Ray Graham and George Winn. However, my money is on Wood as the guy who will be able to stand out and earn a roster spot behind Foster and Ben Tate. Wood is a gifted cutback runner with very good awareness and vision to follow his blocks with the lateral burst to make defenders miss. He isn't special, but don't count him out.
Indianapolis Colts -- CB Dax Swanson, Sam Houston State: For a pass defense that finished in the bottom third of the league, the Colts have a fairly crowded depth chart at cornerback. Nonetheless, Indianapolis needs all the help that it can get on the outside and even an undrafted free agent like Swanson will get a fair shake to earn a roster spot. He lacks NFL measurables at 5-10, 186 pounds with short arms and average long speed (4.56 40-yard dash). Swanson is quick-footed with natural burst out of his stance, and the fluid movements to blanket receivers. If he can prove valuable on special teams, it wouldn't be surprising to see Swanson fight for a starting job within three seasons.
Jacksonville Jaguars -- OL Stephane Milhim, Massachusetts: Offensive tackle Luke Joeckel, the No. 2 overall selection in April, was the prize of the Jaguars' 2013 class, but another offensive lineman pickup for Jacksonville who could also be a valuable addition. Milhim (6-4, 315) lined up all over the offensive line in college, starting 38 games (16 at right guard, 12 at left tackle and 10 at right tackle) and brings versatility to the NFL. A native of Haiti, he is still relatively new to the game and has a lot of room to grow, but if Jacksonville if patient with him, Milhim has the athletic upside and flexible body type to develop into a regular contributor, providing depth at guard and tackle.
Tennessee Titans -- TE Jack Doyle, Western Kentucky: Despite the loss of Jared Cook to the Rams via free agency, the Titans still have a crowded depth chart at tight end, making it a tough road for Doyle to make the active roster. But despite the number of tight end bodies vying for a spot, none are proven as reliable pass-catchers. Free-agent acquisition Delanie Walker is the favorite for the starting job, but he has never had more than 29 catches in any of his seven NFL seasons. Craig Stevens and Taylor Thompson are the other favorites to land roster spots as well. But with a strong showing this summer, don't count out Doyle. He isn't the strongest blocker but could prove valuable as a red-zone threat worth stashing on the practice squad.
Denver Broncos -- SS Ross Rasner, Arkansas: Considering the Broncos' crowded depth chart at safety, it will truly be a long shot for Rasner to find a home on Denver's roster. It will be tough for him to ever be a consistent contributor on defense due to his limitations in pass coverage. However, his effort and nonstop motor will make him difficult to cut. He is at his best facing the action using his pursuit skills and downhill physicality to wrap and finish, making him a prime candidate to carve out a job on special teams. At 6-0, 210 pounds with 4.6 speed, Rasner has linebacker-safety tweener skills, but he plays fast and smart.
Kansas City Chiefs -- FB Toben Opurum, Kansas: Opurum led the Jayhawks in rushing as a true freshman in 2009 before moving to defense in a hybrid pass rusher role where he collected 6.5 career sacks as a two-year captain. However, he worked out on offense and defense during the pre-draft process, and the Chiefs signed him after he practiced as a fullback during rookie minicamps. Opurum hasn't registered a carry since his freshman season, but he is an athletic prospect who enjoys contact and is a natural fit at fullback in the NFL. He also flashed reliable hands over his collegiate career and was the main target on special-teams fakes for the Jayhawks.
Oakland Raiders -- WR Sam McGuffie, Rice: Probably known more for his YouTube highlight reel from high school, McGuffie didn't quite have the collegiate career that was once mapped out for him, but he has the athleticism to possibly stick in the NFL. He started in Ann Arbor as a do-everything weapon for Rich Rodriguez's spread offense in 2008 at Michigan before transferring closer to home at Rice. McGuffie played two seasons at running back before moving to slot receiver in 2012 as a senior, recording 54 catches and five touchdowns. He will have a tough time getting noticed at a crowded position on the Raiders' roster, but his athleticism will always give him a shot, even if it's a long shot.
San Diego Chargers -- S Jahleel Addae, Central Michigan: A productive high school running back, Addae moved to the defensive side of the ball shortly after arriving at Central Michigan and developed into one of the MAC's top defensive players at safety. He plays fast with the athleticism needed for the position in zone or man coverage, looking natural in his backpedal with the range to cover a large area. Addae allowed some big plays over his time with the Chippewas, but he also led the team in interceptions (four) and passes defended (nine). He is stuck behind Eric Weddle and Darrell Stuckey at free safety and will need to be a standout on special teams to earn his keep.