Finding the Fits: John Boyett could be solution to Colts' secondary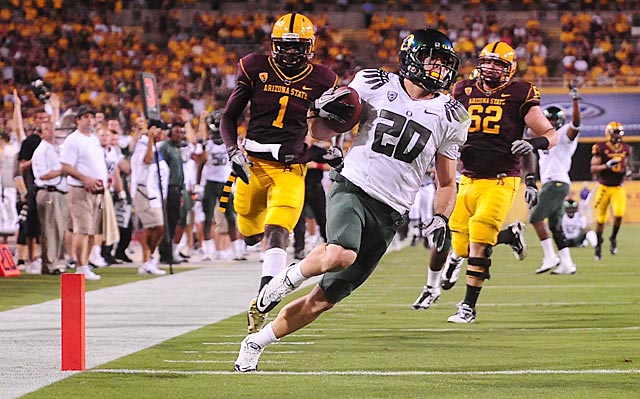 This article is one of a series called "Finding the Fits" in which NFLDraftScout.com will review some of the more intriguing picks made during the 2013 NFL Draft. The goal of the series is to identify one relatively unheralded player per team who appears to be a good schematic fit and, therefore, more likely to be a surprise contributor early in his pro career.
Indianapolis Colts' Best Fit: S John Boyett, Oregon, 6th Round, No. 192 overall
A trio of "rookies" -- head coach Chuck Pagano and interim coach Bruce Arians and quarterback Andrew Luck -- each played critical roles in the Indianapolis Colts' return to the playoffs one year after finishing a league-worst 2-14 in 2011.
For all of the credit these men earned for the Colts' success in 2012, the group that played perhaps the most underappreciated role in Indianapolis' second-half surge was their defensive backs.
Despite owning a 5-3 record at the halfway point in the season, the Colts had intercepted just two passes during this time, lowest in the NFL. As the Colts' defensive backs adjusted to Pagano and defensive coordinator Greg Manusky's system, however, the big plays came. The Colts intercepted 10 passes in the next eight games.
Despite the improved play, the Colts made upgrading the talent in the secondary a priority in Pagano and general manager Ryan Grigson's first full offseason together, committing a combined $38 million in free agents Greg Toler and LaRon Landry.
The addition of instinctive and physical safety John Boyett could continue Indianapolis' improved play in the secondary.
Boyett, 5 feet 10, 206 pounds, entered his senior season poised to join recent Oregon Ducks' defensive backs Patrick Chung, T.J. Ward and Jairus Byrd as a top-100 pick in his respective draft class. The two-time All-American led the Ducks in tackles in the 2009 and 2011 seasons (finishing second in 2010) and has the ball skills to help Indianapolis continue its newfound big-play ways, recording 10 interceptions over his collegiate career.
Boyett began the 2012 season in fine form, intercepting a pass in Oregon's season-opening win over Arkansas State before succumbing to pain in his knees. He had played through the pain for much of his junior season but elected to end his senior campaign early after learning that he had torn the patellar tendon in both of his knees.
The resulting surgery ended Boyett's senior season, any chance of his playing in an all-star game or fully working out for scouts prior to the draft. As a result, the one-time prospective third-round pick fell nearly 100 spots lower than his original grade.
As a sixth-round pick, Boyett isn't likely to overtake Antoine Bethea or Landry as a starting safety for the Colts this season. His reliable open-field tackling and passion, however, could make him a special teams demon and valuable backup as a rookie. Considering that Landry hasn't started all 16 games since 2008, Boyett's readiness could be tested earlier than anyone expects.
Building an Identity in Indy (Other thoughts on the Colts' 2013 draft class):
The Atlanta Falcons (29) were the only team to make the playoffs in 2012 with fewer sacks than the Colts (32) so, to the surprise of no one, Indianapolis spent half of its first four picks of the 2013 draft on front-seven defenders.
The players they chose with these two selections, however, turned some heads.
Bjoern Werner's ability to rush the quarterback isn't in question. Voted the ACC's Defensive Player of the Year after leading the conference with 13 sacks, Werner has the burst to get tackles on their heels and the strength to drag down passers within his grasp.
Unfortunately, Werner isn't an elite athlete, which is why some scouts question how well he'll be able to handle the adjustment from the 4-3 attack in which he starred at Florida State and the 3-4 rush linebacker role he'll be asked to play in Indianapolis.
While perhaps lacking top-notch explosiveness and flexibility, however, the German-born Werner is a surprisingly polished player. Rather than relying purely on a speed rush (as some of the pass-rushers selected ahead of him do), Werner sets up his opponent with various moves and uses his hands well to fight through blockers when they are able to engage him.
Werner isn't likely to draw comparisons to Clay Matthews or DeMarcus Ware as an elite rush linebacker, but don't be surprised if he challenges veteran holdover Robert Mathis for the team lead in sacks as a rookie.
Just as Werner's selection has been questioned by some, a few eyebrows were likely raised with the Colts' trading up to nab Tennessee-Martin defensive tackle Montori Hughes in the fifth round.
The 6-foot-4, 329-pound Hughes could play a surprisingly important role for the Colts in 2012, however. Experienced playing inside and out in both the 4-3 and 3-4 scheme, Hughes' versatility should make him more pro-ready than most Day Three prospects. Furthermore, while most of his production came against FCS competition, Hughes originally signed with Tennessee out of high school and emerged as a fixture in the Vols' rotation almost immediately.
A number of off-field concerns led to his transfer from Tennessee and presumably played a role in the talented defender's availability in the fifth round.
If Hughes commits himself, he is big and strong enough to play nose guard or as a five-technique defensive end in the Colts' three-man front. This versatility could put him in position to contribute significant minutes as a rookie, giving the Colts three first-year defenders perhaps capable of giving Indianapolis a much-needed identity on this side of the ball.
-- The Colts' 2013 draft class:
1st Round -- No. 24 overall - OLB Bjoern Werner, Florida State
3rd Round -- No. 86 overall -- OG Hugh Thornton, Illinois
4th Round -- No. 121 overall -- OC Khaled Holmes, Southern California
5th Round -- No. 139 overall -- DL Montori Hughes, Tennessee-Martin
6th Round -- No. 192 overall -- S John Boyett, Oregon
7th Round -- No. 230 overall -- RB Kerwynn Williams, Utah State
7th Round -- No. 254 overall -- TE Justice Cunningham, South Carolina
-- Key Undrafted Free Agents Signed:
OT Emmett Cleary, Boston College
CB Sheldon Price, UCLA
WR Lanear Sampson, Baylor

Read more about all of the Colts' picks here.

Read all of the Finding the Fits series here.