Finding the Fits: In time, Klein could prove a find for Carolina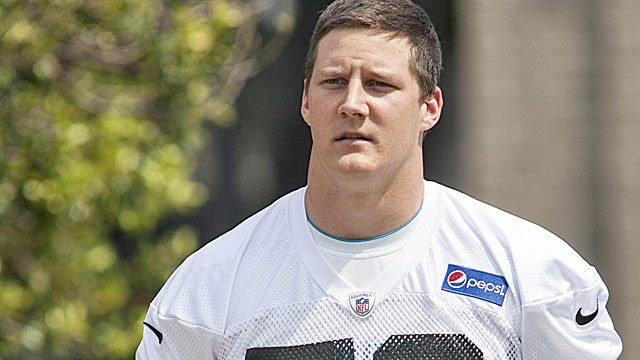 This article is one of a series called Finding the Fits in which NFLDraftScout.com will review some of the more intriguing picks made during the 2013 NFL Draft. The goal of the series is to identify one relatively unheralded player per team who appears to be a good schematic fit and, therefore, more likely to be a surprise contributor early in his pro career.
Carolina Panthers' best fit: LB A.J. Klein, Iowa State, Fifth Round, No. 153 overall
Dave Gettleman's first draft as Carolina Panthers' general manager is likely to forever be known for drafting defensive tackles. After all, in the history of the franchise the Panthers had only invested a top 50 selection on a defensive tackle once - using the 44th pick on Kris Jenkins in 2001 - prior to Gettleman and head coach Ron Rivera selecting Utah's Star Lotulelei and Purdue's Kawann Short with the No. 14 and No. 44 overall picks of the 2013 draft, respectively.
Lotulelei and Short are expected to immediately compete for playing time, with one of them almost sure to win the enviable role of starting next to solid veteran Dwan Edwards inside double-digit sackmasters Charles Johnson and Greg Hardy. The other is likely to play a key role in the rotation, with Short - the better pass-rusher of the duo - a logical candidate for third down duties.
Fifth round linebacker A.J. Klein is viewed by most in the national media as far less likely to significantly contribute as a rookie. Unless projected starting outside linebackers Thomas Davis and Jon Beason prove much more reliable in 2013 than either has been recently, however, the three-time All-Big 12 selection could see playing time sooner rather than later.
When healthy, Davis and Beason have proven well worthy of the first round selections Carolina used to bring them into the league. Over the past three seasons Davis and Beason, however, have missed a combined 51 starts due to injury, making the instinctive and versatile Klein potentially much more than just a special teams candidate as a rookie.
Klein signed with Iowa State as a lightly recruited prospect out of the small town of Kimberly, Wisconsin. Once with the Cyclones, however, he quickly established himself as a standout in the Big 12, earning starts at all three linebacker roles in the 4-3 and racking up a total of 361 tackles, 20 tackles for loss and five interceptions, including an NCAA-record (for linebackers) four returned for scores over his career. He, along with former Oklahoma Sooner (and current Panther) defensive end Frank Alexander was named the 2011 Big 12 Defensive Player of the Year.
Should Davis and Beason remain healthy, Klein's biggest contribution as a rookie is likely to come on special teams. That hasn't stopped Rivera, a former Pro Bowl linebacker, himself, from establishing pretty high expectations for the rookie.
"[Klein] can play all three positions. He's a very headsy guy," Rivera told reports following Carolina's rookie mini-camp in May. "I don't want to call him a poor man's Luke [Kuechly], but he has a lot of characteristics of Luke."
Gettleman's 'hog mollies' the key in Carolina (other thoughts on the Panthers' 2013 draft class):
Even with Defensive Rookie of the Year Luke Kuechly leading the NFL in tackles in 2012, the Carolina Panthers finished a mediocre 14th in the NFL a season ago in run defense.
Under former general manager Marty Hurney, the Panthers relied on free agent and later round selections to build up their defensive tackles. The additions of Lotulelei and Short by Gettleman provided immediate proof that there is a new decision-maker in town.
In the weeks leading up to the draft, Gettleman foreshadowed his plans by affectionately referring to defensive tackles as 'hog mollies.' Should Lotulelei and Short prove the playmakers in the NFL they had at Utah and Purdue, respectively, Gettleman could soon be earning a nickname of his own, as the "boss hog" among 'hog mollies.'
Gettleman entered the 2013 draft with only five selections due to Hurney's aggressive trading in the past. While the two most formidable teams in the NFC South (Atlanta, New Orleans) elected to draft defensive backs in the first round, Gettleman focused on rushing the quarterback, a strategy he likely learned from working in the front office for the New York Giants' the past 15 years.
Prior to a test at the 2013 Combine which red-flagged Lotulelei's heart, the former Utah defensive tackle had been pegged as a sure-fire top 10 prospect. In the weeks leading up to the draft, Lotulelei took and passed virtually every imaginable test to prove that his heart was healthy, including the "gold-standard" of cardiac exams.
The powerful and shockingly athletic Lotulelei was a dominant performer in the Pac-12. Some questioned his snap to snap consistency, which is precisely why the selection of Short, 30 picks later, could prove brilliant.
Short, who averaged 16 tackles for loss, 6.5 sacks and three blocked kicks over the past three seasons, was characterized by Gettleman as the "most natural pass rusher of all the defensive tackles in the draft." Possessing an extraordinary combination of quick feet and hands, Short proved to be the dominant interior defender at the Senior Bowl and only slipped to the second round due to bouts with snap to snap consistency.
During his time with the Giants Gettleman saw how the rotation of Michael Strahan, Mathias Kiwanuka, Justin Tuck, Osi Umenyiora and Jason Pierre-Paul was able to turn New York into a Super Bowl champion.
Carolina isn't likely to take a Super Bowl-like leap in 2013 but, considering the talent they boast on offense, if their 'hog mollies' emerge as a similarly disruptive group in coming years, it could certainly give the Panthers a significant push towards that goal.
-- The Panthers' 2013 draft class:
1st Round -- No. 14 overall - DT Star Lotulelei, Utah
2nd Round -- No. 44 overall - DT Kawann Short, Purdue
4th Round -- No. 108 overall - OG Edmund Kugbila, Valdosta State
5th Round -- No. 153 overall - LB A.J. Klein, Iowa State
6th Round - No. 182 overall - RB Kenjon Barner, Oregon
-- Key Undrafted Free Agents Signed:

S Robert Lester, Alabama
DE Wes Horton, Southern California
DE Craig Roh, Michigan

Read more about all of the Panthers' picks here.

Read all of the Finding the Fits series here.