Finding the Fits: Jenkins could be key to Saints' turnaround on D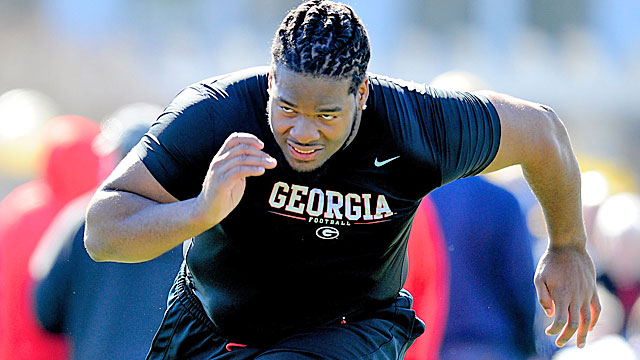 This article is one of a series called Finding the Fits in which NFLDraftScout.com will review some of the more intriguing picks made during the 2013 NFL Draft. The goal of the series is to identify one relatively unheralded player per team who appears to be a good schematic fit and, therefore, more likely to be a surprise contributor early in his pro career.
New Orleans Saints' best fit: NG John Jenkins, Georgia, Third Round, No. 82 overall
It might all be about Drew Brees and the offense in New Orleans but for the Saints, the defense needed a boost.
A common misconception about the NFC South is that success in the division is predicated on the quarterbacks. Brees and Matt Ryan are two of the elite passers in the NFL and Cam Newton and Josh Freeman have flashed the traits to potentially join them, but powerful rushing attacks in Atlanta, Carolina and Tampa Bay gashed the Saints a season ago. New Orleans, in fact, finished dead last in the NFL in 2012 in run defense, allowing an average of 147.6 yards per game on the ground.
Some of this can be attributed to teams running the ball (and grinding the clock) in an effort to keep Brees and the Saints' dynamic offense off the field.
It is also is a reflection of the lack of size, strength and toughness from the Saints' defense, especially in the middle.
And that is where Big John Jenkins comes into play.
The 6-foot-4, 346-pound Jenkins is expected to overtake veteran Brodrick Bunkley as the Saints' opening day starter at nose guard in new defensive coordinator Rob Ryan's beloved 3-4 defense.
It is a role Jenkins played well at Georgia after signing with the Bulldogs as a highly regarded junior college prospect.
Though any nose guard's primary role is as a run-stuffer, it wouldn't be fair to characterize Jenkins as just a block-eater. He racked up 50 tackles a season ago for the Bulldogs and recorded 10 quarterback hurries during his initial season in Athens. While massive, Jenkins is a remarkable athlete. His long arms and quick feet made him difficult to block during his two seasons in the SEC and against the elite prospects in the country at the Senior Bowl.
Jenkins is a naturally large man with a surprisingly well-proportioned physique despite his weight. He has struggled with his weight, on occasion, however and -- like most players his size -- was prone to taking plays off in college. These factors led to his falling to the third round, where the Saints aggressively traded up to land him.
If Jenkins can lay off the po' boys in New Orleans, he has a chance to be the boulder in the middle of a defense that could turn things around quickly.
Who Dat? They'll Know Soon Enough (other thoughts on the Saints' 2013 draft class)
Three of the Saints' first four picks in the 2013 draft came from relative powerhouse programs but the third-round selection of Arkansas Pine Bluff left tackle Terron Armstead is the player who could make or break New Orleans' class.
Armstead became a media darling by demonstrating his jaw-dropping athleticism at the combine, registering a blistering 4.65-second time in the 40-yard dash at 6-5, 306 pounds and posting a 34.5 inch vertical jump. Because of these feats, even some casual fans have heard of him. Few, however, saw him play with the Redhawks.
Scouts, of course, certainly knew of Armstead long before his much-celebrated exploits in Indianapolis. Armstead entered his senior campaign very much on their radar and leapt up the board with a spectacular week at the East-West Shrine Game. One high-ranking NFL official in St. Petersburg, Fla., for the game told me at the time that the Arkansas Pine Bluff tackle was "clearly the top prospect here."
The Saints are certainly hoping Armstead's athleticism translates into immediate success; the Redhawk is competing with former No. 2 overall pick Jason Smith (St. Louis) and 2010 second-round selection Charles Brown for the right to replace Jermon Bushrod as Drew Brees' blindside protector.
No team has enjoyed more success at left tackle over the past 20 years than the Saints. From Hall of Famer Willie Roaf to Kyle Turley to Jammal Brown to Bushrod (who signed with the Chicago Bears in free agency), the Saints' starting left tackle has earned a Pro Bowl nod 15 times during that span.
Armstead, 6-foot-5, 304, has the size and athleticism to continue this impressive streak and the Saints have won big with "small school" prospects on the offensive line before under Payton. After all, few had heard of Bushrod (Towson) or guard Jahri Evans (Bloomsburg), a fellow Pro Bowler, prior to them joining New Orleans, either.
If there is one thing that Brees has proven over his time in New Orleans it is that he's going to throw the ball to whoever is open. Marques Colston's emergence, as a seventh-round pick from Hosfstra, is perhaps the best evidence of this fact but the success of Lance Moore and the flashes from former Saints' Robert Meachem and Devery Henderson while in New Orleans also support the theory.

As such, fantasy football enthusiasts may want to keep an eye on former Oklahoma wideout Kenny Stills. The 6-foot, 194-pound Stills was very productive in the Sooners' spread attack and possesses the straight-line speed (4.38) and open-field running skills to take advantage of the one on one opportunities he'd receive in this offense.
-- The Saints' 2013 draft class:
1st Round -- No. 15 overall -- S Kenny Vaccaro, Texas
3rd Round -- No. 75 overall -- OT Terron Armstead, Arkansas Pine Bluff
3rd Round -- No. 82 overall -- NG John Jenkins, Georgia
5th Round -- No. 144 overall -- WR Kenny Stills, Oklahoma
6th Round - No. 183 overall -- DE/OLB Rufus Johnson, Tarleton State
-- Key Undrafted Free Agents Signed:

QB Ryan Griffin, Tulane
OLB Chase Thomas, Stanford
ILB Kevin Reddick, North Carolina

Read more about all of the Saints' picks here.

Read all of the Finding the Fits series here.