Finding the Fits: Bucs' Spence has a nose for the ball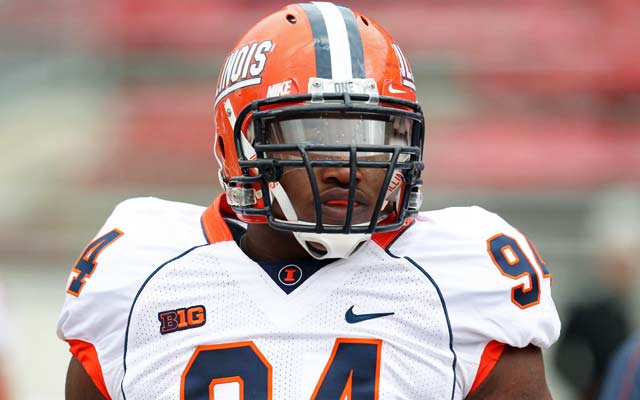 This article is one of a series called Finding the Fits in which NFLDraftScout.comwill review some of the more intriguing picks made during the 2013 NFL Draft. The goal of the series is to identify one relatively unheralded player per team who appears to be a good schematic fit and, therefore, more likely to be a surprise contributor early in his pro career.
Tampa Bay Buccaneers' best fit: DT Akeem Spence, Illinois, 4th Round, No. 100 overall
Considering that the team went from last in the NFL in run defense in 2011 (156.1) to first a season ago (82.5), the Tampa Bay Buccaneers chose a surprising strategy when free agency threatened to steal away half of their starting defensive line.
Despite relatively meager proposals offered by the Jacksonville Jaguars and Seattle Seahawks that the Bucs could have easily matched, Tampa Bay allowed nose tackle Roy Miller and defensive end Michael Bennett to leave.
Perhaps head coach Greg Schiano and general manager Mark Dominik viewed Miller and Bennett as complementary pieces to their turnaround on defense. With holdovers Gerald McCoy, Adrian Clayborn and Da'Quan Bowers returning, the Bucs might be able to match last year's stingy defense.
It is also possible that Tampa identified younger, cheaper players in the 2013 draft class who fit the mold of their free-agent defections.
This appears to be precisely the case with fourth-round selection Akeem Spence, a virtual clone of Miller, who the Bucs thought highly enough to trade up 12 spots to take with the 100th pick of the draft.
The 6-foot-1, 307-pound Spence won't be handed Miller's old job as the nose guard in Tampa's Stunt 4-3 defense but his excellent strength, quick feet and high motor make him a logical candidate to do so. Like the 6-2, 310-pound Miller, Spence's short, wide frame gives him a natural leverage advantage, making him a stout run defender.
One area in which Spence may prove to be an upgrade over Miller is on runs to the outside. Virtually all of Miller's 24 tackles a season ago came inside the guard box. Spence, however, is relentless in pursuit, helping him record an eye-popping 72 tackles last year for the Illini.
Team officials rarely project rookies selected in the middle rounds as starters but Dominik said that he "expects" Spence to be his club's starting nose tackle in a conversation with local sports radio personality Justin Palowski on 98.7 The Fan a week after the draft.
Spence's primary competition will be journeyman Gary Gibson, who recorded 18 tackles in his first season with Tampa after stops in St. Louis, Carolina and Baltimore.
Upgrading to the Latest Model (other thoughts on the Bucs' 2013 draft class)
With all due respect to the stellar job turned in by Schiano and his staff, one of the reasons for Tampa's incredible turnaround in run defense was its dramatic breakdowns a season ago against the pass.
Considering that the Bucs will play Drew Brees, Matt Ryan and Cam Newton twice a year, struggling against the pass is a recipe for disaster that pushed the Bucs to invest millions in San Francisco free agent Dashon Goldson and trade their first-round pick in the 2013 draft to the New York Jets for Darrelle Revis.
Any review of the Bucs' rookie class must take the trade for Revis into account. Clearly, if healthy, the former All-Pro cornerback is a steal for the No. 13 overall pick (which the Jets used on defensive lineman Sheldon Richardson).
Rather than rest on their laurels, however, the Bucs added Johnthan Banks (6-2, 215) with their second-round selection, adding a lanky, press corner with the ball skills (16 career interceptions) to handle coverage duties opposite Revis. After drawing the top receiver from SEC competition throughout his career, Banks is perhaps as well-suited to this pressure as any cornerback in the class. It remains to be seen whether he'll play well enough to push veteran Eric Wright (5-10, 200) inside to nickel, but from a size and quickness perspective, that would seem to be the best fit for each.
Spence appears to have the easiest path towards a starting position for the Bucs in 2013, but fellow fourth-round defensive lineman William Gholston is also expected to play a critical role in the team's rotation up front.
Just as Spence possesses a similar frame and skill-set as Miller, the 6-6, 281-pound Gholston has the bulk and burst to take over Bennett's role as the Bucs' most versatile pass rusher.
Bennett enjoyed a breakout 2012 season, recording a team-high nine sacks amongst his career-high 41 tackles in his first season as a full-time starter. Gholston has the talent to duplicate these numbers early in his NFL career but he struggled with consistency throughout much of his time at Michigan State, which is why he lasted until the third day.
Gholston's best opportunity for extended playing time could come early as the Bucs will want to take things slow with Clayborn (ACL) and Bowers (torn Achilles), who each went down to serious injuries last year.
The Bucs' 2013 draft class:
2nd Round -- No. 43 overall - CB Johnthan Banks, Mississippi State
3rd Round -- No. 73 overall - QB Mike Glennon, North Carolina State
4th Round -- No. 100 overall - DT Akeem Spence, Illinois
4th Round -- No. 126 overall - DE William Gholston, Michigan State
5th Round - No. 147 overall - DE Steven Means, Buffalo
6th Round - No. 189 overall - RB Mike James, Miami
Key Undrafted Free Agents Signed:
CB Rashaan Melvin, Northern Illinois
WR D.J. Monroe, Texas
CB Branden Smith, Georgia