Finding the Fits: Having a Ball in Denver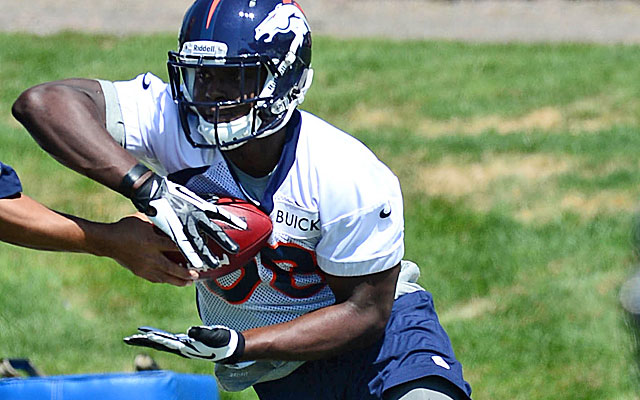 This article is one of a series called Finding the Fits in which NFLDraftScout.com will review some of the more intriguing picks made during the 2013 NFL Draft. The goal of the series is to identify one relatively unheralded player per team who appears to be a good schematic fit and, therefore, more likely to be a surprise contributor early in his pro career.
Denver Broncos' best fit: RB Montee Ball, Wisconsin, Second Round, No. 58 overall
In terms of scheme and opportunity, few rookies are in better position to make an immediate impact in the NFL than running back Montee Ball with the Denver Broncos.
Perhaps the greatest advantage Ball (and every other Denver back) has going is the fact that every defense the Broncos face will be focusing on stopping Peyton Manning more than the running game. It doesn't take an expert in the zone-blocking scheme to understand that with defenses spread out wide to stop the pass, running lanes should be easy to exploit.
Nevertheless, the Broncos added the wizard of zone-blocking, Alex Gibbs, to their staff for 2013 to supplement current offensive line coach Dave Magazu, who has spent the past 10 seasons working with head coach John Fox in Carolina and Denver.
The attack fits in nicely with Ball, despite the fact that zone blocking will be a bit of an adjustment considering his success at Wisconsin came via a more traditional power-based attack.
In a zone-blocking scheme, vision, balance and burst are the primary traits scouts are looking for. Straight-line speed is perhaps the most overrated element of running back play in this attack. Therefore, the 4.59-second 40-yard dash Ball was credited with at the 2013 combine isn't nearly as much of a concern in this scheme as it would be for others. Terrell Davis (4.70), Arian Foster (4.68) and Alfred Morris (4.67) are just some of the backs who have starred in the zone-blocking scheme despite less-than-impressive speed.
Running won't be an issue for Ball in Denver. The bigger adjustment for the rookie -- like most young backs in the NFL -- will come in the passing game. The early reviews of Ball's performance as a receiver out of the backfield and when picking up blitzes in early workouts, however, have been favorable.
Perhaps most important, Ball, himself, is feeling confident in his growth.
"It's funny because today I came in feeling extremely comfortable," Ball said following practice two weeks ago. "The jitters are gone and now I'm ready to play. I feel like I sort of showcased that today in practice. I knew all of my assignments, and I didn't look like I was a chicken with his head cut off in the backfield."
Putting the D in Denver (other thoughts on the Broncos' 2013 draft class)
The vast majority of the national attention regarding the Broncos' 2013 draft class is going to revolve around Ball, especially after McGahee's release. What little is left will likely focus on the club's first-round pick, former UNC defensive tackle Sylvester Williams -- and for good reason. He, too, is expected to play a critical role in his first season (if not win a starting job, outright) due to an impressive combination of size and overall athleticism.
Scouts on hand for Williams' Pro Day workout were dazzled with his light feet and balance. The 6-foot 3, 311-pounder was actually put through running-back drills, demonstrating not only his athleticism but his willingness to work. The combination has already led to Denver defensive coordinator Jack Del Rio comparing Williams to the Broncos' surprise first-round defensive tackle a season ago, former Cincinnati standout Derek Wolfe, who led the team's interior linemen with six sacks in 2012.
"Both of these young men, you've watched them come in the building -- they both have approached it very similarly," Del Rio told reporters during the team's rookie minicamp. "Come in kind of determined, serious, mature in their approach. I think you're going to see Sylvester be able to come in and impact us in a similar way."
While the Broncos' first two picks of the 2013 draft are expected to contribute immediately, several of their Day 3 selections could wind up paying off big down the road, not the least of which is former Western Kentucky pass-rusher Quanterus Smith, whom the Broncos nabbed in the fifth round.
There simply is no telling how much higher Smith would have been selected if not for suffering a torn ACL November 17. At the time, the 6-5, 250-pound Smith was leading the nation with 12.5 sacks, three of which came against Alabama.
World-renowned surgeon Dr. James Andrews operated on Smith a week after his injury and Smith proved that he is well on his way towards recovering from the injury by participating in individual and positional drills during the Broncos' OTAs June 3-6.
Smith is a natural pass-rusher, blessed with length and enough burst to pressure the edge. The former Western Kentucky standout is surprisingly technically-savvy, using his hands well to keep blockers away from his frame and locating the ball quickly.
Smith still needs to add strength to be able to hold up against the run, but with opponents likely to throw the ball often to keep up with Denver's explosive offense, the rookie could emerge as a surprising pass-rush specialist early in his career on his way toward developing into a quality all-around performer.

-- The Broncos' 2013 draft class:
1st Round -- No. 28 overall -- DT Sylvester Williams, North Carolina
2nd Round -- No. 58 overall -- RB Montee Ball, Wisconsin
3rd Round -- No. 90 overall -- CB Kayvon Webster, South Florida
5th Round -- No. 146 overall -- DE Quanterus Smith, Western Kentucky
5th Round -- No. 161 overall -- WR Tavarres King, Georgia
6th Round -- No. 173 overall -- OT Vinston Painter, Virginia Tech
7th Round -- No. 234 overall -- QB Zac Dysert, Miami (Ohio)

-- Key Undrafted Free Agents Signed:

OL Manase Foketi, West Texas A&M
TE Lucas Reed, New Mexico
WR Lamaar Thomas, New Mexico
WR/KR Quincy McDuffie, Central Florida

Read more about all of the Broncos' picks here.

Read all of the Finding the Fits series here.