Finding the Fits: Chiefs TE Kelce positioned to star early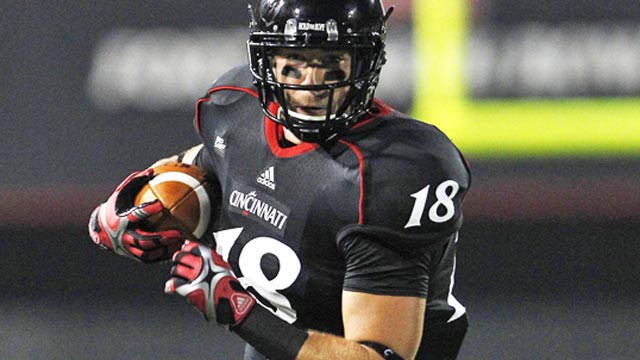 This article is one of a series called Finding the Fits in which NFLDraftScout.com is reviewing some of the more intriguing picks made during the 2013 NFL Draft. The goal of the series is to identify one relatively unheralded player per team who appears to be a good schematic fit and, therefore, more likely to be a surprise contributor early in his pro career.
Kansas City Chiefs' best fit: TE Travis Kelce, Cincinnati, Third Round, No. 63 overall
Four years ago, optimism was high that the Kansas City Chiefs may have found a replacement for future Hall of Fame tight end Tony Gonzalez with the selection of a highly athletic pass-catcher in the third round.
After three years in the NFL, the Chiefs are rightfully concerned if Tony Moeaki, the No. 93 overall pick of the 2010 draft, will ever be able to make it through a full season. He missed the entire 2011 season and has undergone knee surgeries after each of his other two seasons in the NFL. Moeaki missed the Chiefs' recent OTAs and head coach Andy Reid isn't certain he'll be back in time for training camp.
"We'll see," Reid said in May. "Right now I'm thinking he will be but we'll see how that goes. He's working like crazy."
At least partially due to concerns about Moeaki, the Chiefs signed steady veteran Anthony Fasano to a four-year deal in the offseason. While Fasano has proven to be a reliable blocker and red-zone target, he doesn't possess Moeaki's ability to stretch the field, which is precisely the role the Chiefs' newest third-round gamble at tight end could star in.
Kelce's unique combination of size (6-foot-5, 255) and overall athleticism immediately caught the attention of former Cincinnati Bearcats (and current Notre Dame) head coach Brian Kelly, who rotated Travis, the younger brother of Philadelphia Eagles lineman Jason Kelce, between Wildcat quarterback and tight end during his freshman season.
Splitting time at two positions may have stunted Kelce's performance (a suspension from the team didn't help) and he slipped down the depth chart. In 2012, however, Kelce enjoyed a breakout senior campaign, leading the Bearcats with 45 catches for 722 yards and eight touchdowns. His tenacious blocking and surprising mobility had Kelce well on his way toward vaulting into top-50 consideration.
However, he suffered a hernia that robbed him of the opportunity to compete at the Senior Bowl and contend with Notre Dame's Tyler Eifert as the top tight end prospect in the country. The resulting surgery not only kept him from Mobile but from the scouting combine, as well.
Competitive, athletic and going to a club potentially in desperate need for a playmaker down the seam, Kelce has a chance to once again make the tight end position one to fear in Kansas City.
Curious picks could draw criticism in KC (other thoughts on the Chiefs' 2013 draft class)
Despite finishing with an NFL-worst 2-14 record in 2012 and earning the No. 1 overall pick of the 2013 draft, a quick look at the Chiefs roster shows this isn't a team lacking in talent.
After all, the 2012 Chiefs were the first club in NFL history to send six players to the Pro Bowl (S Eric Berry, RB Jamaal Charles, P Dustin Colquitt, OLBs Tamba Hali and Justin Houston and ILB Derrick Johnson) the same season in which it finished with the league's worst record.
The Chiefs also brought in veteran talent evaluator John Dorsey as general manager, Andy Reid as an established head coach, and traded for former No. 1 overall pick Alex Smith to play quarterback. So, it's easy to understand why expectations are higher in Kansas City than they might be in Jacksonville or Oakland (owners of the second- and third-worst records in 2012).
The Chiefs were dealt a tough hand by receiving the No. 1 overall pick for the first time in team history in a year lacking a standout elite prospect. Dorsey announced at the combine that the top selection was available for trade but ultimately took the top player on the Chiefs' board in tackle Eric Fisher, even though he is unlikely to make a dramatic impact at right tackle.
The selection of Fisher over early favorite Luke Joeckel could pay more immediate dividends for the Chiefs. Fisher is more physically ready to handle the rigors of the NFL, possessing a bigger, stronger frame. He's also the better run blocker, which ties in nicely with Reid's strategy of featuring Charles. Only time will tell if he possesses the foot speed to handle the AFC West's dominant rusher, Von Miller from Denver, a player Joeckel faced often while the two practiced together as starters at Texas A&M.
If the selection of Fisher didn't draw criticism in Kansas City, the gamble on Arkansas running back Knile Davis in the third round certainly could.
Davis has drawn comparisons to former Razorback (and current Oakland Raiders) star Darren McFadden throughout his career because of his eye-popping combination of size (6-foot, 227), strength (31 reps) and straight-line speed (4.35). When healthy, Davis showed the ability to slash his way through defenses like no back in the 2013 draft class.
Unfortunately, Davis' injury history is both frightening and long -- headlined by missing the entire 2011 season with a broken ankle. This came after the only healthy season Davis enjoyed dating back to high school, where he played in just five combined games in his junior and senior seasons due to a broken collarbone and another broken ankle.
In the weeks leading up to the draft, NFLDraftScout.com was told by representatives from multiple teams that Davis' struggles with durability was likely to push the talented back to at least the fifth round.
For better or worse, the Chiefs' selections of Fisher and Davis could be the two picks Dorsey and Reid's first draft together is ultimately judged by.
-- The Chiefs' 2013 draft class:
1st Round - No. 1 overall - OT Eric Fisher, Central Michigan
3rd Round -- No. 63 overall - TE Travis Kelce, Cincinnati
3rd Round - No. 96 overall - RB Knile Davis, Arkansas
4th Round - No. 99 overall - ILB Nico Johnson, Alabama
5th Round -- No. 134 overall - DB Sanders Commings, Georgia
6th Round -- No. 170 overall - C Eric Kush, California (PA)
6th Round - No. 204 overall - RB Braden Wilson, Kansas State
7th Round - No. 207 overall - DE Mike Catapano, Princeton
-- Key Undrafted Free Agents Signed:
QB Tyler Bray, Tennessee
OL Colin Kelly, Oregon State
DL Brad Madison, Missouri
Read more about all of the Chiefs' picks here.
Read all of the Finding the Fits series here.