Finding the Fits: Sio Moore attack from the Silver and Black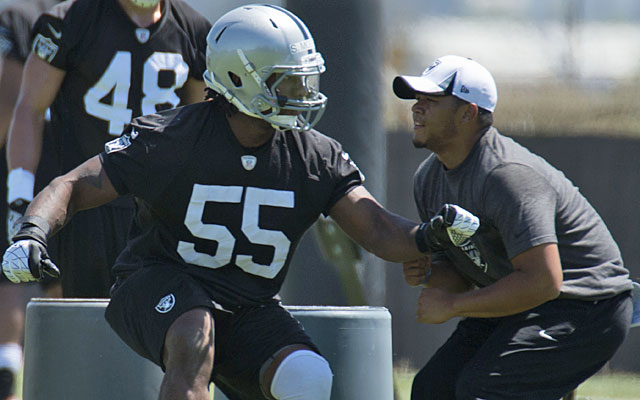 This article is one of a series called Finding the Fits in which NFLDraftScout.com will review some of the more intriguing picks made during the 2013 NFL Draft. The goal of the series is to identify one relatively unheralded player per team who appears to be a good schematic fit and, therefore, more likely to be a surprise contributor early in his pro career.
Oakland Raiders' best fit: OLB Sio Moore, Connecticut, third round, No. 66 overall
The only fearsome thing on the Raiders' defense last year was the decal on their helmet. The club finished 28th in the NFL in points allowed per game (27.7) and surrendered that in nearly 100 fewer plays than it took the Tennessee Titans to allow a league-worst 29.4. The Raiders ranked behind only the Jacksonville Jaguars in sacks with 25, and no team finished with fewer forced fumbles (three) a season ago.
Rather than replace the coaching staff for the eighth time since 2002 (think about that for a minute), head coach Dennis Allen and general manager Reggie McKenzie overhauled the linebacking corps, signing veterans Nick Roach (Chicago Bears), Kaluka Maiava (Cleveland Browns) and Kevin Burnett (Miami Dolphins) to compete with solid second-year defender Miles Burris.
Roach is viewed as the only lock to start. As the middle linebacker in Oakland's 4-3 defense, he'll almost certainly lead the team in tackles.
Rookie Sio Moore, however, could prove to be the big-play specialist the Raiders have been searching for at linebacker for years.
Moore led UConn with 15½ tackles for loss in 2012, which gave him an eye-popping 43 for his career. His sack numbers increased each of his three seasons as a starter (1½-6½-7½), and he developed into a savvy defender in coverage as a senior (11 pass breakups) as well, showcasing the versatility necessary in today's NFL.
Some scouts believed the Huskies' aggressive defense inflated his statistics, but Moore's recognition and burst through gaps made him a terror at the East-West Shrine Game and as a late addition at the Senior Bowl (where he was coached by the Raiders). Moore followed up his impressive all-star exploits with a terrific all-around performance at the combine, where the 6-foot-1, 245-pound linebacker clocked in at 4.62 seconds in the 40-yard dash, lifted the bar 29 times and posted a 38-inch vertical jump.
The third-round pick wasted little time turning heads in Oakland.
"I like Sio," Allen told reporters following minicamp last week. "Sio's a rookie; he makes some rookie mistakes. But he's a big, powerful man. And he's got a little bit of pass-rush ability to him. So, I like some of the flexibility that he gives us.
"What you look at is you look at football intelligence, and he's got some football intelligence and some football savvy about him. We got a big volume of stuff that we're throwing at him, and sometimes it can overload him. He's a guy that continues to go out there and work every day. His work ethic and his understanding of the game of football is what's going to allow him to be a good player for us."
Finally, optimism in Oakland (other thoughts on the Raiders' 2013 draft class)
While Moore could prove the flashiest of the Raiders' 10 selections, the entire class could one day be viewed as the haul that led to Oakland's revival.
Cornerback D.J. Hayden's miraculous recovery from a life-threatening injury (torn inferior vena cava) dominated his buildup to the draft, but scouts traveling through Houston before he was injured were consistently pegging him as a first-round prospect. He threw a scare into the club by missing some of the OTAs with surgery to remove scar tissue in his abdomen but is expected to be ready to go by training camp. Hayden impressed onlookers before the procedure with his fluidity and ball skills. ...
Small hands and a tough senior campaign pushed quarterback Tyler Wilson to the fourth round, but he has the talent and toughness necessary to start in the NFL. Allen named veteran Matt Flynn as his starter, and there is no question that the former backup in Seattle and Green Bay puts Oakland in a better position to win now. But Wilson is the more gifted passer. Unless the Raiders surprise as playoff contenders, expect to see the former Arkansas star get his opportunity to start a few games late in the year. ...
Tony Sparano's failed attempts with the wildcat in Miami and New York earned him plenty of derision from the media and fans, but he's among the most respected offensive line coaches in the league. With Sparano's tutoring, second-round offensive tackle Menelik Watson could develop into a Pro Bowl performer. ...
The Raiders might have provided a glimpse as to their plans in new offensive coordinator Greg Olson's offense with the selection of a pair of tight ends in the sixth round. Colorado's Nick Kasa (6-6, 269) and Tennessee's Mychal Rivera (6-3, 242) join a club that was already led in receptions a season ago by veteran tight end Brandon Myers. Flynn does not have a big arm but does have good accuracy in the short and intermediate levels. With division opponents Denver, Kansas City and San Diego all relying in large part on 3-4 principles, attacking down the seams with tight ends would seem like a logical strategy and could lead to a surprising contribution from the late-round prospects.
-- The Raiders' 2013 draft class:
1st Round -- No. 12 overall -- CB D.J. Hayden, Houston
2nd Round -- No. 42 overall -- OT Menelik Watson, Florida State
3rd Round -- No. 66 overall -- OLB Sio Moore, Connecticut
4th Round -- No. 112 overall -- QB Tyler Wilson, Arkansas
6th Round -- No. 172 overall -- TE Nick Kasa, Colorado
6th Round -- No. 181 overall -- RB Latavius Murray, Central Florida
6th Round -- No. 184 overall -- TE Mychal Rivera, Tennessee
6th Round -- No. 205 overall -- DT Stacy McGee, Oklahoma
7th Round -- No. 209 overall -- WR Brice Butler, San Diego State
7th Round -- No. 233 overall -- DE David Bass, Missouri Western

-- Key undrafted free agents signed:
DB Adrian Bushell, Louisville
OT John Wetzel, Boston College
WR Conner Vernon, Duke

Read more about all of the Raiders' picks here.

Read all of the Finding the Fits series here.