Finding the Fits: Cornerback Williams could surprise in San Diego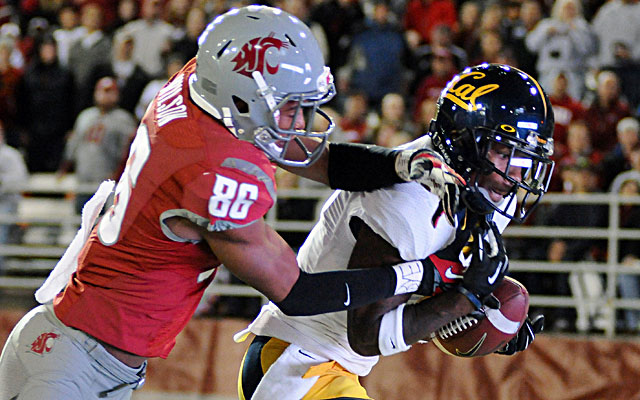 This article is one of a series called Finding the Fits in which NFLDraftScout.com will review some of the more intriguing picks made during the 2013 NFL Draft. The goal of the series is to identify one relatively unheralded player per team who appears to be a good schematic fit and, therefore, more likely to be a surprise contributor early in his pro career.
San Diego Chargers' best fit: CB Steve Williams, Cal, 5th Round, No. 145 overall
With only six picks in the 2013 draft, new San Diego Chargers' general manager Tom Telesco had limited ammunition to retool a roster left with some glaring holes, especially along the offensive line and in the secondary.
San Diego's first two picks - right tackle D.J. Fluker and inside linebacker Manti Te'o -- are expected to start and play well immediately. As one of the potential felony-caliber steals of the 2013 draft, third-round wideout Keenan Allen made sense to profile here, as well.
Few outside of Pac-12 country, however, know much about former Cal cornerback Steve Williams, the Chargers' fifth-round pick. That could be about to change as the former all-conference defender could play a surprisingly impactful role in San Diego as a rookie.
Telesco and new head coach Mike McCoy allowed former first-round picks Quentin Jammer (2002) and Antoine Cason (2008) to leave via free agency. Former Jacksonville Jaguars' corner Derek Cox was signed to a four-year, $20-million deal to stabilize one half of the field but the other side is expected to be manned by either 2011 third-round pick Shareece Wright or fellow third-year pro Johnny Patrick, who was released by New Orleans. Patrick started one game for the Saints in 2012. Wright has yet to start an NFL game. Cox, while quite effective when healthy, hasn't been able to remain so often. After playing in all 16 games for the Jaguars as a rookie, Cox has missed 17 games over the past three years due to injury.
At just 5 feet 9, 181 pounds, Williams hardly looks the part of a savior at cornerback for the Chargers but his durability and playmaking ability at Cal made him one of the Pac-12's most-respected defenders. While obviously smaller than scouts would prefer, Williams is a tenacious, physical defender who doesn't back down from the challenges of facing bigger receivers. Few from the 2013 draft class were faster (4.34 seconds in the 40-yard dash at the combine) or a more explosive leaper (40.5 in the vertical jump) than Williams and he is far from just a workout warrior.
Williams saw action in all 37 possible games over his three seasons at Berkley, starting the final 25 before leaving after his junior season. Surprisingly stout against the run and very fluid in coverage, Williams recorded 80 tackles in 2012 and led Cal with 13 passes broken up, including three interceptions.
In an ideal world, Williams would be asked to play nickel back as a rookie, where his quickness and toughness make him the Chargers' best in-house candidate to handle speedy slot receivers Wes Welker (Denver), Dexter McCluster (Kansas City) and Jacoby Ford (Oakland) in the division.
Don't be surprised, however, if Williams' turns heads during training camp and puts himself in position to contend for a starting role opposite Cox. Considering Cox's struggles with durability, as well as the relative unknowns that are Wright and Patrick, Williams appears likely to be destined to see significant action as a rookie.
Surprisingly enough -- considering the expectations most have of a fifth-round pick -- that could prove a good thing for the Chargers.
Solid Start in San Diego (other thoughts on the Chargers' 2013 draft class)
Nothing is known for certain, of course, until players hit the field but since the draft multiple sources throughout the league have commented that few teams appeared to have accomplished more with less than the Chargers.
Fluker, 6-5, 339-pounds, is a mauling right tackle who instantly improves the toughness and physicality of San Diego's front. While seniors Chance Warmack and Barrett Jones earned most of the attention at Alabama, Fluker, who left after his junior season, was viewed as the emotional leader of the line. One of the reasons why his stock rose as the draft approached was that scouts felt that he was one of the best candidates to handle the jump in competition, speed and toughness in the NFL.
For all of the negativity in the media surrounding Te'o following the Lennay Kekua hoax, he similarly remained one of the safer prospects in the eyes of scouts. As one longtime scout told me following the draft, "Te'o is a good player. He proved that over his career at Notre Dame and will prove that in San Diego, as well. The problem is, playing for a high-profile program, he was branded as a great player -- and he's not that. He's good, not great. He didn't fall to the second round. That's where middle linebackers go now."
Te'o is in an ideal position in San Diego. The Chargers' 3-4 alignment protects his lack of ideal speed as he won't have to beat backs to the sideline. Furthermore, the Southern California media is viewed as much more player-friendly than in other media markets and therefore the Kekua story is slowly (but surely) losing its luster...
If wideout Keenan Allen proves that the comparisons to Anquan Boldin are valid (and I think he will), the eighth receiver selected in the 2013 draft will wind up outperforming most of the wideouts selected ahead of him. McCoy's offense helped make big-bodied receivers Demaryius Thomas and Eric Decker into stars in Denver, which bodes well for the long-term success of the 6-2, 206-pound Allen.

-- The Chargers' 2013 draft class:
1st Round - No. 11 overall - OT D.J. Fluker, Alabama
2nd Round -- No. 38 overall - ILB Manti Te'o, Notre Dame
3rd Round - No. 76 overall - WR Keenan Allen, California
5th Round - No. 145 overall - CB Steve Williams, California
6th Round - No. 179 overall - DE/OLB Tourek Williams, Florida International
7th Round - No. 221 overall - QB Brad Sorensen, Southern Utah

-- Key Undrafted Free Agents Signed:
NT Kwame Geathers, Georgia
OT Nick Becton, Virginia Tech
CB Kenny Okoro, Wake Forest

Read more about all of the Chargers' picks here.

Read all of the Finding the Fits series here.