Finding the Fits: Safety first for Cardinals' Mathieu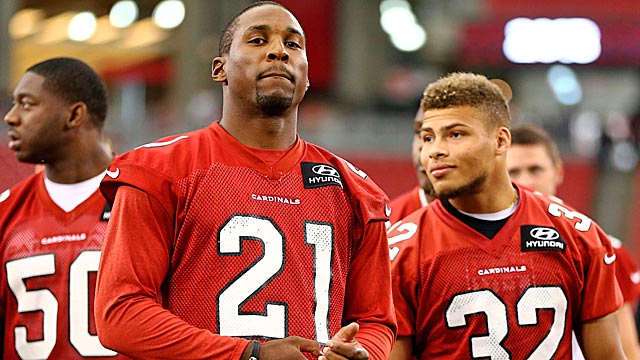 This article is one of a series called Finding the Fits in which NFLDraftScout.com will review some of the more intriguing picks made during the 2013 NFL Draft. The goal of the series is to identify one relatively unheralded player per team who appears to be a good schematic fit and, therefore, more likely to be a surprise contributor early in his pro career.
Arizona Cardinals' best fit: DB/RS Tyrann Mathieu, LSU, 3rd Round, No. 69 overall
When the Arizona Cardinals brazenly overlooked Mathieu's long history of off-field troubles to make him the No. 69 overall selection of the 2013 draft, some questioned if this wasn't too risky of a pick for first-time GM Steve Keim.
That's not the way that Keim, who has worked for the organization since 1999, saw things. The bigger risk would be to allow a talent like Mathieu to slip any further.
"I don't know if I'd go out on a limb and say [Mathieu] could become the best corner in the draft," Keim told Albert Breer of NFL.com two weeks after the draft. "What I would go out on a limb and say is, he could be the best playmaker in the draft. He just has such unique skill, with instincts and getting his hands on the ball. He's so opportunistic on the field."
Mathieu has worked hard to disassociate himself from the "Honey Badger" moniker that some associated with his reckless behavior off the field at LSU. It's too bad because the nickname is as apt as you're likely to find.
Despite less-than-ideal size for surviving in the wild, badgers are known for their aggression and tenacity -- which is precisely the way the 5-foot-9, 186-pound Mathieu attacks the football.
Though virtually all of Mathieu's experience in college came at cornerback, the 2011 Heisman Trophy finalist is taking most of his snaps with the Cardinals at free safety, giving the club an instinctive ball-hawk deep to complement long, press corners Patrick Peterson (6-1, 219) and free-agent addition Antoine Cason (6-1, 195).
One of Keim's other gambles already sees how this roll of the dice could pay off for the rookie.
"He reminds me of Troy Polamalu with his closing speed," quarterback Carson Palmer told Peter King of SI.com. "He might not be the fastest guy out there, but he can change directions and get to the ball really fast, like Troy."
Like most safeties, Polamalu has made many of his biggest plays for the Pittsburgh Steelers as a pass thief. Mathieu's knack for ripping the ball free (11 forced fumbles in two seasons) makes him an equally dynamic big-play threat whether the ball is in the air or in his opponents' possession. As a free safety, Mathieu will be in position to deliver bone-crunching hits as the ball arrives, and he'll also be able to rip the ball away as other defenders are making the tackle.
It is because of this ability to force fumbles that some scouts have likened Mathieu to Chicago Bears Pro Bowl cornerback Charles Tillman, who led the NFL with 10 a season ago and boasts an eye-popping 39 over his career. And once he gets the ball in his hands, Mathieu's vision, agility and experience as a returner make him a threat to score -- just as Tillman did with three touchdowns in 2012 for the Bears.
There is no question that Keim and the Cardinals took a risk with Mathieu. However, the presence of former LSU teammates Peterson, safety Curtis Taylor and fellow rookie ILB Kevin Minter should make for a relatively cozy nest.
If so, Mathieu's big-play ability will continue to earn him comparisons to some of the NFL's best defensive backs -- because he'll quickly emerge among them.
Doubling Down in the Desert (other thoughts on the Cardinals' 2013 draft class)
Keim and new head coach Bruce Arians' reputation as gamblers during the offseason were bolstered with the club opting to bet heavy at key positions of need.
The trade for Palmer gives Arizona the first legitimate NFL starting quarterback since Kurt Warner retired in 2010.
Palmer was unable to turn around a moribund Raiders franchise in two seasons, but he quietly eclipsed 4,000 passing yards and threw 22 touchdowns against 14 interceptions. Palmer's passer rating in Oakland last season (85.3) was his highest since starting 16 games for Cincinnati in 2007.
For the gamble on Palmer to work, the Cardinals must get better play out of their offensive line. The club is confident that left tackle Levi Brown will return to form and see first-round pick Jonathan Cooper capable of emerging as a Pro Bowler next to him. Fourth-round pick Earl Watford isn't nearly as polished as Cooper but gives the club solid depth after the release of former expensive free-agent signee Adam Snyder.
The Cardinals are hopeful that another veteran, Rashard Mendenhall, can provide some consistency in the running game. The position has been ravaged by injuries to high picks Beanie Wells and Ryan Williams in recent years, and the 26-year-old Mendenhall, who twice rushed for more than 1,000 yards under Arians in Pittsburgh, is in good position to revitalize his career if he can take advantage of the one-year "show me" contract that he signed with the Cardinals.
Like Wells (currently a street free agent) and Williams, however, Mendenhall has struggled with durability, which could put fifth-rounder Stepfan Taylor in position to take meaningful snaps this season.
Due to an outdated and unfair rule that keeps players from participating in NFL practices until their classes graduate, Taylor was unable to play during Arizona's minicamp and OTAs. That didn't keep veteran running back coach Stump Mitchell from coaching up his newest protege during his "vacation" time, a sign that the Cardinals are eager to see what the relatively pro-ready Taylor can provide this year.
-- The Cardinals' 2013 draft class:
1st Round -- No. 7 overall -- OG Jonathan Cooper, North Carolina
2nd Round -- No. 45 overall -- ILB Kevin Minter, LSU
3rd Round -- No. 69 overall -- DB Tyrann Mathieu, LSU
4th Round -- No. 103 overall -- OLB Alex Okafor, Texas
4th Round -- No. 116 overall -- OG Earl Watford, James Madison
5th Round -- No. 140 overall -- RB Stepfan Taylor, Stanford
6th Round -- No. 174 overall -- WR Ryan Swope, Texas A&M
6th Round -- No. 187 overall -- RB Andre Ellington, Clemson
7th Round -- No. 219 overall -- TE D.C. Jefferson, Rutgers

-- Key Undrafted Free Agents Signed:
FS Tony Jefferson, Oklahoma
OLB Dan Giordano, Cincinnati
WR Dan Buckner, Arizona

Read more about all of the Cardinals' picks here.

Read all of the Finding the Fits series here.