Finding the Fits: Reid brings speed to San Francisco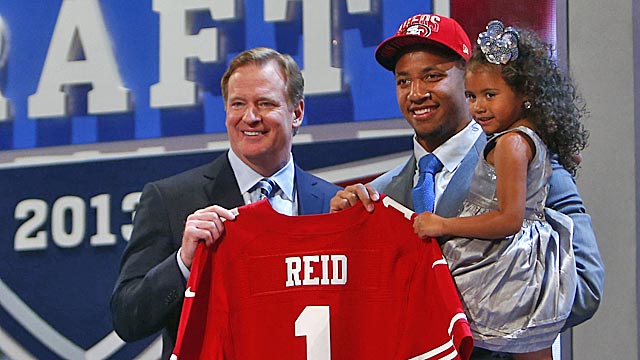 This article is one of a series called Finding the Fits in which NFLDraftScout.com will review some of the more intriguing picks made during the 2013 NFL Draft. The goal of the series is to identify one relatively unheralded player per team who appears to be a good schematic fit and, therefore, more likely to be a surprise contributor early in his pro career.
San Francisco's best fit: FS Eric Reid, LSU First Round, No. 18 overall
Considering that the San Francisco 49ers' rookie class didn't log a single start last season, projecting a first-year player to make a significant impact in 2013 for the defending NFC champions is easier said than done.
Deft trading prior to the 2013 draft, however, gave general manager Trent Baalke the flexibility to target unique fits, including Reid, who looks destined for a starting role.
The 49ers graded Reid as the top safety in the draft and gave up their initial first-round pick (No. 31 overall) as well as the No. 74 overall selection to the Dallas Cowboys so they could move up 13 spots to guarantee acquiring the All-SEC performer. The New Orleans Saints selected Kenny Vaccaro four picks earlier and several clubs with higher picks than the 49ers were thought to be strongly considering a safety, including division rival St. Louis.
Reid joins Jim Harbaugh's squad with plenty of pressure on his shoulders. He was drafted to replace Pro Bowler and free-agent defection Dashon Goldson (who signed with Tampa Bay) and the 49ers expect him to play well immediately.
Like Goldson, Reid is a highly aggressive player who relishes contact, whether it comes in run support or when crushing receivers crossing the middle. Perhaps his most intriguing trait -- and where Reid will prove a significant upgrade over Goldson -- lies with his range in coverage.
At 6 feet 1, 213 pounds and possessing legitimate 4.4 speed, Reid is today's prototypical free safety. His length and speed make him a true centerfielder capable of improving San Francisco's coverage on deep passes, one of the few areas of relative weakness on a defense that ranked second in the NFL in points allowed per game (17.1).
Reid intercepted two passes in each of his three seasons in Baton Rouge and therefore may not prove the ballhawk that usually generates Defensive Rookie of the Year or Pro Bowl votes. His speed, physicality and intensity, however, should fit right in with the 49ers' ferocious defense. As such, for a club rich in talent and draft picks, Reid could be the perfect addition.
Saving for Someday in San Francisco (other thoughts on the 49ers' 2013 draft class)
It's rare that a first-round pick like Reid can be accurately characterized as being overshadowed, but considering the buzz surrounding some of the "other" picks made by Baalke and Harbaugh, it is understandable.
Because they possess arguably the league's most impressive roster from top to bottom, San Francisco was able to draft for the future rather than gamble on immediate impact performers. Pass rusher Cornellius "Tank" Carradine and running back Marcus Lattimore may one day prove the top talents at their respective positions from the 2013 draft class. Their chances of doing so are significantly increased by the fact that the 49ers don't have to rush either back from the leg injuries that cut their 2012 seasons short.
While certainly not as recognizable a name, the more immediate impact could be made by San Francisco's "other" second-round pick: Rice tight end Vance McDonald.
The rookie could be pushed onto the field early because the 49ers lost versatile tight end Delanie Walker to the Tennessee Titans in free agency and asked their incumbent starter Vernon Davis to slide outside to receiver to help ease the loss of wide receiver Michael Crabtree, who suffered a torn Achilles in May. At 6-4, 267 pounds and clocking in at 4.60-seconds in the 40-yard dash, McDonald possesses the combination of size and speed to threaten the seam.
Not only does McDonald possess the physical attributes to help the 49ers, the club may have hurt their newest rival -- the Seattle Seahawks -- by trading one spot ahead of them to nab him.
Due to their trade for veteran Percy Harvin, Seattle's first pick of the 2013 draft was the No. 56 overall selection. Several prospects were linked to the Seahawks with this pick, one of whom was McDonald, whose Pro Day workout the Seahawks (but not the 49ers) attended before the draft.
In perhaps a bit of gamesmanship that may have been in response to Seattle "stealing" Bruce Irvin a year ago, the 49ers swooped in front of Seattle to draft McDonald, trading their second-round pick (No. 61 overall) and a sixth-rounder (No. 173) to Green Bay.
It's unknown whether McDonald actually would have been Seattle's choice at No. 56, but it is interesting to note that the Seahawks traded out of their pick moments later.
-- The 49ers' 2013 draft class:
1st Round -- No. 18 overall -- FS Eric Reid, LSU
2nd Round -- No. 40 overall -- DE/OLB Cornellius "Tank" Carradine, Florida State
2nd Round -- No. 55 overall -- TE Vance McDonald, Rice
3rd Round -- No. 88 overall -- OLB Corey Lemonier, Auburn
4th Round -- No. 128 overall -- WR Quinton Patton, Louisiana Tech
4th Round -- No. 131 overall -- RB Marcus Lattimore, South Carolina
5th Round -- No. 157 overall -- DE Quinton Dial, Alabama
6th Round -- No. 180 overall -- OLB Nick Moody, Florida State
7th Round -- No. 237 overall -- QB B.J. Daniels, South Florida
7th Round -- No. 246 overall -- OT Carter Bykowski, Iowa State
7th Round -- No. 252 overall -- DB Marcus Cooper, Rutgers

-- Key Undrafted Free Agents Signed:
RB D.J. Harper, Boise State
H-Back MarQueis Gray, Minnesota
OT Luke Marquardt, Azusa Pacific
NG Mike Purcell, Wyoming
DL Lawrence Okoye, Great Britain

Read more about all of the 49ers' picks here.

Read all of the Finding the Fits series here.