Finding the Fits: Williams hoping to Roll Tide in Seattle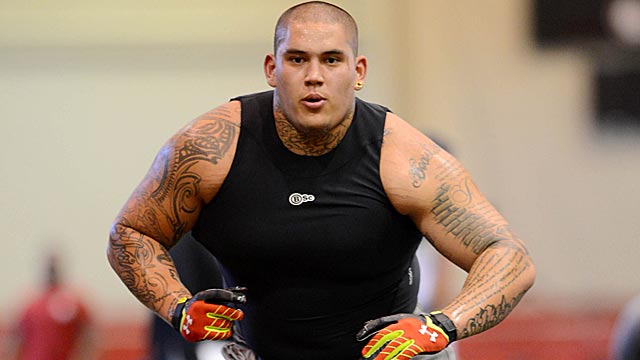 This article is one of a series called Finding the Fits in which NFLDraftScout.com will review some of the more intriguing picks made during the 2013 NFL Draft. The goal of the series is to identify one relatively unheralded player per team who appears to be a good schematic fit and, therefore, more likely to be a surprise contributor early in his pro career.
Seattle's best fit: DL Jesse Williams, Alabama, Fifth Round, No. 137 overall
In allowing a league-low 15.3 points a game last season, the Seahawks' defense developed a reputation as one of the fiercest and most intimidating units in all of the NFL. Head coach Pete Carroll's defensive schemes certainly played a part. So, too, did astute drafting by general manager John Schneider and his staff. Perhaps the most understated reason for Seattle's dominating defense last season, however, was simpler -- the Seahawks were simply tougher and more aggressive than most opponents.
As such, it might feel a bit like a homecoming for rookie Jesse Williams, arguably the most fearsome defender in college football the past two seasons.
Nicknamed "Tha Monstar" at Alabama in part due to his heavily tattooed and massive frame (6-foot-4, 323 pounds), Williams ranked as one of the stouter run defenders in the 2013 draft and was widely viewed as a second-round value.
Instead, the former All-SEC defender slipped into Day 3 due in large part to medical concerns. Many scouts feel that the fifth round is the appropriate place to roll the dice on medical and character concerns. Seattle didn't waste much time once the fifth frame began, trading picks No. 165 (fifth round) and No. 199 (sixth) to the Detroit Lions to select Williams with the fourth pick of the round.
Williams twice underwent knee surgery while at Alabama, the most recent procedure taking place following Alabama's victory over Notre Dame to win its second consecutive BCS title. Recovery from surgery kept Williams sidelined for much of the combine. And while he performed well at Alabama's Pro Day, teams obviously remained concerned about his recovery.
Seattle initially pegged Williams as a three-technique defensive tackle. The Seahawks brought in former Miami Dolphin Tony McDaniel to help replace free-agent defection Alan Branch (Buffalo Bills), but Williams, as well as fellow rookie Jordan Hill, could wrestle away the starting role next to nose guard Brandon Mebane.
Since arriving in Seattle, however, Williams hasn't just impressed at the three-technique position but as a backup to Mebane on the nose and as a five-technique defensive end, as well. This isn't surprising, considering he played both roles well when called upon by Nick Saban and his staff at Alabama.
Following the draft, Carroll lauded his newest pupil.
"This is a really cool football player," Carroll said. "He's very, very strong, he's naturally stout and he's got a great toughness about him."
For a club that prides itself on toughness, Williams looks like the perfect fit.
Rookies bring the spackle to Seattle (other thoughts on the Seahawks' 2013 draft class)
The Seahawks were skewered by most a year ago for their bold selections of slim pass rusher Bruce Irvin in the first round and short quarterback Russell Wilson in the third.
A year later, they look like geniuses.
Demonstrating a poise rarely seen among any player -- and almost never with a first-year quarterback -- Wilson emerged as one of the league's brightest young stars. Irvin, despite not starting a single regular-season game, led all rookies with eight sacks. The club's second-round pick, middle linebacker Bobby Wagner, was overshadowed by his teammates' exploits but quietly finished seventh in the NFL with 140 tackles as a rookie.
Every general manager dreams of drafting a special rookie class that serves as the foundation for the franchise. One year in, and the Seahawks are confident their 2012 crop could be precisely this.
The 2013 class, on the other hand, won't be nearly as heavily leaned upon.
The Seahawks certainly expect veteran Percy Harvin to prove well worth the three picks (including No. 25 overall in the 2013 draft) that they surrendered to get him. Otherwise, most of Seattle's selections in 2013 were made to fill the small gaps in what appears on paper to be one of the league's deepest and most talented rosters.
Despite boasting the league's stingiest defense in 2012, Seattle rarely got much of a push up the middle in passing situations. Third-round defensive tackle Jordan Hill has the quickness and tenacity to aid in this role, as should Williams.
The Seahawks were fascinated by the natural running ability of second-round pick Christine Michael. The former Texas A&M standout boasts an electric combination of burst, agility and speed and gives the club a dynamic option should the ultra-physical Marshawn Lynch wear down. Similarly, the Seahawks are hopeful that big-bodied wideout Chris Harper can step in and contribute should veteran Sidney Rice struggle to duplicate last year's durability.
Fifth-round tight end Luke Willson could see more playing time than initially expected, as the club lost valuable backup Anthony McCoy to a torn Achilles in May. While Wilson is a work in progress as a blocker, the 6-foot-6, 251-pounder has rare speed (4.54) to complement sure-handed (but relatively slow-footed) veteran Zach Miller as the Seahawks' primary threat down the middle.
Former Oakland Raiders head coach Tom Cable successfully molded former North Carolina State defensive tackle J.R. Sweezy into a starting offensive guard a year ago and was rewarded with a similar project in New Hampshire's Jared Smith for 2013. Smith, Ryan Seymour and Michael Bowie each flashed during Seattle's rookie mini-camps and OTAs.
-- The Seahawks' 2013 draft class:
2nd Round -- No. 62 overall -- RB Christine Michael, Texas A&M
3rd Round -- No. 87 overall -- DT Jordan Hill, Penn State
4th Round -- No. 123 overall -- WR Chris Harper, Kansas State
5th Round -- No. 137 overall -- DT Jesse Williams, Alabama
5th Round -- No. 138 overall -- CB Tharold Simon, LSU
5th Round -- No. 158 overall -- TE Luke Willson, Rice
6th Round -- No. 194 overall -- FB Spencer Ware, LSU
7th Round -- No. 220 overall -- OG Ryan Seymour, Vanderbilt
7th Round -- No. 231 overall -- OLB Ty Powell, Harding
7th Round -- No. 241 overall -- OG (DT) Jared Smith, New Hampshire
7th Round -- No. 242 overall -- OT Michael Bowie, Northeastern State

-- Key Undrafted Free Agents Signed:
OG Alvin Bailey, Arkansas
WR Greg Herd, Eastern Washington
OLB John Lotulelei, UNLV
S Ray Polk, Colorado

Read more about all of the Seahawks' picks here.

Read all of the Finding the Fits series here.